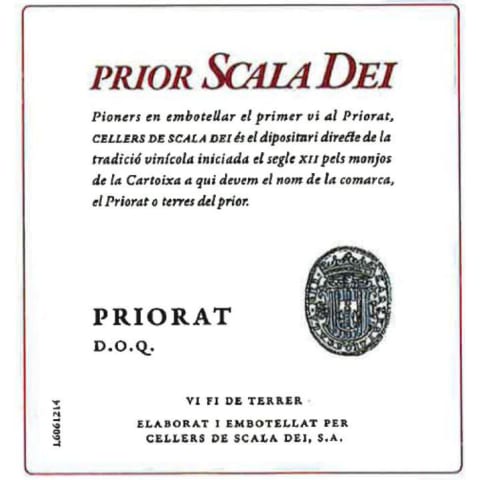 Scala Dei Priorat Prior 2015
Currently Unavailable

$25.99
Ships Tomorrow
Limit
0
bottles
per customer
Winemaker Notes
This wine has a bright, ruby red hue. Intense aromas of wild strawberries, blackberries, mixed with nuances of violets, spices and toasted notes. Mineral notes accompany the fruit on the palate. The wine has body, but mature tannins provide a supple texture.
Pairs well with dried ham, stews and grilled meats.
This remarkable winery dates back to the 12th century and is surrounded by some of the most distinctive winemaking geography in Spain. Scala Dei (Latin for "Ladder of God") produces wines of exceptional flavor and depth which are among the most critically acclaimed from Priorat, one of Spain's smallest and most recognized DOs. The dramatic terroir of the region surrounding the winery is breathtakingly steep and covered in black slate. The extremely low yields, in some cases only two pounds of fruit per vine, produce highly concentrated grapes. This, together with the intense hand labor used in Priorat, results in wines of superb quality and explains the costliness of the region's wines. More than half of Priorat's wine production is exported.
Tiny and entirely composed of craggy, jagged and deeply terraced vineyards, Priorat is a Catalan wine-producing region that was virtually abandoned until the early 1990s. Its renaissance came with the arrival of one man, René Barbier, who recognized the region's forgotten potential. He banded with five friends to create five "Clos" in the village of Gratallops. Their aim was to revive some of Priorat's ancient Carignan vines, as well as plant new—mainly French—varieties. These winemakers were technically skilled, well-trained and locally inspired; not surprisingly their results were a far cry from the few rustic and overly fermented wines already produced.
This movement escalated Priorat's popularity for a few reasons. Its new wines were modern and made with well-recognized varieties, namely old Carignan and Grenache blended with Syrah, Cabernet Sauvignon and Merlot. When the demand arrived, scarcity commanded higher prices and as the region discovered its new acclaim, investors came running from near and far. Within ten years, the area under vine practically doubled.
Priorat's steep slopes of licorella (brown and black slate) and quartzite soils, protection from the cold winds of the Siera de Monstant and a lack of water, leading to incredibly low vine yields, all work together to make the region's wines unique. While similar blends could and are produced elsewhere, the mineral essence and unprecedented concentration of a Priorat wine is unmistakable.
Beyond the usual suspects, there are hundreds of red grape varieties grown throughout the world. Some are indigenous specialties capable of producing excellent single varietal wines, while others are better suited for use as blending grapes. Each has its own distinct viticultural characteristics, as well as aroma and flavor profiles, offering much to be discovered by the curious wine lover. In particular, Portugal and Italy are known for having a multitude of unique varieties but they can really be found in any region.
YNG273283_2015
Item#
325590