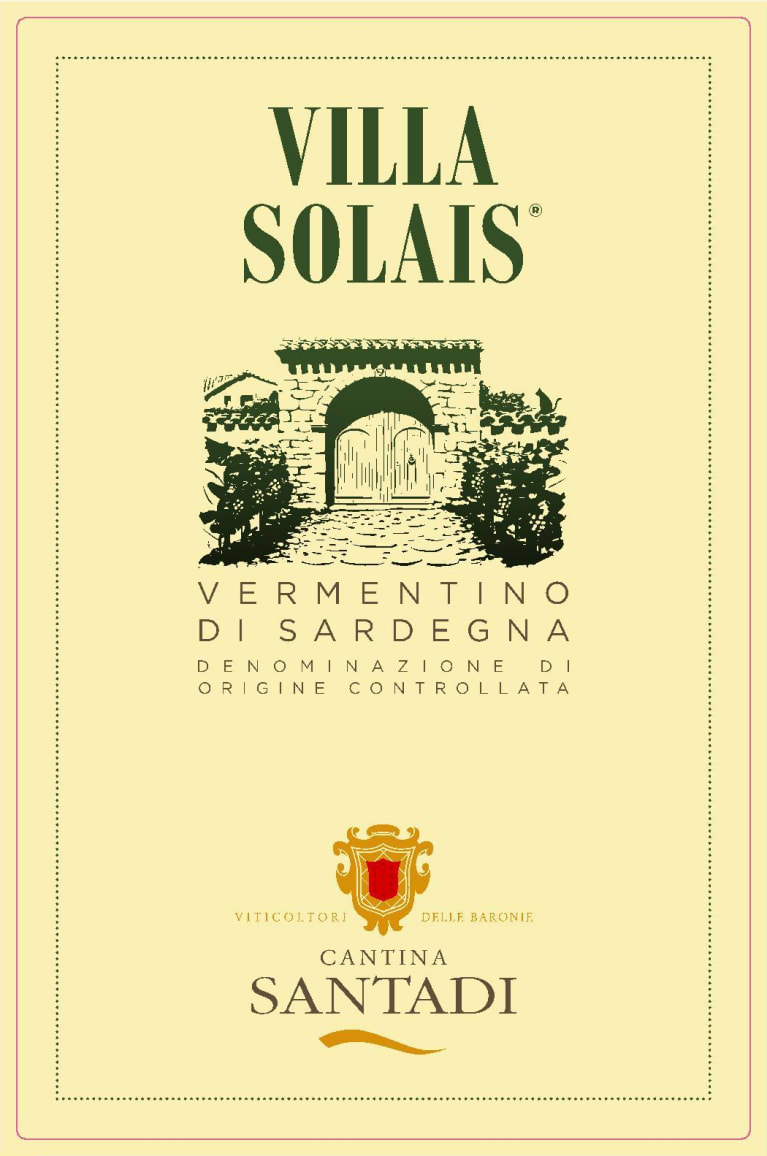 Santadi Vermentino Villa Solais 2019
Out of Stock

(was $12.99)
Winemaker Notes
Brilliant straw yellow color with green and golden tinges. Fresh and pleasant aromas. A nice fresh finish on the palate, together with an attractive mineral note.
The Sulcis peninsula, in the island's southwest, is Sardinia's most ancient area, geologically speaking; rich in archaeological sites and artifacts, its landscape offers an astonishing palette of variations and contrasts. Coastal sand dunes, gentle hills and inlets, narrow strips of flatland and inland mountains, rugged cliffs overhanging the sea interspersed with silky-smooth white beaches, pine trees, junipers and vineyards. In the heart of this unique region is a medieval town called Santadi, poised like a mirage between the dazzling white sand dunes of Porto Pino and the shady quiet forest of Pantaleo, where Sardinian deer tread freely among centuries-old oak trees, cork trees and holly oaks.
Well over half a century ago – it was 1960 – a winery was founded there and named after its extraordinary location: Cantina Santadi or more simply, Santadi. Santadi was based on a partnership of fine local growers, which made it deeply rooted in Sulcis terroir. After a decade and a half establishing a reputation for severe quality standards, Santadi partners elected Antonio Pilloni as their President.
The choice was a fortunate one and in 1975 Pilloni succeeded in bringing the Cantina to international prominence; he remains at the helm today. In the early 1980s, he called on Giacomo Tachis to consult for Santadi.
Santadi and its territory, in fact, are particularly close to Tachis' heart. As he confessed to Michèle Shah in a Decanter interview: "I'm absolutely passionate about Vermentino [and Carignano]. There are still parts of Sardinia which I consider virgin land: it's a spectacular island, especially the south, which is the true soul of the island."
Santadi vineyards cover an impressive 1,235 acres (500 hectares) of prime, gently rolling terrain reaching right out to the sea; all within an 18-mile radius from the winery so that fruit can be conveyed in minimal time. The soil is unique, its sandy nature conducive to the survival of pre-Phylloxera rootstock. In the words of Raffaele Cani: "The parasite does attack the roots, producing small holes in them. These cavities, however, are immediately filled up by grains of sand that heal the wounds, as it were, allowing the plant to thrive
in spite of Phylloxera."
Hailed for centuries as a Mediterranean vine-growing paradise, multiple cultures over many centuries have ruled the large island of Sardinia. Set in the middle of the Tyrrhenian Sea, the Phonoecians, Ancient Rome, and subsequently the Byzantines, Arabs and Catalans have all staked a claim on the island at some point in history. Along the way, these inhabitants transported many of their homeland's prized vines and today Sardinia's modern-day indigenous grape varieties claim multiple origins. Sardinia's most important red grapes—namely Cannonau (a synonym for Grenache) and Carignan—are actually of Spanish origin.
Vermentino, a prolific Mediterranean variety, is the island's star white. Vermentino has a stronghold the Languedoc region of France as well as Italy's western and coastal regions, namely Liguria (where it is called Pigato), Piedmont (where it is called Favorita) and in Tuscany, where it goes by the name, Vermentino. The best Vermentino, in arguably all of the Mediterranean, grows in Sardinia's northeastern region of Gallura where its vines struggle to dig roots deep down into north-facing slopes of granitic soils. These Vermentino vines produce highly aromatic, full and concentrated whites of unparalleled balance.
Today aside from its dedication to viticulture, Sardinia remains committed to maintaining its natural farmlands, bucolic plains of grazing sheep and perhaps most of all, its sandy, sunny, Mediterranean beaches.
A fantastic, aromatic white grape that grows with great success in Sardinia, Tuscany and in lesser proportions on the island of Corsica. Somm Secret—Vermentino is thought to be genetically identical to Liguria's Pigato grape and Peidmont's Favorita. It comprises a large proportion of the whites in southern France where it is called Rolle.
WWH159779_2019
Item#
675983