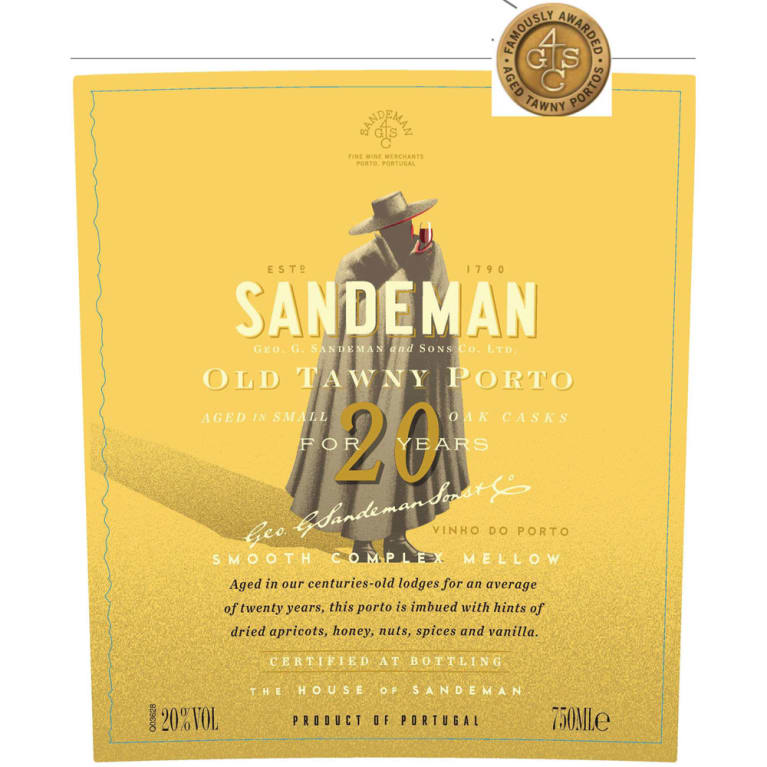 Sandeman 20 Year Old Tawny
Ships Tomorrow
Limit
0
bottles
per customer
Winemaker Notes
Specially selected Portos are chosen for ageing in wooden casks, which concentrates their fruit and flavour. The color matures from deep ruby through to amber, producing a rare and delicious Tawny Porto. Maturity and fruit are harmoniously balanced, creating the perfect conclusion to a meal and the inspiration for good conversation.
A rich yet elegant combination of flavors - dried apricots, honey, nuts, spices, vanilla - creates an endlessly complex wine that unfolds smoothly and develops in the mouth. A balance of aged fruitwith an oak-aged intensity epitomizes the deluxe quality of Sandeman.
Enjoy with rich appetizers such as foie gras and cheese quiche or desserts including crème brûlée, apple tarts and dried fruit.
Once open Sandeman 20 Years Old Tawny can remain fresh for up to 4 - 8 weeks.
Critical Acclaim
All Vintages
Beguiling exercise in delicacy. Pale tawny colour. Light and fruity aromas. Elegant delivery of fruit weight and sugar. Savoury, dry finish.
Broad, rich and elegant, with creamy, supple flavors of butterscotch, toasted coconut and hazelnut. The luscious finish is loaded with spice and cocoa details. Seductive.
An elegant tawny, perfumed with soft tannins and a good edge of wood acidity and spirit. The wine is dry, densely flavored, tasting mature, showing a good balance between young sweetness and age, with everything well integrated.
View More
The House of Sandeman was founded in London in 1790 by George Sandeman, a determined young Scotsman. From a modest start two hundred years ago as a wine merchant in the City of London, to today's impressive lodges in Oporto and bodegas in Jerez, and the world's best known brand of Port and Sherry, there has been a continuous commitment to quality. The growth of Sandeman Port and Sherries over two centuries has been based on a balance of tradition and innovation, respecting heritage but always seeking improvement. In 1980, Sandeman became part of Seagram; today, as the seventh generation of the family and Chairman of the old firm, George Sandeman continues the Sandeman commitment to the quality of Sandeman Ports and Sherries, and to the future.
Best known for intense, impressive and age-worthy fortified wines, Portugal relies almost exclusively on its many indigenous grape varieties. Bordering Spain to its north and east, and the Atlantic Ocean on its west and south coasts, this is a land where tradition reigns supreme, due to its relative geographical and, for much of the 20th century, political isolation. A long and narrow but small country, Portugal claims considerable diversity in climate and wine styles, with milder weather in the north and significantly more rainfall near the coast.
While Port (named after its city of Oporto on the Atlantic Coast at the end of the Douro Valley), made Portugal famous, Portugal is also an excellent source of dry red and white wines of various styles.
The Duoro Valley produces full-bodied and concentrated dry red wines made from the same set of grape varieties used for Port, which include Touriga Nacional, Tinta Roriz (Spain's Tempranillo), Touriga Franca, Tinta Barroca and Tinto Cão, among a long list of others in minor proportions.
Other dry wines include the tart, slightly effervescent Vinho Verde white wine, made in the north, and the bright, elegant reds and whites of the Dão as well as the bold, and fruit-driven reds and whites of the southern, Alentejo.
The nation's other important fortified wine, Madeira, is produced on the eponymous island off the North African coast.
Blended from the most important red grapes of the Douro Valley, Port is the famous fortified wine from Portugal. It is based on the Touriga Nacional grape with over 80 other varieties approved for use in the blend. However, typically about four other varieties play a major role: Tinta Barroca, Tinta Cão, Tinta Roriz (Tempranillo) and Touriga Francesa. Other wine regions of the world can produce fortified wine of a similar style from the same grapes or other grapes.
There are numerous styles of Port: Ruby, Tawny, Vintage, LBV, White, Colheita, and a few unusual others.
Ruby ports usually pack the most value and are ready to drink once bottled. Typical characteristics are ripe cherry and blackberry flavors with stewed plums, cocoa and dates.
Tawny ports are "tawny" in color and have flavors of toffee, caramel, toasted pecans, vanilla, dried apricot, citrus peel, green figs and roasted espresso. The age designation on a Tawny Port indicates the average vintage age of the grapes in the bottle. These are not intended to be aged once bottled.
When Port is made with high quality grapes selected from a single notable vintage, it is called Vintage Port. Some of the best recent vintages are 2016, 2011, 2007, 2003, 2000, 1997 and 1994. Vintage Ports are complex and full-bodied with many flavors possible: concentrated blackberry, black cherry, raspberry and spice, smoke, coffee and chocolate. Vintage ports tend to improve in the bottle up to approximately 30 years from the vintage.
LBV Port comes from a single-vintage Ruby Port and may spend six years in the barrel before being bottled. These are ready to drink upon release. Serve most Ports slightly chilled at around 55-65°F.