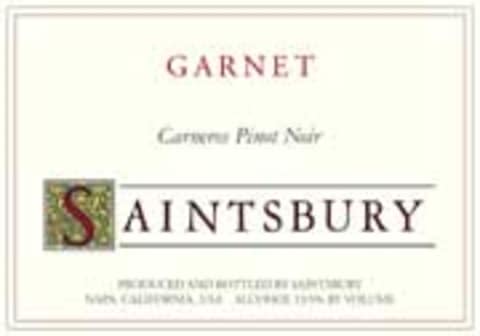 Saintsbury Garnet Pinot Noir 2002
Ships Sat, Nov 7
Limit
0
bottles
per customer
Winemaker Notes
In 1983, Saintsbury adopted the proprietary name "Garnet" to distinguish this perfumed and fresh style of Pinot Noir from our more full-bodied wine that is labeled simply "Carneros Pinot Noir".
Garnet is produced entirely from Pinot Noir grown in the Carneros district. Our aim in creating each vintage of Garnet is to produce a refreshing, early drinking style of Pinot. One that is full of cherry, raspberry varietal fruit, enriched and developed by aging in French oak barrels.
We are often asked if we use a different winemaking technique during fermentation in order to produce a lighter wine than our Carneros Pinot Noir. To understand fully one must start in the vineyard. Saintsbury purchases Pinot Noir grapes from fourteen different vineyards, and each of these lots is made into wine separately. We use our experience to judge which techniques will bring out the best in each vineyard's grapes.
After pressing, the wines are barrel-aged separately to allow them to show us their potential. After five months in barrel, a representative sample is drawn from each lot and evaluated. We discuss the merits of each lot and then make trial blends, with the goal of producing wines that will properly represent our three Pinot styles. In early Spring the lots selected to become Garnet are blended and the wine is then bottled in early summer. The remaining lots continue for further barrel aging until just before the next harvest when the Carneros Pinot Noir and the Reserve blends are bottled.
We are extremely pleased with the 2000 edition of Garnet. A lighter red wine does not succeed as a shadow of bigger ones: rather, it should be enjoyable on its own terms for the right combination of freshness and extract, grace and length. The '00 has the same bright, refreshing fruit we've come to expect from this bottling: the raspberry, cherry, strawberry fruit is complemented by some typical Carneros nutmeg and clove spice. This affordable Pinot Noir is a perennial favorite during the holidays, and complements a wide variety of dishes.
Saintsbury specializes in Chardonnay and Pinot Noir. The Chardonnay is fermented and aged in barrels coopered in Burgundy. Three styles of Pinot Noir are produced: "Garnet" is a fresh, lively wine full of cherry and raspberry fruit; the wine simply called Carneros Pinot Noir is a more classic rendition; and the Reserve Pinot Noir is the richest and most fully flavored of the vintage.
As early as the 1970s Carneros became known as a source of terrific Pinot Noir, and was one of the first California regions to gain such a reputation. The combination of sunny days, cooling fog and thin clay soils are tailor-made for the variety. Another factor in Pinot Noir's prominent place here is vintners' willingness to experiment widely. The history of the grape in Carneros is marked by continuous research into clonal variations, viticultural techniques and site selection. Careful evaluation over time has revealed a signature flavor profile as well. Complex aromas and flavors of cherry, red berry, spice, earth and cola appear time and again in Carneros Pinot Noir. To this day the appellation remains one of California's standard bearers for the variety.
ALL4344043_2002
Item#
73591