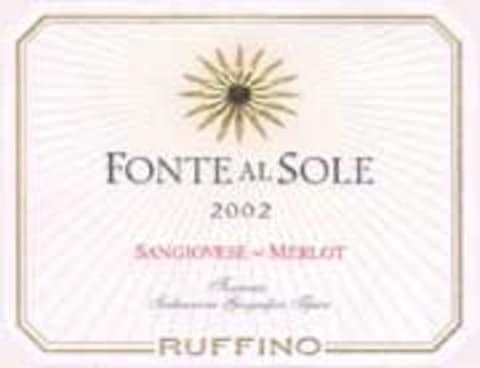 Ruffino Fonte al Sole 2002
Winemaker Notes
Produced in the heart of the Chianti region on their Poggio Casciano estate, Fonte al Sole is an exciting new addition to the Ruffino portfolio. The wine offers a taste of the softer side of Tuscanys famous Sangiovese grape.
Fonte al Sole receives the finest care and attention during every step of its development, from the growing of the grapes in the vineyards to the production of the wine in the cellar. Shortly thereafter, the wine is bottled and released. Styled as a soft, young red wine, Fonte al Sole brings a taste of Tuscany to your table. Fonte al Sole is a medium-bodied, ruby red Sangiovese, with a fragrant bouquet of berries and black olives. The wines pleasing balance of fruit, combined with the fresh acidity and soft tannins of the Sangiovese grape, creates a wine of structure and grace. Fonte al Sole is an excellent aperitif wine and a perfect accompaniment to a wide range of foods, including antipasti, seafood, poultry and light meats.
In 1877, Illario and Leopoldo Ruffino laid the foundations of their dream to make the most known and loved Italian wines in the world from the heart of Tuscany. At their winery in Pontassieve, just outside of Florence, they began producing wines according to a strict quality standard and a rigorous technical research. Soon, Ruffino became an international symbol of the Chianti region, and won numerous awards, including the prestigious gold medal at the Bordeaux Wine Fair in 1895, affirming the quality of its wine.
In 1913, the Folonari family purchased Ruffino and brought new talent, energy and enthusiasm into the company. They started on a nearly century-long pursuit to develop a collection of estates in Tuscany, all of which matched the standard of quality and uniqueness which was the trademark of Ruffino wine.
Over the last sixty years, Ruffino has established seven prominent estates in Tuscany, all situated within the major DOCG production regions including Brunello di Montalcino, Vino Nobile di Montepulciano, Chianti and Chianti Classico. Today, Ruffino continues to meld century-long Tuscan traditions with new state-of-the-art cellar technology and modern winemaking for an ideal symbiosis with the energy of the contemporary Italian lifestyle.
Legendary in Italy for its Renaissance art and striking landscape, Tuscany is also home to many of the country's best red wines. Sangiovese reigns supreme here, as either the single varietal, or a dominant player, in almost all of Tuscany's best.
A remarkable Chianti, named for its region of origin, will have a bright acidity, supple tannins and plenty of cherry fruit character. From the hills and valleys surrounding the medieval village of Montalcino, come the distinguished and age-worthy wines based on Brunello (Sangiovese). Earning global acclaim since the 1970s, the Tuscan Blends are composed solely of international grape varieties or a mix of international and Sangiovese. The wine called Vine Nobile di Montepulciano, composed of Prognolo Gentile (Sangiovese) and is recognized both for finesse and power.
SWS28443_2002
Item#
60797