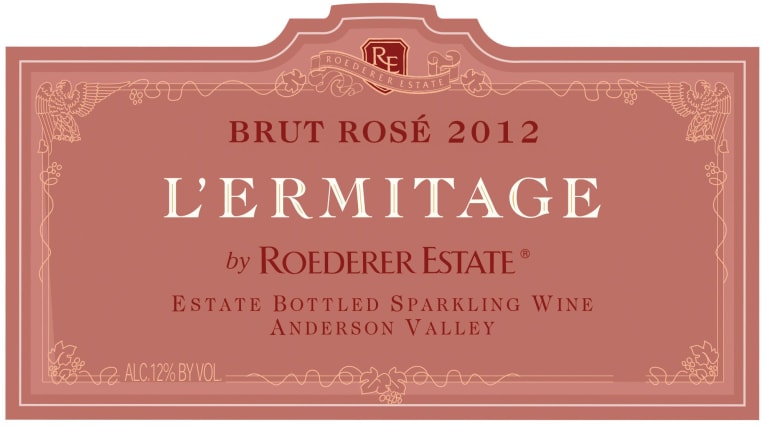 Roederer Estate L'Ermitage Brut Rose 2012
Winemaker Notes
Fine bubbles and creamy finish are the usual footprints of the L'Ermitage wine. Wild strawberries, roasted nuts and pie crust invite themselves in the glass. Pale salmon color is distinctive and appealing. Acidity is mouthwatering with cranberry and crushed red berry accents. Dosage is balanced and supports and extends the finish.
Critical Acclaim
All Vintages
This has a great nose, bursting with blood orange, candied ginger and lemon peel aromas, with hints of marzipan, leading to steely and mature flavors that linger delicately on the spicy finish. Nicely combines freshness and maturity. Drink now.
The fresh strawberries here are so clear and alluring. Some peaches, too. The palate offers pink grapefruit and fresh cherries, laced with lemons and yellow grapefruit. Deep, mineral backbone with a smooth resolve. Buoyed with pink fruit.
Pale salmon-pink, the 2012 L'Ermitage Brut Rosé offers up fresh aromas of red berries, melon and peaches with nuances of mushroom, hay, toast, citrus peel and floral perfume coming through with time in the glass. The medium-bodied palate offers concentrated, pure, fresh fruits with lightly toasty accents, energetic mousse and addicting freshness on the long finish. Lovely! This was disgorged in June of 2019 and made with about eight grams per liter dosage.
It's rare to find a sparkling wine outside of Champagne with this rosé's finesse. The Roederer Estate team, led by Arnaud Weyrich and under the guidance of Jean-Baptiste Lécaillon in Reims, are rosé specialists. They produce this wine by first selecting the top fruit from Roederer's 580 acres of estate-owned vineyards, blending virtually equal amounts of chardonnay and pinot noir as the base wine, and including a small amount of delicately macerated pinot noir for color and fragrance. That points up the pale-pink raspberry freshness of this eight-year-old youth. Like the best releases of L'Ermitage Rosé, those flavors have precision, a concentrated presence and ethereal finesse.
50.3% Chardonnay; 49.7% Pinot Noir. Albeit abundantly fruity, this Rosé is a serious sparkling wine that reaches well beyond simple fruit and brings plenty of yeasty complexity into play while remaining keenly focused on just-ripe cherries throughout. Its very creamy, mouthfilling mousse is of a sort that can only come via patient aging, and its scant impressions of juicy sweetness are balanced by fine acidity. It is a sheer joy to drink on its own but is more than worthy of sharing the table with roasted duck, richly sauced salmon and involved veal recipes for at least another half-dozen years.
View More
Founded in 1982, Roederer Estate is nestled in Mendocino County's fog-shrouded, Anderson Valley. As the California property of Champagne Louis Roederer, Roederer Estate builds upon a centuries-old tradition of fine winemaking. Roederer's unique winemaking style is based on two elements: complete ownership of its vineyards and the addition of oak-aged reserve wines to each year's blend or cuvee to create complex, dry and harmonious sparkling wines.
The crisp, fresh and rich flavors of Roederer Estate sparkling wines reflect the cool Anderson Valley that is home to their family-owned estate's 600 acres of vineyards. This protected valley in Northern California provides the ideal ripening conditions for their 100% estate-grown Pinot Noir and Chardonnay grapes. The blending team is comprised of the winemakers from the California property as well as from Champagne Louis Roederer, ensuring that Roederer Estate remains the most French of the California sparklers.
Surrounded by redwood forests and often blanketed in chilly, ocean fog, the Anderson Valley is one of California's most picturesque appellations. During the growing season, moist, cool, late afternoon air flows in from the Pacific Ocean along the Navarro River and over the valley's golden, oak-studded hills. High and low temperatures can vary as much as 40 or 50 degrees within a single day, allowing for slow and gentle ripening of grapes, which will in turn create elegantly balanced wines.
The Anderson Valley is best known for Pinot Noir made in a range of styles from delicate and floral to powerful and concentrated. Chardonnay also shines here, and both varieties are often utilized for the production of some of California's best traditional method sparkling wines. The region also draws inspiration from Alsace and produces excellent Riesling, Gewürztraminer, Pinot Blanc and Pinot Gris.
What are the different types of sparkling rosé wine?
Rosé sparkling wines like Champagne, Prosecco, Cava, and others make a fun and festive alternative to regular bubbles—but don't snub these as not as important as their clear counterparts. Rosé Champagnes (i.e., those coming from the Champagne region of France) are made in the same basic way as regular Champagne, from the same grapes and the same region. Most other regions where sparkling wine is produced, and where red grape varieties also grow, also make a rosé version.
How is sparkling rosé wine made?
There are two main methods to make rosé sparkling wine. Typically, either white wine is blended with red wine to make a rosé base wine, or only red grapes are used but spend a short period of time on their skins (maceration) to make rosé colored juice before pressing and fermentation. In either case the base wine goes through a second fermentation (the one that makes the bubbles) through any of the various sparkling wine making methods.
What gives rosé Champagne and sparkling wine their color and bubbles?
The bubbles in sparkling wine are formed when the base wine undergoes a secondary fermentation, which traps carbon dioxide inside the bottle or fermentation vessel. During this stage, the yeast cells can absorb some of the wine's color but for the most part, the pink hue remains.
How do you serve rosé sparkling wine?
Treat rosé sparkling wine as you would treat any Champagne, Prosecco, Cava, and other sparkling wine of comparable quality. For storing in any long-term sense, these should be kept at cellar temperature, about 55F. For serving, cool to about 40F to 50F. As for drinking, the best glasses have a stem and a flute or tulip shape to allow the bead (bubbles) and beautiful rosé hue to show.
How long do rosé Champagne and sparkling wine last?
Most rosé versions of Prosecco, Champagne, Cava or others around the "$20 and under" price point are intended for early consumption. Those made using the traditional method with extended cellar time before release (e.g., Champagne or Crémant) can typically improve with age. If you are unsure, definitely consult a wine professional for guidance.
LIM284240_2012
Item#
656499