River Antoine Rivers Royale Grenadian Rum (700ML)
Out of Stock

(was $79.97)
Ships today if ordered in next 11 hours
Distiller Notes
Wild and opulent. Intense and vegetal on the nose - fresh sugar cane, green pepper and hints of smoke. Powerful and warm on the palate - Williams pear, strawberry, lime and hay. Long and balanced finish -fresh mint, young fennel and graphite pencil.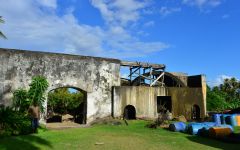 Located on the beautiful northeast coast of Grenada, River Antoine Estate, founded in 1785, produces one of most legendary rums in the Caribbean: Rivers. Produced in very limited quantities with ancient and natural processes, it has historically been sold only on the island and not available for export markets -- until now.
River Antoine Estate owns 15 hectares of organically grown sugarcane, located just a few meters from the beach. The cane is cut by hand and crushed with a water mill moved by an old paddle wheel system built in 1840. Only 3 000 liters of fresh juice arrive at the boiling house each day. Operating without any electric power, the juice is transferred to metal pans using gravity and heated by a bagasse-fueled fire in order to concentrate. River Antoine is the only distillery left using such a technique. Spontaneous wild fermentation is conducted in open air concrete vats, taking up to 10 days. The wash is then distilled in two magnificent John Dore double-twisted pot stills, frequently refurbished with Vendome and Forsyths parts.
Coming out at 80-83% ABV, the distillate is slightly reduced to 75% ABV and is bottled and labelled by hand to be sold on the local market. The 69% ABV bottling available for export is the 'light' version - the maximum allowed to take on an airplane abroad to friends and family - aka "flight proof."
From pirate life on the open sea to Caribbean island paradises, perhaps no other spirit evokes such a romantic history as Rum. Made through fermentation and distillation of molasses or the fresh-pressed juice of sugar cane, Rums range from 20% to over 70% alcohol and come in a variety of tones from clear to dark. Highest quality Rums are generally produced in pot stills and aged in wood, while less expensive Clear or "White" Rums are produced in column stills and bottled without barrel aging. Naturally, Rums form the base of tropical cocktails like Daquiris and Mojitos.
HNYRIVRUMNVO_0
Item#
945571