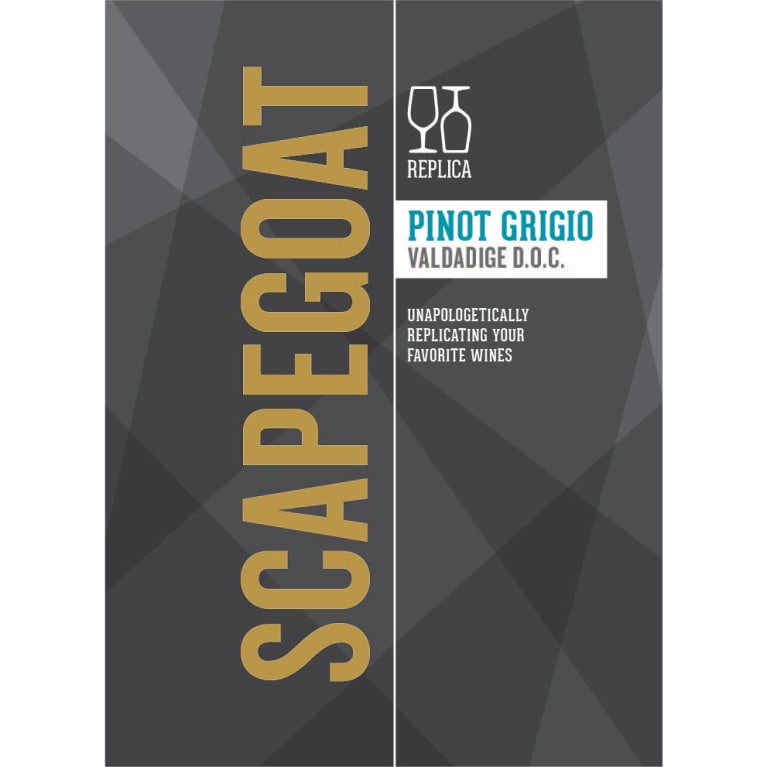 Replica Scapegoat Pinot Grigio 2015
Winemaker Notes
A Pinot Grigio, pairing classic pear and apple aromas with hints of floral and citrus. Dry on entry with outstanding structure and personality – it's a refreshing, versatile wine worth savoring.
Replica is committed to protecting our natural environment and supports the fight against colony collapse due to human activity - all while making wine of exceptional quality. Through replication of the natural winemaking and farming practices of the past, we are able to craft naturally sophisticated wines with classic, fruit-forward California flavor profiles. We are taking the steps needed to change the modern farming industry by crafting only the purest, natural wines without the use of harmful pesticides (like neonicotinoids) or additives.
We believe that wine should taste the way that Mother Nature intended - without any human interference. Replica aims to bottle only the flavors found in nature through the natural expression of fruit - allowing us to produce only wine in its purest form.
The Xerces Society is a non-profit environmental organization that focuses on the conservation of invertebrates considered to be essential to biological diversity and ecosystem health. The name is in honor of the extinct California butterfly, the Xerces blue.
A mountainous northern Italian region heavily influenced by German culture, Trentino-Alto Adige is actually made up of two separate but similar regions: Alto Adige and Trentino.
Trentino, the southern half, is primarily Italian-speaking and largely responsible for the production of non-native, international grapes. There is a significant quantity of Chardonnay, Pinot Grigio and Merlot produced. But Trentino's native and most unique red variety, Teroldego, while still rare, is gaining popularity. It produces a deeply colored red wine rich in wild blackberry, herb, coffee and cocoa.
The rugged terrain of German-speaking Alto Adige (also referred to as Südtirol) focuses on small-scale viticulture, with great value placed on local varieties—though international varieties have been widely planted since the 1800s. Sheltered by the Alps from harsh northerly winds, many of the best vineyards are at extreme altitude but on steep slopes to increase sunlight exposure.
Dominant red varieties include the bold, herbaceous Lagrein and delicate, strawberry-kissed, Schiava, in addition to some Pinot Nero.
The primary white grapes are Pinot grigio, Gewürztraminer, Chardonnay and Pinot blanc, as well as smaller plantings of Sauvignon blanc, Müller Thurgau. These tend to be bright and refreshing with crisp acidity and just the right amount of texture. Some of the highest quality Pinot grigio in Italy is made here.
Showing a unique rosy, purplish hue upon full ripeness, this "white" variety is actually born out of a mutation of Pinot Noir. The grape boasts two versions of its name, as well as two generally distinct styles. In Italy, Pinot Grigio achieves most success in the mountainous regions of Trentino and Alto Adige as well as in the neighboring Friuli—all in Italy's northeast. France's Alsace and Oregon's Willamette Valley produce some of the world's most well-regarded Pinot Gris wine. California produces both styles with success.
Where Does Pinot Gris / Pinot Grigio Come From?
Pinot Gris is originally from France, and it is technically not a variety but a clone of Pinot Noir. In Italy it's called Pinot Grigio (Italian for gray), and it is widely planted in northern and NE Italy. Pinot Gris is also grown around the globe, most notably in Oregon, California, and New Zealand. No matter where it's made or what it's called, Pinot Gris/Pinot Grigio produces many exciting styles.
Tasting Notes for Pinot Grigio
Pinot Grigio is a dry, white wine naturally low in acidity. Pinot Grigio wines showcase signature flavors and aromas of stone fruit, citrus, honeysuckle, pear and almond. Alsatian styles are refreshing, expressive, aromatic (think rose and honey), smooth, full-bodied and richly textured and sometimes relatively higher in alcohol compared to their Italian counterpart. As Pinot Grigio in Italy, the style is often light and charming. The focus here is usually to produce a crisp, refreshing, lighter style of wine. While there are regional differences of Pinot Grigio, the typical profile includes lemon, lime and subtle minerality.
Pinot Grigio Food Pairings
The viscosity of a typical Alsatian Pinot Gris allows it to fit in harmoniously with the region's rich foods like pork, charcuterie and foie gras. Pinot Grigio, on the other hand, with its citrusy freshness, works well as an aperitif wine or with seafood and subtle chicken dishes.
Sommelier Secrets
Given the pinkish color of its berries and aromatic potential if cared for to fully ripen, the Pinot Grigio variety is actually one that is commonly used to make "orange wines." An orange wine is a white wine made in the red wine method, i.e. with fermentation on its skins. This process leads to a wine with more ephemeral aromas, complexity on the palate and a pleasant, light orange hue.
NDF183263_2015
Item#
187909