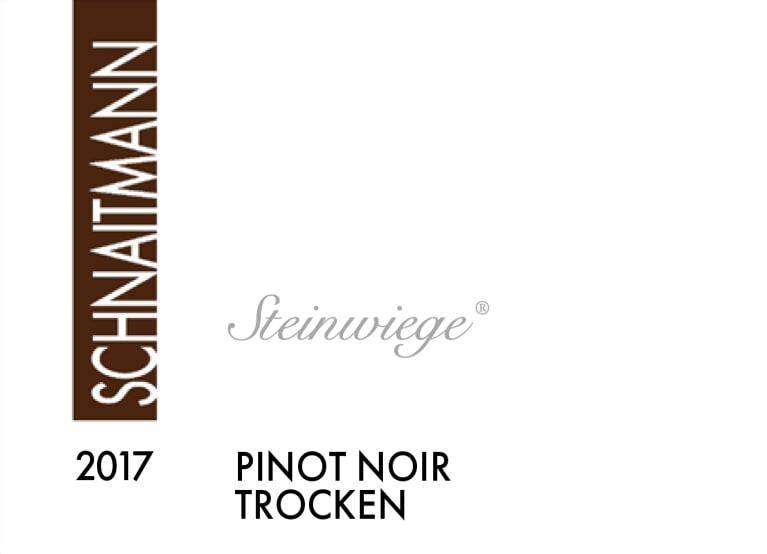 Rainer Schnaitmann Steinwiege Pinot Noir 2017
Winemaker Notes
This Pinot noir shines with a brilliant bright cherry red in the glass. The nose reveals aromatics of sour cherry, Morello cherry and blueberry. Violets, fresh porcini mushrooms, juniper and undergrowth notes refine the bouquet. On the palate an invigorating structure with animating, fine tannins and mouth-watering acidity, rounded off with a full fruit body and a nice length.
Everyday wine, solo sipper, summer wine, pair with stews, veal, pork, venison, poultry, mushrooms, freshwater fish
Critical Acclaim
All Vintages
Violet, fur and spicy notes of plum and black cherry compote collide in this decadently perfumed Pinot Noir. While light in body, it's a penetrating, intensely fruity red held upright by zesty cranberry acidity and very fine, feathery tannins. Ready now but should drink at peak through 2027 and hold longer still.
Editor's Choice
View More
At least four generations of Sauer's have been active in viticulture. Initially they were simply selling wines in cask. In 1950 the family joined the Escherndorfer Co-op where they were primarily a source for grapes to complement the Escherndorfer wines. In 1979 Helga and Rainer started the Rainer Sauer estate and began selling estate wines under the Rainer Sauer label. They were making very good wines through 1994.
The 1995 harvest was a big turning point for the estate. The summer of 1995 was very wet. In the beginning of September rains continued and the grapes started to foul before they achieved physiological ripeness. The harvest started in October with the grapes almost ripe but the portion of foul grapes had increased from 25%-50%, all of the foul and mildew fruit was removed! The botrytis affected fruit was vinified after sedimentation of the juice and fermentation followed. The wines were bottled and at a very young stage were quite drinkable. However, after 8 – 12 months the color of the wine turned dark and developed unpleasant dull and musty components in both smell and taste. Any 1995's still in inventory by 1997 were removed from the market. With this experience, the decision was made for a much more extreme and precise selection with all botrytised fruit removed. This late labor intensive manual harvest with several selective pickings per parcel, with careful handling of the fruit, is followed by slow controlled fermentation. This is why the Rainer Sauer wines are bright, clean, aromatic, subtle and pure, along with a wonderful expression of terroir.
Today, the estate is one of the great Silvaner producers in Franconia, or in the world! 
Germany is famous for spellbinding white wines, but a quiet revolution in red has been developing in recent decades. Pinot Noir leads the charge as the most widely planted red variety. Of the 13 German wine regions, five have notable plantings of Pinot Noir, which is locally called Spatburgunder.
Pinot Noir is the primary grape in the Ahr, a tiny region that is one of Germany's northernmost. The rocky slopes store summer heat, which, together with light reflected off the Ahr Rive, aid in ripening. These German Pinot Noirs can be surprisingly rich and juicy. Baden is another warmer German region where Pinot Noir is number one in plantings. Many fine red examples come from here, as well as rosé versions, locally called Weissherbst. The Pfalz, protected by the Haardt Mountains, is sunny and dry enough to produce ripe Pinot Noir as well. The final two, Rheingau and Rheinhessen, benefit from Burgundian techniques like careful vineyard management and ageing in barrique.
While differences do exist from region to region, German Pinot Noirs typically show off a personality that is light, spicy and vivid. Flavors of cranberry, cherry, baking spice, along with a persistent stony minerality are common. These wines present a greater similarity to Alsatian and Burgundian Pinot Noir than to California examples.
TGW1715120113_2017
Item#
769671