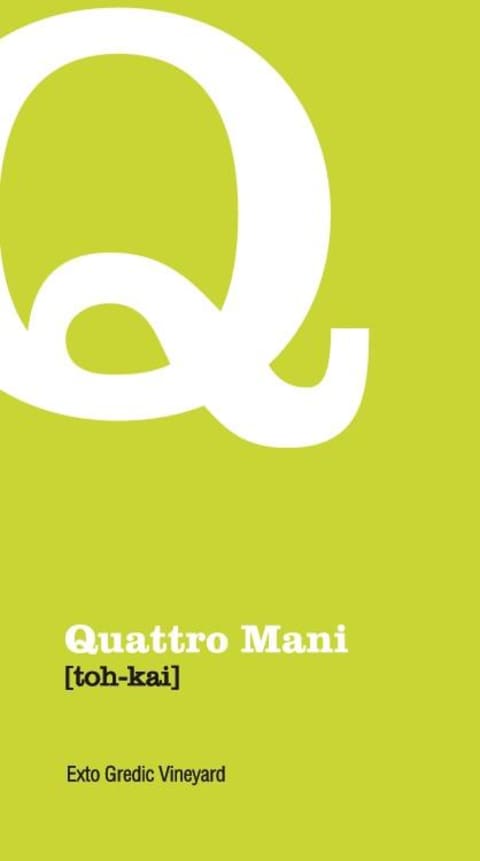 Quattro Mani Exto Gredic Vineyard Toh-Kai 2009
Ships Mon, Jan 1
Limit
0
bottles
per customer
Quattro Mani, or "four hands," showcases celebrity Italian winemakers who express the character and strength of Italy's rich viticultural heritage, interpreted through their unique personalities. These winemakers were selected for their skill in allowing vineyards to speak through the wine, reflecting the belief that the essence of a region can be best expressed through its traditional wines. Quattro Mani wines are produced from estate-grown fruit using sustainable agriculture, and are bottled at the source.
Quattro Mani made its debut in 2006 with Montepulciano d'Abruzzo made by acclaimed winemaker Attilio Pagli. Quattro Mani [toh-kai], produced by the skilled hands of Movia's Aleš Kristancic, followed in 2008. Tocai grapes are grown in Movia's organically farmed Exto Gredic vineyard; the wine is made at the Movia winery in accordance with the biodynamic principles. Franciacorta, produced by the celebrated Franciacorta pioneer Emanuele Rabotti, joined the lineup in 2010. In 2011, Quattro Mani Barbera which is produced by the skilled winemaker Danilo Drocco who has been described as "One of the Great Names of Piedmontese Winemaking" by Robert Parker was launched.
A picturesque, eastern European wine growing nation, Slovenia can claim one of the most ancient winemaking cultures in all of Europe. Its history dates back to the Celts and Illyrians tribes, well before the Romans had any influence on France, Spain or Germany. But it wasn't until the 1970s that Slovenia developed a more refined, private-sector wine industry.
Today it is a powerful source of some of the industry's most important orange wines (whites made with extended skin contact); furthermore, fully three quarters of the country's wine production is white.
Slovenian weather is continental with hot summers and cold, wet winters. It is divided into three wine regions: Podravje in Slovenia's northeast; Primorska in its west, close to Italy; and Posavje in its southeast. These are further divided to nine wine districts.
Beyond the usual suspects, there are hundreds of white grape varieties grown throughout the world. Some are indigenous specialties capable of producing excellent single varietal wines, while others are better suited for use as blending grapes. Each has its own distinct viticultural characteristics, as well as aroma and flavor profiles, offering much to be discovered by the curious wine lover. In particular, Portugal, Spain, Italy and Greece are known for having a multitude of unique varieties but they can really be found in any region.
ZZZREFPRODUCT381309
Item#
381309