Quartz Reef Methode Traditionnelle Brut Rose
Winemaker Notes
A romantic bouquet of strawberry sherbet and rose petal with a hint of shortbread. Enhanced by lush pinot notes, a creamy acidity and a touch of nutmeg in the finish. Vibrant with an alluring length, focus and clarity.
Blend: 100% Pinot Noir
Organically grown
Critical Acclaim
All Vintages
Do you always reach for Champagne or ultra-premium California methode traditionnelle when the need for a sparkling wine arises? Well, well how about Central Otago. Simply a fine sparkling rosé that beats so many others, very classic in style. Give this one a try and your horizons will have been expanded! Light peach, faint pink color; attractive and classic red fruit and mineral in the nose, bright and crisp; medium bodied, lively on the palate; dry, excellent acidity, well balanced; tart strawberry flavors; lively aftertaste. (Tasted: May 20, 2015, San Francisco, CA)
The dried raspberry, lemon curd and Asian pear flavors are crisp and detailed, with notes of white flowers, five-spice powder and toast leading to a long, lingering, juicy finish. Offers an appealing mix of power and finesse.
The flamingo-pink NV Methode Traditionelle Rose is all Pinot Noir from the winery's Bendigo estate vineyard. Hints of strawberries and stone fruit join citrus and herb shadings on the nose, while the medium-bodied palate is crisp and refreshing, with a dosage of only four grams of sugar per liter. It's not vintage dated, but this batch appears to be based on the 2017 harvest, as the lot number is LR2017.
This dark copper rose consists entirely of Pinot Noir, and spends at least two years on the lees. There's a toastiness from the aging, but also hints of berries and vaguely woodsy notions that give it definite Pinot character. Finishes long, with citrus and cream notes.
This has orange zest, pomegranate, flowers and pink grapefruit on the nose. Tangy and zesty with fine bubbles and refreshing, clear and dry finish. 100% pinot noir. From organically and biodynamically grown grapes. Drink now.
View More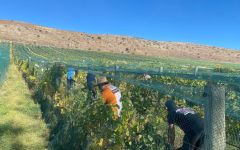 Planted on New Zealand's largest quartz deposit, Quartz Reef specializes in the creation of exceptional Sparkling Wine and Pinot Noir. Once the focus of a gold strike in the 1860's this site is now a thriving vineyard. The north-facing vineyard is situated to absorb the heat of the sun and the heat retaining properties of the quartz soils store and reflect this heat increasing the ripening of grapes in the cool Central Otago climate.
Utilizing biodynamic wine growing practices, winemaker Rudi Bauer has a mission to make wines that capture the essence of Central Otago. Rudi earned degrees in viticulture and winemaking in his native Austria before moving to New Zealand in 1985 as assistant wine maker at Mission Estate in Hawkes Bay. Since then, Rudi has been honing his craft in many of New Zealand's regions as well as Oregon and Burgundy. As one of Rippon Vineyard's pioneer winemaker's, Rudi won Central Otago's first gold medal for Pinot Noir in 1991. And now, as owner/winemaker of Quartz Reef, Rudi is making the best wines of his career, being named 2010 New Zealand Wine Maker of the Year at the NZ Agricultural Society Royal Easter Show as well as the first New Zealander to be nominated for Der Feinschmecker Wine Awards in Germany as International Wine Maker of the Year.
Home to the globe's most southerly vineyards, which are cultivated below the 45th parallel, Central Otago is a true one-of-a-kind wine growing region, but not only because of its extreme location.
Central Otago is more dependent on one single variety than any other region in New Zealand—and it isn't Sauvignon blanc. They don't even make Sauvignon blanc there.
Pinot Noir claims nearly 75% of the region's vineyards with Pinot Gris coming in a far second place and Riesling behind it. This is also New Zealand's only wine region with a continental climate, giving it more diurnal and seasonal temperature shifts than any other.
The subregion of Bannockburn has enjoyed the most success historically but the area's exceptional growth has moved to the promising regions of Cromwell/Bendigo and Alexandra districts. Central Otago is known for its fruity and full-bodied Pinot noir. With the freedom to experiment here, growers and winemakers are easily exhibiting the area's great potential.
What are the different types of sparkling rosé wine?
Rosé sparkling wines like Champagne, Prosecco, Cava, and others make a fun and festive alternative to regular bubbles—but don't snub these as not as important as their clear counterparts. Rosé Champagnes (i.e., those coming from the Champagne region of France) are made in the same basic way as regular Champagne, from the same grapes and the same region. Most other regions where sparkling wine is produced, and where red grape varieties also grow, also make a rosé version.
How is sparkling rosé wine made?
There are two main methods to make rosé sparkling wine. Typically, either white wine is blended with red wine to make a rosé base wine, or only red grapes are used but spend a short period of time on their skins (maceration) to make rosé colored juice before pressing and fermentation. In either case the base wine goes through a second fermentation (the one that makes the bubbles) through any of the various sparkling wine making methods.
What gives rosé Champagne and sparkling wine their color and bubbles?
The bubbles in sparkling wine are formed when the base wine undergoes a secondary fermentation, which traps carbon dioxide inside the bottle or fermentation vessel. During this stage, the yeast cells can absorb some of the wine's color but for the most part, the pink hue remains.
How do you serve rosé sparkling wine?
Treat rosé sparkling wine as you would treat any Champagne, Prosecco, Cava, and other sparkling wine of comparable quality. For storing in any long-term sense, these should be kept at cellar temperature, about 55F. For serving, cool to about 40F to 50F. As for drinking, the best glasses have a stem and a flute or tulip shape to allow the bead (bubbles) and beautiful rosé hue to show.
How long do rosé Champagne and sparkling wine last?
Most rosé versions of Prosecco, Champagne, Cava or others around the "$20 and under" price point are intended for early consumption. Those made using the traditional method with extended cellar time before release (e.g., Champagne or Crémant) can typically improve with age. If you are unsure, definitely consult a wine professional for guidance.
DGSWDQRMRNV_0
Item#
143659