Pizzolato Prosecco Fields Brut 2017
Out of Stock

(was $12.99)
Winemaker Notes
Made entirely with organic grapes, this delicately sparkling wine boasts enticing scents of white spring flower, beeswax and pear. The vibrant, ethereal palate is loaded with finesse, offering Rennet apple, lemon and mineral alongside crisp acidity and a light, elegant perlage. Medium intense aromas of pear drops, orchard fruit, green apples and nettles. Citrus peel surges through the palate and onto the clean finish.
Ideal as an aperitif, with snack and cold first courses; paired with Italian Casatella or Camembert cheeses.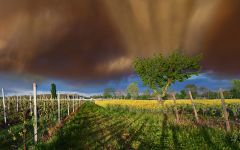 La Cantina Pizzolato, located in the Veneto region, produces Italy's number-one selling Italian organic wines. Located in the rich and flourishing countryside north of Treviso, the organic vineyards are situated on the plains and hillsides in this DOC area. The organic wine estate covers an area of 58 hectares and it also collaborates with neighboring producers contributing an additional 48 hectares of organically grown grapes.
The Pizzolato family has been working in the agricultural sector for more than five generations, consistently living in harmony with nature and the environment. The winery combines five generations of farming history and tradition with a deep commitment to organic wine production. This consideration of the natural world creates Italian organic wines of the highest quality.
These are the strong roots of the Pizzolato family, upon which an entire philosophy was built. The path began in 1981, when Settimo Pizzolato joined the company alongside his father Gino. He progressively undertook production of Italian organic wines, among the first wine producers in Italy to do so. Thanks to his desire to maintain the balance of the countryside ecosystem and a commitment to fine organic wine production, in 1991 Settimo was able to obtain the official USDA organic certification. The resulting organic wines have a true taste of place, embodying the terroir on which they were born and a sense of the family's commitment to live and farm in harmony with nature.
One of the world's most popular and playful sparkling wines, Prosecco is a specialty of northeastern Italy, spanning nine provinces of the Veneto and Fruili-Venezia Giulia regions. A higher-quality version of Prosecco wine that must meet more stringent production requirements is known as Prosecco Superiore and must come from the more rugged terrain between the towns of Valdobiaddene and Conegliano. Prosecco can be produced as a still wine, a semi-sparkling wine ("frizzante"), or a fully sparkling wine ("spumante")—the latter being the most common. While Prosecco wine is typically produced in a "brut" (dry) style, its fresh and fruity character makes it seem a bit sweeter than it actually is. "Extra dry" styles, incorporating higher levels of residual sugar, are quite popular, however.
Prosecco wine is made from the Glera grape, which was formerly and confusingly called Prosecco, these wines are notable for pleasant flavors of peach, pear, melon, green apple, and honeysuckle. Lower pressure during the carbonation process (also called the tank method) means that the bubbles are lighter and frothier than in Champagne or other traditional method sparkling wine, and less persistent. Prosecco is also a great choice to blend with orange juice for mimosas for a classic brunch beverage.
Representing the topmost expression of a Champagne house, a vintage Champagne is one made from the produce of a single, superior harvest year. Vintage Champagnes account for a mere 5% of total Champagne production and are produced about three times in a decade. Champagne is typically made as a blend of multiple years in order to preserve the house style; these will have non-vintage, or simply, NV on the label. The term, "vintage," as it applies to all wine, simply means a single harvest year.
MPW90354_2017
Item#
514879