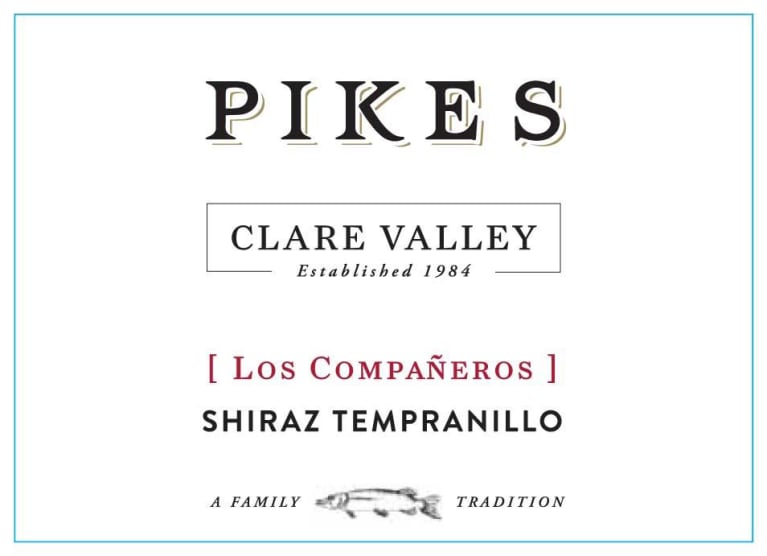 Pikes Los Companeros Shiraz-Tempranillo 2016
Out of Stock

(was $25.99)
Winemaker Notes
Clear and deep ruby in appearance, Los Companeros greets the nose with seductive blueberry fruit framed by suggestions of chocolate, mint, earth, and spice. On the palate, this wine is rich and dense yet approachable. The concentrated dark fruit and chocolate are tempered nicely by fine, silky tannins and balanced acidity. On the finish, the wine shows harmony among its structural components and suggests a comfortable cellaring period of three to five years.
Los Companeros is a sturdy and versatile, and while there are many appetizing matches, it may prove a challenge to find a better partner for a nice rib-eye on the barbecue.
Critical Acclaim
All Vintages
This blend of 80% Shiraz, 20% Tempranillo is reminiscent of a French or Spanish table wine (with more sunshine, perhaps). Little to no oak influence lets the bright plums and red fruits, leather, dried herbs, spices and florals, and stony minerality shine through. Acidity on the palate is a touch biting, but overall the aromas of the nose carry on into flavors, supported by spicy tannins. Silky in texture, with fruit purity and a lovely savoriness, this should be plonked on the dinner table beside a heaping bowl of paella. Editors' Choice.
This has a mellow, blueberry, plum and old-wood spice style that really beckons for the barbecue and casual drinking. The palate is very smooth, succulent and easy with a fresh, glossy, red-fruit core.
View More
The Pike family have been making hand crafted beverages in South Australia for 5 generations. With its origins in the brewing and soft drink industry dating back to 1886, the Pike name, and its iconic English Pike Fish is now synonymous with Clare Valley, and Riesling in particular. 
Pikes Wines was established in 1984, and its viticulturist founder Andrew Pike still oversees the vineyard and overall business. Chief Winemaker Steve Baraglia is undertaking his 19th vintage in 2021, his second as Chief Winemaker after co-founder winemaker Neil Pike retired in January 2020.
Nestled in the unique Clare Valley sub region of Polish Hill River, Pikes pride themselves on make precise yet delicious Riesling that reflects the vineyards and the vintage from which it came. There is nowhere to hide when making great Riesling; every decision and process is critical. From Vineyard to bottle, everything must be done without compromise.
Their red winemaking approach is more laissez faire, embracing the use of spontaneous fermentation, small open fermenters, compressed air cap management, and minimal oak influence. The goal being to showcase the brightness and vibrancy of the fruit, that comes from their estate due to its higher elevation, cold night time temperatures, and it's slatey slightly acidic sub soils.
Andrew Pike's viticultural philosophy is underpinned by the idea that healthy vines make great wine. As such great effort goes into creating an environment that allows the vines to flourish. Pikes have championed the use of under vine straw mulch, mid row cover-cropping, and minimal chemical use for decades. All organic solid waste from the winery is composted with cow manure and returned to the soil, whilst all liquid waste is treated via a system of natural reed beds before being used to irrigate the vines.
Pikes aim is to produce wines that are light on their feet yet grounded, balanced, and most importantly, delicious.
The Clare Valley is actually a series of narrow north to south valleys, each with a different soil type and slightly different weather patterns along their stretch. In the southern heartland between Watervale and Auburn, there is mainly a crumbled, red clay loam soil called terra rossa and cool breezes come in from Gulf St. Vincent. A few miles north, in Polish Hill, is soft, red loam over clay; westerlies blowing in from the Spencer Gulf influece this area's climate.
The differences in soil, elevation, degree of slope and weather enable the region to produce some of Australia's finest, aromatic, spicy and lime-pithy Rieslings, as well as excellent Shiraz, Cabernet Sauvignon and Malbec with ripe plummy fruit, good acid and big structure.
Clare Valley is an isolated farming country with a continental climate known for its warm and sunny days, followed by cool nights—perfect for wine grapes' development of sugar and phenolic ripeness in conjunction with notable acidity levels.
With hundreds of red grape varieties to choose from, winemakers have the freedom to create a virtually endless assortment of blended red wines. In many European regions, strict laws are in place determining the set of varieties that may be used, but in the New World, experimentation is permitted and encouraged resulting in a wide variety of red wine styles. Blending can be utilized to enhance balance or create complexity, lending different layers of flavors and aromas. For example, a red wine blend variety that creates a fruity and full-bodied wine would do well combined with one that is naturally high in acidity and tannins. Sometimes small amounts of a particular variety are added to boost color or aromatics. Blending can take place before or after fermentation, with the latter, more popular option giving more control to the winemaker over the final qualities of the wine.
How to Serve Red Wine
A common piece of advice is to serve red wine at "room temperature," but this suggestion is imprecise. After all, room temperature in January is likely to be quite different than in August, even considering the possible effect of central heating and air conditioning systems. The proper temperature to aim for is 55° F to 60° F for lighter-bodied reds and 60° F to 65° F for fuller-bodied wines.
How Long Does Red Wine Last?
Once opened and re-corked, a bottle stored in a cool, dark environment (like your fridge) will stay fresh and nicely drinkable for a day or two. There are products available that can extend that period by a couple of days. As for unopened bottles, optimal storage means keeping them on their sides in a moderately humid environment at about 57° F. Red wines stored in this manner will stay good – and possibly improve – for anywhere from one year to multiple decades. Assessing how long to hold on to a bottle is a complicated science. If you are planning long-term storage of your reds, seek the advice of a wine professional.
HNYPKSLST16C_2016
Item#
645286