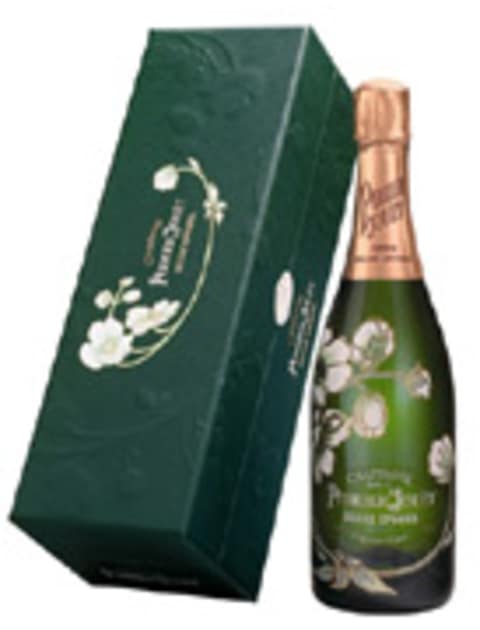 Perrier-Jouet Belle Epoque with Gift Box 1999
Out of Stock

(was $99.99)
Winemaker Notes
The 1999 Fleur de Champagne is a Brut wine, composed of 50% Chardonnay, 45% Pinot Noir and 5% Pinot Meunier grapes. The blend contains a high proportion of Chardonnay that comes from the grand crus of the Côte des Blancs. Pinot Noir originating from the 100-percent-rated villages of Mailly, Verzenay and Verzy in the Montagne de Reims combine with the Chardonnay to create a delicate cuvée. The cold, frostless winter of 1999, coupled with a moderate spring and cool August, were perfect weather conditions, resulting in an excellent harvest.
Color: Pale gold
Bouquet: The wine shows hints of floral and fruit aromas, opening with white flowers and a touch of honey, ending with a hint of brioche.
Palate: The palate is crisp and clean, with hints of almond and nougat. While the cuvée is light and elegant, it has a surprisingly long finish.
Perrier-Jouët was founded in 1811 in Epernay by Pierre-Nicolas-Marie Perrier and his wife, Adele Jouët. One of the most prestigious houses in Champagne, the firm was shipping wine to Great Britain by 1813 and to the United States by 1837. Perrier-Jouët owns 266 acres of vineyards in Champagne, with an average rating of 95%, and is known worldwide for its consistency of style.
By the end of the 19th Century, its Brut cuvées earned the reputation of nobility and prestige that continues today. Perrier Jouët's glamorous "Cuvée Belle Epoque", known in the United States as Fleur de Champagne, was launched in 1969 and has become the most important cuvée de prestige to appear after World War II. The bottle is adorned with enamel-painted anenomes originally created by Emile Gallé in 1900, but the wine is as famous for its taste as it is for its beautiful packaging.
Associated with luxury, celebration, and romance, the region, Champagne, is home to the world's most prized sparkling wine. In order to bear the label, 'Champagne', a sparkling wine must originate from this northeastern region of France—called Champagne—and adhere to strict quality standards. Made up of the three towns Reims, Épernay, and Aÿ, it was here that the traditional method of sparkling wine production was both invented and perfected, birthing a winemaking technique as well as a flavor profile that is now emulated worldwide.
Well-drained, limestone and chalky soil defines much of the region, which lend a mineral component to its wines. Champagne's cold, continental climate promotes ample acidity in its grapes but weather differences from year to year can create significant variation between vintages. While vintage Champagnes are produced in exceptional years, non-vintage cuvées are produced annually from a blend of several years in order to produce Champagnes that maintain a consistent house style.
With nearly negligible exceptions, . These can be blended together or bottled as individual varietal Champagnes, depending on the final style of wine desired. Chardonnay, the only white variety, contributes freshness, elegance, lively acidity and notes of citrus, orchard fruit and white flowers. Pinot Noir and its relative Pinot Meunier, provide the backbone to many blends, adding structure, body and supple red fruit flavors. Wines with a large proportion of Pinot Meunier will be ready to drink earlier, while Pinot Noir contributes to longevity. Whether it is white or rosé, most Champagne is made from a blend of red and white grapes—and uniquely, rosé is often produce by blending together red and white wine. A Champagne made exclusively from Chardonnay will be labeled as 'blanc de blancs,' while ones comprised of only red grapes are called 'blanc de noirs.'
Representing the topmost expression of a Champagne house, a vintage Champagne is one made from the produce of a single, superior harvest year. Vintage Champagnes account for a mere 5% of total Champagne production and are produced about three times in a decade. Champagne is typically made as a blend of multiple years in order to preserve the house style; these will have non-vintage, or simply, NV on the label. The term, "vintage," as it applies to all wine, simply means a single harvest year.
SWS161443_1999
Item#
93267