Winemaker Notes
The nose is youthful and bright, full of red and Bing cherries. On the palate, notes of hard candy, with a lively Jolly Rancher-like cherry flavor. Mid-palate notes of cardamom, with a pleasurable, slightly herbal finish, with a trace of basil. The characteristics of Dolcetto shine through: a graceful balance of acidity and light tannins, alongside a youthful exuberance and freshness that make the varietal so versatile at the table.
Similar in weight to your favorite Pinot Noir, Dolcetto pairs well with antipasti, pastas with meat sauces, grilled fish, roasted poultry, and of course…pizza! Pour a glass and enjoy during kitchen meal prep, or on the patio while grilling.
Critical Acclaim
All Vintages
The 2014 Palmina Dolcetto, a wine not previously on my radar—is one of the most impressive red wines I have tasted over the last few months. From start to finish, this wine drinks so very nicely. This grape variety just wants to be enjoyed with a meal and not put on a fancy stage. Just invite family, friends, and neighbors and enjoy. Its bright red fruit flavors, and juiciness on the palate suggest a beautiful pairing with a Margherita pizza. (Tasted: February 8, 2017, San Francisco, CA)
View More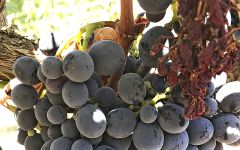 Palmina's philosophy, passion and strongly held belief is that wine is an extension of the plate, a component of a meal and a means to bring people together. Formed by winemaker Steve Clifton (of La Voix Winery and formerly of Brewer-Clifton Wines) in 1995, Palmina is named in honor of Steve's great friend Paula. Like a grandmother to him, she taught Steve the love of cooking, wine and the Italian lifestyle and was a spark in his life. After Paula succumbed to breast cancer, Steve found that her given name on her Italian birth certificate was Palmina, and the winery was thus fittingly named. 
Palmina produces a full range of wines crafted solely from Italian varietals with names that are as fun to say as they are delicious to drink; Dolcetto, Barbera, Nebbiolo, Pinot Grigio. Palmina translates the history of those grapes to the growing conditions and vineyard sites of the very unique characteristics of Santa Barbara County. In California, the transverse mountain ranges typically run north to south but the Santa Barbara County region is unlike any other in the world: its transverse ranges take a turn, running east and west. This creates a unique growing climate for a range of grape varietals by offering daily, both hot and cool climates. The resulting wines are Italian by inspiration with flavors rooted in Santa Barbara County, and all are intended to be a delicious component of a meal.
Palmina "pure farms" its 11 acres in Santa Barbara County. Pure farming gives back more than it takes. Unwavering in its farming standards, Palmina does not utilize herbicides or pesticides. Weed-clearing is done through laborious hand-hoeing, with critical soil nutrients reintroduced by planting organic legumes and grasses between the vines. With mindful intention, organic, sustainable and biodynamic practices are utilized.
PHXPALDOO14750_2014
Item#
176489