Odfjell Orzada Carmenere 2016
Out of Stock

(was $26.99)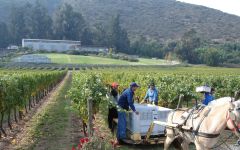 Family-owned and inspired by the Vikings' spirit of exploration, Odfjell Vineyards makes wines that are a true expression of its terroir and capture the best of Chile's Maipo Valley. 100% organic and biodynamic wines, an architecturally stunning gravity-flow winery, and gentle Norwegian fjord horses are signature elements of Odfjell.
A spirit of seafaring adventure and a love for the natural beauty of Chile drew Norwegian ship owner Dan Odjfell to the Maipo Valley, where he planted his first vineyards in 1994. Today Odfjell has 275 acres in the Maipo, Lontué and Cauquenes Valleys, planted to Cabernet Sauvignon, Merlot, Carménère, Syrah, Cabernet Franc, Malbec, and old-vine Carignan.
Since 2012 all of Odfjell's vineyards have been organic and biodynamic with annual certifications. In addition to a wide range of biodynamic farming practices, the winery is home to Norwegian fjord horses, brought to Chile by Dan Odfjell. The horses control weeds, provide better soil drainage, and transport grapes during harvest without compacting the soil, and are used for pediatric hippotherapy.
Odjfell honors its seafaring past with three wine styles, all crafted by long-time winemaker Arnaud Hereu, who was born and educated in Bordeaux. Armador is the Spanish word for 'ship owner' and is the name of its original line of wines. Orazada means 'sailing into the winds' and showcases specific old vines in Odfjell's estate vineyards. Finally, Aliara is the Spanish name for the small tin cup used to dole out alcohol rations on sailing ships, and these are fittingly the most limited production wines from Odfjell.
Maule is the Central Valley's most southern and coolest zone, reaching a southern latitude of 35°S, yet it is still warmer and drier than Bío-Bío to its south. The Maule Valley enjoys success with a unique set of grapes.
It lays claim to the local variety, Pais (synonymous with Tinta Pais, which is actually Tempranillo), which has dominated much of the region's area under vine until the recent past. Now many growers, not confined by the tradition and regulations of the Old World, also successfully grow Cabernet Sauvignon.
While Maule's total area under vine remains relatively static, its old Carignan vineyards are undergoing a great revival. The VIGNO (Vignadores del Carignan Vintners) group, an association in charge of promoting this long-forgotten variety, is getting fantastic results from the old vines in its dry-farmed coastal zones.
The Maule includes the subregions of Talca, San Clemente, San Javier, Parral, Linares and Cauquenes.
Dark, full-bodied and herbaceous with a spicy kick, Carménère found great success with its move to Chile in the mid-19th century. However, the variety went a bit undercover until 1994 when many plantings previously thought to be Merlot, were profiled as Carménère. Somm Secret— Carménère is both a progeny and a great-grandchild of the similarly flavored Cabernet Franc.
EPC37728_2016
Item#
493787