Odfjell Armador Syrah 2009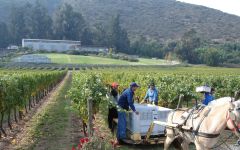 Family-owned and inspired by the Vikings' spirit of exploration, Odfjell Vineyards makes wines that are a true expression of its terroir and capture the best of Chile's Maipo Valley. 100% organic and biodynamic wines, an architecturally stunning gravity-flow winery, and gentle Norwegian fjord horses are signature elements of Odfjell.
A spirit of seafaring adventure and a love for the natural beauty of Chile drew Norwegian ship owner Dan Odjfell to the Maipo Valley, where he planted his first vineyards in 1994. Today Odfjell has 275 acres in the Maipo, Lontué and Cauquenes Valleys, planted to Cabernet Sauvignon, Merlot, Carménère, Syrah, Cabernet Franc, Malbec, and old-vine Carignan.
Since 2012 all of Odfjell's vineyards have been organic and biodynamic with annual certifications. In addition to a wide range of biodynamic farming practices, the winery is home to Norwegian fjord horses, brought to Chile by Dan Odfjell. The horses control weeds, provide better soil drainage, and transport grapes during harvest without compacting the soil, and are used for pediatric hippotherapy.
Odjfell honors its seafaring past with three wine styles, all crafted by long-time winemaker Arnaud Hereu, who was born and educated in Bordeaux. Armador is the Spanish word for 'ship owner' and is the name of its original line of wines. Orazada means 'sailing into the winds' and showcases specific old vines in Odfjell's estate vineyards. Finally, Aliara is the Spanish name for the small tin cup used to dole out alcohol rations on sailing ships, and these are fittingly the most limited production wines from Odfjell.
The Maipo Valley is Chile's most famous wine region. Set in the country's Central Valley, it is warm and quite dry, often necessitating the use of irrigation. Alluvial soils predominate but are supplemented with loam and clay.
The climate in Maipo is best-suited for ripe, full-bodied reds like Cabernet Sauvignon (the region's most widely planted grape), Merlot, Syrah and Carmenère, a Bordeaux variety that has found a successful home in Chile.
White wines are also produced with great prosperity, especially near the cooler coast, include Chardonnay and Sauvignon Blanc.
Marked by an unmistakable deep purple hue and savory aromatics, Syrah makes an intense, powerful and often age-worthy red. Native to the Northern Rhône, Syrah achieves its maximum potential in the steep village of Hermitage and plays an important component in the Red Rhône Blends of the south, adding color and structure to Grenache and Mourvèdre. Syrah is the most widely planted grape of Australia and is important in California and Washington. Sommelier Secret—Such a synergy these three create together, the Grenache, Syrah, Mourvedre trio often takes on the shorthand term, "GSM."
ZZZREFPRODUCT250224
Item#
250224