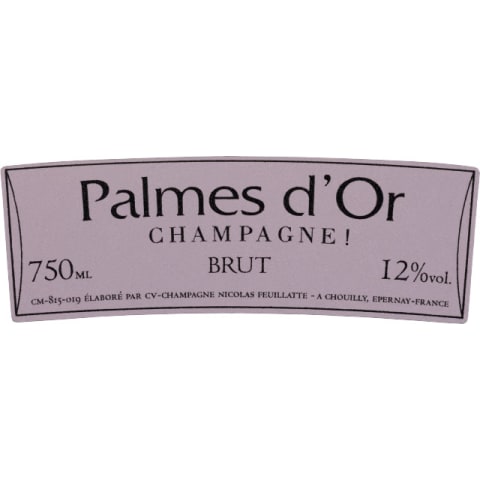 Nicolas Feuillatte Palmes d'Or Rose 2006
Ships today if ordered in next 9 hours
Limit
0
bottles
per customer
Winemaker Notes
The pronounced copper pink appearance, bright, crystal-clear and traced with magnificent cherry-ruby glints, is highly typical of rosé de saignée Champagne. Foaming, exceptionally fine effervescence diffuses tiny, light and playful bubbles, which form a persistent pearl column in the glass. Fresh, of great purity and true elegance, the Champagne reveals delicate, intense, precise and beguiling fruit fragrances of wild cherry and blueberry, Bigarreau cherries and blackcurrant, blood orange and dried figs. Enticing, intense and lively notes of sweet spices delicately unfurl, revealing cinnamon, vanilla, cardamom, and liquorice. The complex aromas underline the power, typical character, and harmony achieved in this blend. Smooth and voluptuous, velvety and vinous on the palate, the Palmes d'Or very much echoes the bouquet in its presence and delicious fruity aromas, which begin to develop smooth, enticing, increasingly complex flavours of blueberry jam and crème de cassis. With its powerful, rounded structure and supple texture of great finesse, it is utterly charming. Remarkably full on the finish, exceptionally long and seductive, underpinned by heady, floral notes.
Critical Acclaim
All Vintages
So much cranberry, cherry and nut character with gingerbread and leather. Full to medium body. Firm and lovely, fine tannins and a flavorful finish. Glorious finish. Tastes like mature and beautiful red Burgundy. Touch of sweetness. Drink now.
A distinctive, vinous style, light garnet in color and offering an upfront mix of cherry and berry fruit, spice, herb and orange peel notes. Pleasurable for its expressive flavor range and soft, lightly effervescent mousse, but is somewhat moderate towards the finish.
View More
Nicolas Feuillatte created Champagne Nicolas Feuillatte in 1976 as an exclusive Reserve Champagne that today remains the guardian of Champagne Nicolas Feuillatte's quality and style. In 1986, Nicolas Feuillatte created a partnership with the Centre Vinicole de la Champagne, the largest association of growers in Champagne, situated in the heart of the vineyards, near the small Grand Cru village of Chouilly on the outskirts of Epernay.
Nicolas Feuillatte Champagnes are the exclusive issue of Premier Cru and Grand Cru vineyards and all cuvees are distinguished by the rich full expression of Champagne's unique terroirs.
Associated with luxury, celebration, and romance, the region, Champagne, is home to the world's most prized sparkling wine. In order to bear the label, 'Champagne', a sparkling wine must originate from this northeastern region of France—called Champagne—and adhere to strict quality standards. Made up of the three towns Reims, Épernay, and Aÿ, it was here that the traditional method of sparkling wine production was both invented and perfected, birthing a winemaking technique as well as a flavor profile that is now emulated worldwide.
Well-drained, limestone and chalky soil defines much of the region, which lend a mineral component to its wines. Champagne's cold, continental climate promotes ample acidity in its grapes but weather differences from year to year can create significant variation between vintages. While vintage Champagnes are produced in exceptional years, non-vintage cuvées are produced annually from a blend of several years in order to produce Champagnes that maintain a consistent house style.
With nearly negligible exceptions, . These can be blended together or bottled as individual varietal Champagnes, depending on the final style of wine desired. Chardonnay, the only white variety, contributes freshness, elegance, lively acidity and notes of citrus, orchard fruit and white flowers. Pinot Noir and its relative Pinot Meunier, provide the backbone to many blends, adding structure, body and supple red fruit flavors. Wines with a large proportion of Pinot Meunier will be ready to drink earlier, while Pinot Noir contributes to longevity. Whether it is white or rosé, most Champagne is made from a blend of red and white grapes—and uniquely, rosé is often produce by blending together red and white wine. A Champagne made exclusively from Chardonnay will be labeled as 'blanc de blancs,' while ones comprised of only red grapes are called 'blanc de noirs.'
What are the different types of Champagne and sparkling wine?
Beloved for its lively bubbles, sparkling wine is the ultimate beverage for any festivity, whether it's a major celebration or a mere merrymaking of nothing much! Sparkling wine is made throughout the winemaking world, but only can be called "Champagne" if it comes from the Champagne region of France and is made using what is referred to as the "traditional method." Other regions have their own specialties—Crémant in other parts of France, Cava in Spain and Prosecco in Italy, to name a few. New World regions like California, Australia and New Zealand enjoy the freedom to make many styles, with production methods and traditions defined locally. In a dry style, Champagne and sparkling wine goes with just about any type of food. Sweet styles are not uncommon and among both dry and sweet, you'll find white, rosé—or even red!—examples.
How is Champagne and sparkling wine made?
Champagne, Crémant, Cava and many other sparkling wines of the world are made using the traditional method, in which the second fermentation (the one that makes the bubbles) takes place inside the bottle. With this method, spent yeast cells remain in contact with the wine during bottle aging, giving it a creamy mouthful, toasted bread or brioche qualities and in many cases, the capacity to age. For Prosecco, the carbonation process usually occurs in a stainless steel tank (before bottling) to preserve the fresh fruity and floral aromas imminent in this style.
What gives Champagne and sparkling wine its bubbles?
The bubbles in sparkling wine are formed when the base wine undergoes a secondary fermentation, which traps carbon dioxide inside the bottle or fermentation vessel.
How do you serve Champagne and sparkling wine?
Ideally for storing Champagne and sparkling wine in any long-term sense, they should be at cellar temperature, about 55F. For serving, cool Champagne and sparkling wine down to about 40F to 50F. (Most refrigerators are colder than this.) As for drinking Champagne and sparkling wine, the best glasses have a stem and flute or tulip shape to allow the bead (bubbles) to show.
How long does Champagne and sparkling wine last?
Most sparkling wines like Prosecco, Cava or others around the "$20 and under" price point are intended for early consumption. Wines made using the traditional method with extended cellar time before release can typically improve with age. If you are unsure, definitely consult a wine professional for guidance.
RPT87247400_2006
Item#
158675