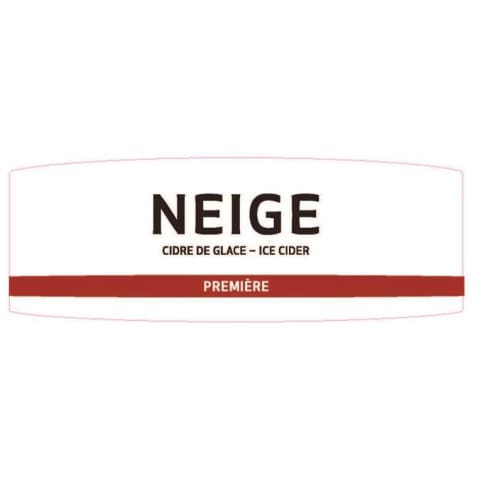 Neige Premiere Ice Cider (375ML half-bottle)
Winemaker Notes
Neige (which means snow) is made from apples harvested in the fall and pressed at Christmas time. Their juice is then kept outside in the freezing winter cold, in order to naturally separate the sugar from the water through the process known as cryo-concentration. This is the way we then obtain our precious syrup, which we let slowly ferment over a period of 6 to 7 months.
The color is a golden yellow with light reflections.On the nose it is pure and clean, the aroma of freshly-picked ripe apple with striking intensity.On the palate it's a crisp, flavorful attack. A perfect balance of sugar and acidity. Perfect as an aperitif or to accompany sharp cheese (Cheddar or goat) or veined cheese (blue), and desserts. Serve chilled.
Critical Acclaim
All Vintages
This smells like a barn full of apples, heady and vivid. It tastes even more vivid, with the sweet, concentrated flavors of apple pie and the tang of cider; the smooth gentleness of applesauce and the crisp, malic edge of the just-picked fruit. It's delicious on its own, even better with thick chunks of extra-sharp cheddar.
A beautiful Quebec classic ice cider, with vibrant notes of fresh apple slices drizzled with honey and clove. Round and full in the mouth without being overly heavy and cloying, the tangerine citrus lifts up the sweeter ripe baked apple and superripe stone fruit flavors. Long and immensely satisfying on the finish; a great after dinner sipper for company.
View More
Driven by a passionate desire to create an authentic product inspired by the bracing chill of the Québec winter, François Pouliot, a well-known film producer, helped to develop the first apple ice wine in 1994 at his boutique cidery, La Face Cachée de la Pomme (The Hidden Face of the Apple) in Hemmingford, Québec. Neige, which means snow in French, is made from the pressed juice of apples, which is concentrated as it freezes during the cold Québec winters at La Face Cachée de la Pomme.
With a cool climate suitable for more than just icewine production, Canada is also home to excellent dry, still and sparkling Canadian wines. Most viticulture is based in Ontario on the east coast and British Columbia on the west coast. Because of the high risk of winter freeze and spring frost, plantings are typically centered on large bodies of water to take advantage of their temperature moderating effects.
In Ontario, particularly on the Niagara Peninsula, aromatic white varieties like Riesling and Gewürztraminer are most successful. Many Canadian wineries produce both dry and semi-dry versions. Chardonnay, Pinot Noir, Gamay, and Cabernet Franc perform nicely here as well. For icewine, French-American hybrid variety, Vidal, is popular. In British Columbia, many of the same grapes are grown, but there is also a significant emphasis on Bordeaux varieties—especially Merlot.
What are the types and styles of dessert wine?
Dessert wines come in an impressive array of styles and sweetness levels. The most straightforward method for making dessert wine is quite simply a late harvest of wine grapes, though further distinctions arise based on country of origin. The main examples include Sauternes (France), Tokaji (Hungary) and ice wine (Germany and Canada).
What are the types and styles of fortified wine?
Fortified wines (meaning alcohol has been added during the winemaking process) include Sherry, Port, Madeira, Banyuls, Rutherglen and other very small-scale styles. Sherry comes in completely dry styles (Fino, Manzanilla, Amontillado, Palo Cortado) and also in a range of sweetness levels. Madeira is typically sweet but can be made into a dry style. Port can be most simply separated into Tawny and Ruby styles. Vermouth, an herb-infused fine wine, is today popular among mixologists and other dessert wines are derived, not from wine grapes, but from different fruits.
How are dessert and fortified wines made?
As mentioned above, many wines in this category—like Sauternes and Tokaji—are produced by leaving the grapes on the vine long after the rest of the harvest has been processed in order to accumulate very high sugar levels. Often, a form of "noble" rot called botrytis plays a role, desiccating the grapes until only the very flavorful solids and sugars remain. These late-picked wines are, accordingly, often referred to as late-harvest wines. In colder climates, the grapes may be allowed to freeze on the vine for the production of ice wine. Other styles are made by letting the harvested grapes dry out (also concentrating sugars). Fortified wines are fortified with neutral spirits to increase the level of alcohol, and, depending on the final style of wine desired, arrest fermentation while some level, high to low (or no), residual sugar remains.
What gives dessert and fortified wines their color?
The different colors of most dessert wines come from the type of grape used and varying levels of oxidation during the winemaking process. The colors of Sherry and Port are mainly the result of oxidation, or lack thereof. Fino and Manzanilla styles are clear to pale gold because of the benevolent film-forming yeasts, called flor, that make a floating seal on the surface of the wine. This layer protects the wine from oxidation, and thus any browning. The other styles of Sherry use various levels of controlled oxidation, resulting in various hues of amber. The two basic styles of Port, Ruby and Tawny, also come in two basic colors, as noted by their names. Both styles are made from the same blend of Douro red varieties, but Tawny ports are tawny in color because they are made from a blend of vintages that have been aged in barrels and gradually exposed to oxygen. Ruby Ports retain their bright color because these wines are aged in barrel only for two to three years before bottling, thus minimizing any color change from oxidation.
How do you serve dessert and fortified wines?
Because of the typically higher sugar and alcohol content, the recommended serving size for most dessert, Sherry & Port wines is three ounces, which is smaller than for regular table wine. In general dessert wines should be served cold—a very sweet Tokaji is served at 40F; Sauternes are best at 50F. Fino and Manzanilla Sherries are best served at 45-50F, while the Amontillados, Olorosos and beyond, are best at 55F. Tawny Ports have a recommended serving temperature of 50-55F, whereas Ruby and Vintage Ports have a recommended serving temperature of 65F.
How long do dessert and fortified wines last?
High quality dessert wines such as Sauternes and Tokaji can often improve up to 10 to 20 years from bottling. Fino and Manzanilla Sherries should be consumed within a year or two of bottling since they are most appreciated for their freshness. Once opened, these are best consumed within a week. Store Amontillado Sherry up to about three years; once opened and refrigerated, these last two to three weeks before they decline. Store Oloro Sherry up to five years; once opened and refrigerated, these last a few weeks or longer. Cream Sherries are best consumed in their youth. Pedro Ximénez Sherry is a special case. It won't necessarily improve with age, but is known to remain unchanged after many years of age. The two basic styles of Port can be further separated into an almost dizzying list of styles, but in general the only ones meant to age longer once bottled are crusted ports and vintage ports (from a declared vintage). Aside from those, LBV (late bottled vintage) ports should age about 4-6 years from the release date and the rest are ready to drink upon release. Fruit wines are not meant to age; the fresh fruit qualities of these wines are most prominent in their youth.
PBC9175473_0
Item#
103279