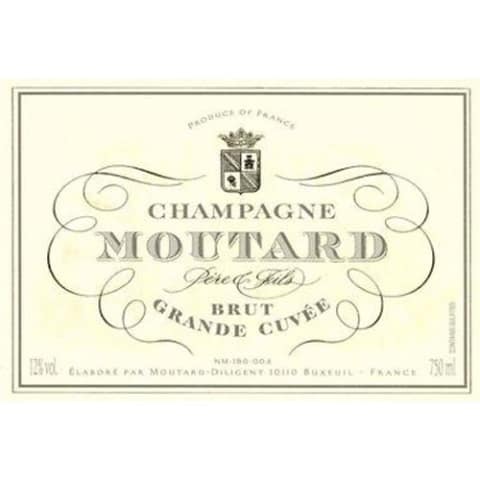 Moutard Brut Grand Cuvee (1.5 Liter Magnum)
Ships Sun, Sep 1
Limit
0
bottles
per customer
Winemaker Notes
This Blanc de Noirs Cuvee is the pillar of Moutard's production as it is a blend of several of the best vintages. The refined, rich nose evokes notes of butter, almond and brioche. A lively, elegant and balanced palate with good mouthfeel.
Critical Acclaim
All Vintages
A Côte des Bars pinot noir Champagne based on the 2013 vintage, this has the vinous red-fruit character and seashell minerality of a Marsannay. The acidity makes it feel austere and tense, as well as focused and bright, a line drive of flavor that brings you back for more.
Tropical hints of papaya and passion fruit pâte de fruit are enlivened by bright and tangy acidity, layered on the lively bead with flavors of Gala apple, blanched almond and fresh ginger. Well-knit and vibrant, with a sleek, minerally finish.
I was quite taken with the wines I tasted from Moutard this year. The NV Brut Grande Cuvee (Pinot Noir) emerges from the glass with high-toned notes of Mirabelle plums, kirsch, crushed flowers and sweet herbs. There is an exotic quality to the Grande Cuvee that is totally beguiling. Intensely aromatic and layered through to the finish, the Grande Cuvee impresses for its delicate, feminine personality and overall balance.
View More
Moutard has been making wine for several generations, producing a range of Champagnes from their own grapes and from grapes purchased from vine-growing friends. The Cote des Bar soil, made up of clays and limestones, gives the traditional Champagne varieties – Pinot Noir and Chardonnay – those very special rich, fruity aromas which are so much appreciated by connoisseurs. The blending of wines kept from several years enables us to offer a range of Champagnes of reliable quality. So that we can offer Champagnes at a perfect stage of maturity, ready for drinking, our production is cellar-aged for at least three years or between ten and fifteen years for vintage wines. From the beginning of the wine-making process to the first sign of sparkling, our ancient methods have been enriched by the latest techniques in controlling the quality of the products.
Associated with luxury, celebration, and romance, the region, Champagne, is home to the world's most prized sparkling wine. In order to bear the label, 'Champagne', a sparkling wine must originate from this northeastern region of France—called Champagne—and adhere to strict quality standards. Made up of the three towns Reims, Épernay, and Aÿ, it was here that the traditional method of sparkling wine production was both invented and perfected, birthing a winemaking technique as well as a flavor profile that is now emulated worldwide.
Well-drained, limestone and chalky soil defines much of the region, which lend a mineral component to its wines. Champagne's cold, continental climate promotes ample acidity in its grapes but weather differences from year to year can create significant variation between vintages. While vintage Champagnes are produced in exceptional years, non-vintage cuvées are produced annually from a blend of several years in order to produce Champagnes that maintain a consistent house style.
With nearly negligible exceptions, three varieties are permitted for use in Champagne: Chardonnay, Pinot Noir, and Pinot Meunier. These can be blended together or bottled as individual varietal Champagnes, depending on the final style of wine desired. Chardonnay, the only white variety, contributes freshness, elegance, lively acidity and notes of citrus, orchard fruit and white flowers. Pinot Noir and its relative Pinot Meunier, provide the backbone to many blends, adding structure, body and supple red fruit flavors. Wines with a large proportion of Pinot Meunier will be ready to drink earlier, while Pinot Noir contributes to longevity. Whether it is white or rosé, most Champagne is made from a blend of red and white grapes—and uniquely, rosé is often produce by blending together red and white wine. A Champagne made exclusively from Chardonnay will be labeled as 'blanc de blancs,' while ones comprised of only red grapes are called 'blanc de noirs.'
A term typically reserved for Champagne and Sparkling Wines, non-vintage or simply "NV" on a label indicates a blend of finished wines from different vintages (years of harvest). To make non-vintage Champagne, typically the current year's harvest (in other words, the current vintage) forms the base of the blend. Finished wines from previous years, called "vins de reserve" are blended in at approximately 10-50% of the total volume in order to achieve the flavor, complexity, body and acidity for the desired house style. A tiny proportion of Champagnes are made from a single vintage.
There are also some very large production still wines that may not claim one particular vintage. This would be at the discretion of the winemaker's goals for character of the final wine.