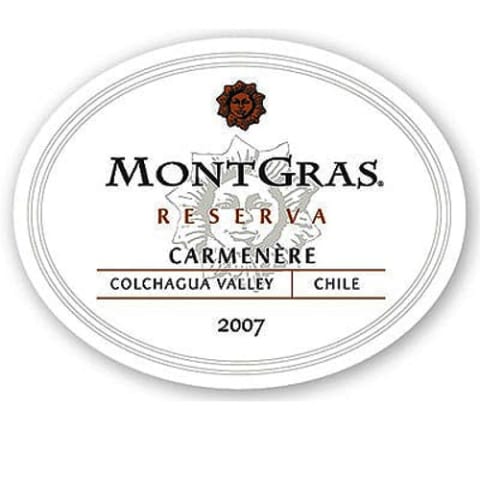 MontGras Reserva Carmenere 2007
Winemaker Notes
Deep violet red. Powerful aromas of spices, wild herbs and vanilla. Well-rounded, with subtle fruit flavors and soft tannins leading to a velvety finish.
Best served with spicy entrées, steak and rich cheeses.
"Here's one of the standout Best Buy reds of the season out of Chile. There's welcoming grapeball and sweet berry aromas mixed with olive and tobacco. The feel is smooth and medium-deep, and the blackberry and plum flavors are just right. Barely herbal, with a long finish. Carmenere in its simple glory." 90 Points,
Wine Enthusiast

A winery with soul. That is MontGras and that's the way it has been forged since the onset with one clear objective: consistently create world-class wines from Chile's best terroirs. Brothers Hernán and Eduardo Gras, along with partner Cristián Hartwig gave life to the winery in 1993, combining state of the art technology with the talent and passion of a very special group of people. With the inspiration of Hernán, who had a long winemaking trajectory in Canada, along with the entrepreneurial vision of his brother Eduardo and Cristián's pragmatic businesses view, they made a perfect combination that has converted MontGras into one of the major wine groups of Chile, with presence in the main wine regions of the country – Colchagua, Maipo and Leyda-, along with a high participation in international markets.
Montgras has an ample diversity of soils, climates and grape varieties to produce wines of exceptional quality that represent the origin. Chile is geographically unique. Its boundaries define a long and narrow country, spanning over 4,300 km (2,672 mi) of Pacific Ocean coastline on the western edge of South America. The Andes Mountain Range, rising over 5,000 m (16,405 ft.), creates a natural barrier to the east. Between the ocean and mountains, it has an average width of 175 km (109 mi). In the north, the Atacama Desert, one of the world's most arid climates, gives way to the fertile Central Valley. To the south is Patagonia, a region with thousands of islands, fjords and millenary glaciers reaching the Antarctic. Chile's natural boundaries have defended the country from phyloxera, the most lethal of vine plagues, making it the only country in the world not attacked with the plague of 1877 and that has pre-phyloxera clones planted on its own root stock. With its diversity of terroirs, Chile represents the energy of the New World. From Elqui to the north, to Osorno in the south, there are approximately 117,560 hectares (290,487 acres) planted with about 50 varieties of vinifera grapes, of which 75% corresponds to red and 25% to white varieties. Today, Chile is recognized as an important wine producing nation of exceptional quality.
Dramatic geographic and climatic changes from west to east make Chile an exciting frontier for wines of all styles. Chile's entire western border is Pacific coastline, its center is composed of warm valleys and on its eastern border, are the soaring Andes Mountains.
Chile's central valleys, sheltered by the costal ranges, and in some parts climbing the eastern slopes of the Andes, remain relatively warm and dry. The conditions are ideal for producing concentrated, full-bodied, aromatic reds rich in black and red fruits. The eponymous Aconcagua Valley—hot and dry—is home to intense red wines made from Cabernet Sauvignon, Syrah and Merlot.
The Maipo, Rapel, Curicó and Maule Valleys specialize in Cabernet and Bordeaux Blends as well as Carmenère, Chile's unofficial signature grape.
Chilly breezes from the Antarctic Humboldt Current allow the coastal regions of Casablanca Valley and San Antonio Valley to focus on the cool climate loving varieties, Pinot Noir, Chardonnay and Sauvignon Blanc.
Chile's Coquimbo region in the far north, containing the Elqui and Limari Valleys, historically focused solely on Pisco production. But here the minimal rainfall, intense sunlight and chilly ocean breezes allow success with Chardonnay and Pinot Noir. The up-and-coming southern regions of Bio Bio and Itata in the south make excellent Riesling, Chardonnay and Pinot Noir.
Spanish settlers, Juan Jufre and Diego Garcia de Cáceres, most likely brought Vitis vinifera (Europe's wine producing vine species) to the Central Valley of Chile sometime in the 1550s. One fun fact about Chile is that its natural geographical borders have allowed it to avoid phylloxera and as a result, vines are often planted on their own rootstock rather than grafted.
Dark, full-bodied and herbaceous with a spicy kick, Carménère found great success with its move to Chile in the mid-19th century. However, the variety went a bit undercover until 1994 when many plantings previously thought to be Merlot, were profiled as Carménère. Somm Secret— Carménère is both a progeny and a great-grandchild of the similarly flavored Cabernet Franc.
NDF685604_2007
Item#
95432