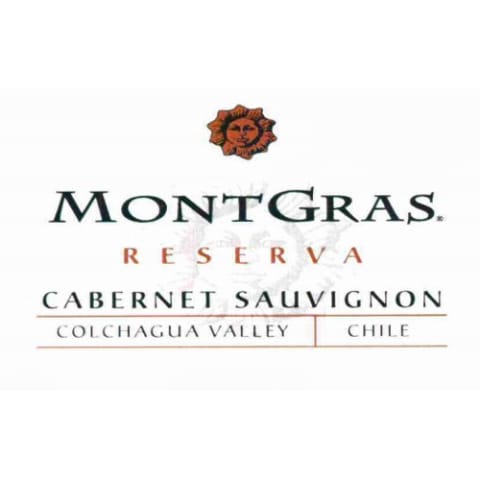 MontGras Reserva Cabernet Sauvignon 2008
Out of Stock

(was $11.49)
Winemaker Notes
Deep ruby red with purple notes. Black cherry, currants and plummy Cabernet aromas. The mocha, vanilla and cedar from a well seasoned oak, is the perfect complement that gives this wine an attractive and complex nose. Shows rich, elegant currant and black cherry fruit framed by toast and mocha from the infused oak. On a second sip you start feeling a depth very uncommon in a wine of this price. Beautiful balance and a lingering finish.
A winery with soul. That is MontGras and that's the way it has been forged since the onset with one clear objective: consistently create world-class wines from Chile's best terroirs. Brothers Hernán and Eduardo Gras, along with partner Cristián Hartwig gave life to the winery in 1993, combining state of the art technology with the talent and passion of a very special group of people. With the inspiration of Hernán, who had a long winemaking trajectory in Canada, along with the entrepreneurial vision of his brother Eduardo and Cristián's pragmatic businesses view, they made a perfect combination that has converted MontGras into one of the major wine groups of Chile, with presence in the main wine regions of the country – Colchagua, Maipo and Leyda-, along with a high participation in international markets.
Montgras has an ample diversity of soils, climates and grape varieties to produce wines of exceptional quality that represent the origin. Chile is geographically unique. Its boundaries define a long and narrow country, spanning over 4,300 km (2,672 mi) of Pacific Ocean coastline on the western edge of South America. The Andes Mountain Range, rising over 5,000 m (16,405 ft.), creates a natural barrier to the east. Between the ocean and mountains, it has an average width of 175 km (109 mi). In the north, the Atacama Desert, one of the world's most arid climates, gives way to the fertile Central Valley. To the south is Patagonia, a region with thousands of islands, fjords and millenary glaciers reaching the Antarctic. Chile's natural boundaries have defended the country from phyloxera, the most lethal of vine plagues, making it the only country in the world not attacked with the plague of 1877 and that has pre-phyloxera clones planted on its own root stock. With its diversity of terroirs, Chile represents the energy of the New World. From Elqui to the north, to Osorno in the south, there are approximately 117,560 hectares (290,487 acres) planted with about 50 varieties of vinifera grapes, of which 75% corresponds to red and 25% to white varieties. Today, Chile is recognized as an important wine producing nation of exceptional quality.
EMP31359_2008
Item#
102141