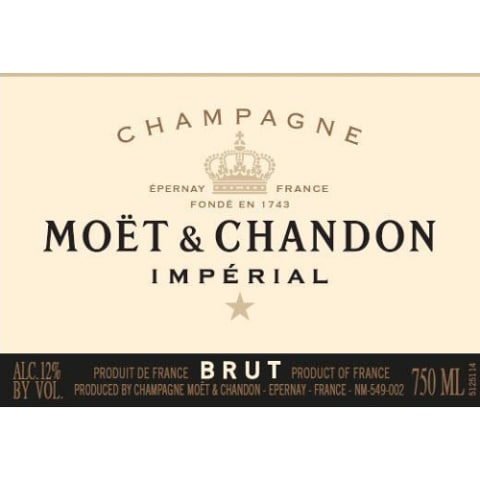 Moet & Chandon Festive Label Imperial Brut
Winemaker Notes
As no Holiday Season is complete without Moet, consider giving the glamour of the world's most-loved and celebrated Champagne with Moet & Chandon's limited edition holiday bottle! Moet's Festive So Bubbly bottle, a special re-imagining of the House's iconic Imperial Brut, perfectly embodies the end-of-year spirit, elevating the generous art of gift giving. Elegantly embellished with three-dimensional golden bubbles in place of its label, this statuesque sparkler is a visual representation of the beautiful bubbles inside, adding a touch of glistening glamour to all festivities.
Critical Acclaim
All Vintages
This spectacular wine replaces White Star as the flag bearer for the brand. It is a stunning improvement with a lovely citrus nose that shows hints of white flowers, minerals and brioche; it is smooth textured with graceful structure, bright acidity and showing long, precise and vivid flavors.
Well-balanced, exhibiting flavors of light toast, Gala apple, honey and ginger, with smoke and mineral notes underscoring hints of tropical pineapple and tangerine fruit. There's lovely texture, with a firm backbone of juicy acidity.
View More
Learn about Moet & Chandon: its history, the brand and it's iconic Moet Imperial Brut Champagne.
History of Moet & Chandon
Moet & Chandon was founded as Moet et Cie in 1743 by Claude Moet. At the end of the 18th century, Claude's grandson Jean-Remy Moet took over the business and introduced Champagne and the Moet brand to the rest of the world. It wasn't until 1833, when Jean-Remy's son-in-law, Pierre-Gabriel Chandon de Briailles, joined the business that the House was renamed Moet & Chandon.
The Moet & Chandon Brand
Since its founding, Moet & Chandon has been the Champagne of success and glamour. The important figures of the era, from the Marquise de Pompadour to Napoleon, quickly fell in love with the House's effervescent wine. Renowned for its achievements and legendary pioneering spirit, Moet & Chandon is synonymous with both cherished traditions and modern pleasures and has helped celebrate life's most triumphant moments for more than 270 years.
Moet Imperial Brut
Moet Imperial Brut is the House's iconic champagne bottle. Created in 1869, it embodies the unique Moet & Chandon style; a style that distinguishes itself by its bright fruitiness, seductive palate, and elegant maturity.
Moet & Chandon Pronunciation
mow-ett ay shahn-don
Associated with luxury, celebration, and romance, the region, Champagne, is home to the world's most prized sparkling wine. In order to bear the label, 'Champagne', a sparkling wine must originate from this northeastern region of France—called Champagne—and adhere to strict quality standards. Made up of the three towns Reims, Épernay, and Aÿ, it was here that the traditional method of sparkling wine production was both invented and perfected, birthing a winemaking technique as well as a flavor profile that is now emulated worldwide.
Well-drained, limestone and chalky soil defines much of the region, which lend a mineral component to its wines. Champagne's cold, continental climate promotes ample acidity in its grapes but weather differences from year to year can create significant variation between vintages. While vintage Champagnes are produced in exceptional years, non-vintage cuvées are produced annually from a blend of several years in order to produce Champagnes that maintain a consistent house style.
With nearly negligible exceptions, . These can be blended together or bottled as individual varietal Champagnes, depending on the final style of wine desired. Chardonnay, the only white variety, contributes freshness, elegance, lively acidity and notes of citrus, orchard fruit and white flowers. Pinot Noir and its relative Pinot Meunier, provide the backbone to many blends, adding structure, body and supple red fruit flavors. Wines with a large proportion of Pinot Meunier will be ready to drink earlier, while Pinot Noir contributes to longevity. Whether it is white or rosé, most Champagne is made from a blend of red and white grapes—and uniquely, rosé is often produce by blending together red and white wine. A Champagne made exclusively from Chardonnay will be labeled as 'blanc de blancs,' while ones comprised of only red grapes are called 'blanc de noirs.'
A term typically reserved for Champagne and Sparkling Wines, non-vintage or simply "NV" on a label indicates a blend of finished wines from different vintages (years of harvest). To make non-vintage Champagne, typically the current year's harvest (in other words, the current vintage) forms the base of the blend. Finished wines from previous years, called "vins de reserve" are blended in at approximately 10-50% of the total volume in order to achieve the flavor, complexity, body and acidity for the desired house style. A tiny proportion of Champagnes are made from a single vintage.
There are also some very large production still wines that may not claim one particular vintage. This would be at the discretion of the winemaker's goals for character of the final wine.