Michele Chiarlo Le Madri Roero Arneis 2015
Out of Stock

(was $15.99)
Winemaker Notes
This straw-yellow wine has intense aromas of white flowers, mint and apricot. On the palate it is fresh and elegant, with a silky texture and fine acidity.
Pairs well with hors d'oeuvres and cold cuts, poultry and vegetarian appetizers and simply prepared seafood.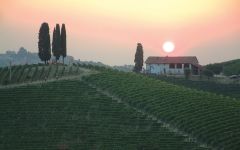 The wine producing firm of Michele Chiarlo was founded in 1956 by the sole and present owners, Michele and Giuseppina Chiarlo. Son of over seven generations of esteemed wine growers, Mr. Chiarlo is today one of the most respected producers of the fine wines of Piedmont and a leading figure in its viticultural industry.
At the production and vineyard level, where quality begins, Michele Chiarlo has for thirty years pursued an endless search for control over the finest vineyard sites in each of the zones from which he produces his wines. Perhaps the crown jewel among these is the vineyard of Fornace di Tassarolo in the Rovereto area of Gavi, a small parcel planted in 1910 which yields a brilliant and intense Gavi of exquisite refinement. He also has long-term agreements with the owners of two spectacular vineyards in the Castiglione Falleto and Serralunga crus of Barolo, from which he produces Barolo Riserva Rocche di Castiglione and Barolo Riserva Vigna Rionda di Serralunga. In addition to these contracts, he has also purchased the Antico Podere Averame in the Cerequio cru of Barolo, considered one of the zone's finest Nebbiolo vineyards; and an estate, also in Barolo in the cru of Cannubi, which due to its extremely sharp gradient had never been cultivated. With considerable capital investment, this vineyard has been terraced and brought into production, the first time such a project has ever been undertaken in Piedmont.
In 1995, Michele Chiarlo acquired the estate of Azienda Agricola Aluffi in Castelnuovo Calcea, considered to the most beautiful and prestigious property in the heart of the classic Barbera d'Asti zone. The estate is comprised of two separate vineyard holdings, La Court and Il Castello, with a total area of 62 acres of which 50 are planted in Barbera vines, quite extensive for this area. The principally southwest and easterly-exposed slopes support superb, calcium and mineral rich soils which are of ideal composition for the production of great Barbera d'Asti.
Michele Chiarlo directly manages or personally oversees every aspect in the production of his wines. Eminently qualified through the expertise acquired through his involvement with the company under his father, he also holds a degree from the prestigious School of Enology at Alba. His ceaseless innovation, both in production and in marketing, has gained him the respesct of his industry.
Even to this day, the Roero folklore lives on about witchcraft lurking behind its dramatic contours and obscure woods—but these stories only add to the region's allure and charm. Actually today Roero winemakers are some of the most astute and motivated in Piedmont. While the white Arneis has attracted global attention for some time, now Roero Nebbiolo wines (elevated to the same DOCG status as Barolo and Barbaresco) are making a name for themselves. Keep an eye on any labeled with the vineyard, Valmaggiore, as Barolo producers have been investing here for years. If you're looking for hidden gems, this is your region!
Yielding a dry and subtly scented wine, Arneis is the star white grape of Piedmont. Though the grape has been local to Roero since the 1400s, it didn't experience real popularity until the 1980s when local demand for white wine exploded. Somm Secret—A few key Roero producers are also focusing on exploring the ageability of high quality Arneis. It is only grown outside of Piedmont to a very limited extent.
CGM32117_2015
Item#
178119