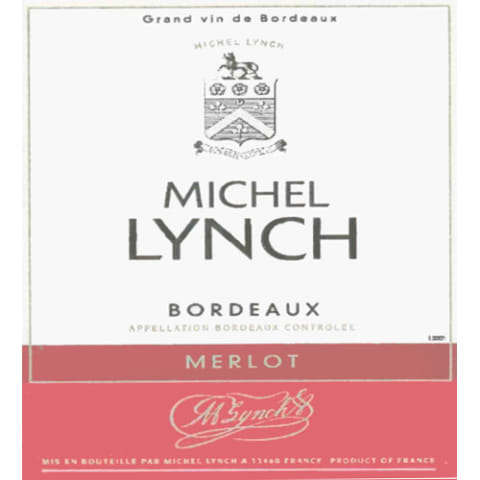 Winemaker Notes
The unique growing conditions and microclimates of Bordeaux have made the region synonymous with high quality. Jean Michel Cazes (owner of Chateau Lynch Bages) has created Michel Lynch wines to offer incredible value at an affordable price. The goal is to craft balanced Bordeaux wine in order to achieve varietal fruit flavors with excellent structure and finesse.
Color: Deep ruby red
Bouquet: Aromas of red cherry, plum and blackberry
Taste: Powerful, supple and fruit forward, with a lasting finish
Serving Suggestions: Enjoy with hearty pasta dishes, grilled salmon, veal, pork and beef.
The name of Michel Lynch, the knight who owned Chateau Lynch-Bages and was Mayor of Pauillac during the French Revolution, is inextricably linked with the great wines of Bordeaux. Born in 1754, Michel Lynch devoted his life to improving the wines on his Lynch-Bages property. A shrewd wine producer, he was one of the prime movers in the viticultural advances at the end of the 17th century, in particular with the early trials of de-stemming (separating the stalk and pips) before fermentation, which subsequently became widespread in Medoc.
Towards the end of the 1980s, the owner of Lynch-Bages and tireless globetrotter in the name of promoting Bordeaux wines, Jean-Michel Cazes devised a sort of spiritual affiliation in honour of Michel Lynch, naming this new range of wines after him.
With Michel Lynch, Jean-Michel Cazes aims to offer a selection of wines reflecting the diversity and richness of the Bordeaux terroirs. These wines are aimed at the wine-lover who wishes to be able to drink – without having to wait – a wine that expresses both the finesse and richness of Bordeaux wines, the best of the terroirs and the excellence of a vintage. Nowadays, Michel Lynch perfectly encapsulates the tradition and modernity of Bordeaux wines, which are elegant, audacious and accessible; easy-drinking wines that are quite simply conducive to conviviality!
In most of France, wines are named by their place of origin and not by the type of grape (with the exception of Alsace). Just like a red Burgundy is by law, always made of Pinot noir, a red Bordeaux is a blended wine composed mainly of Cabernet Sauvignon and Merlot. Depending on the laws of the village from which the grapes come, the conditions of the vintage and decisions of the winemaker, the blend can be further supported by Cabernet Franc, Malbec, Petit Verdot and in rare cases, Carmenere. So popular and repeated has this mix of grape varieties become worldwide, that the term, Bordeaux Blend, refers to a wine blended in this style, regardless of origin.
SOU43987_2006
Item#
94586