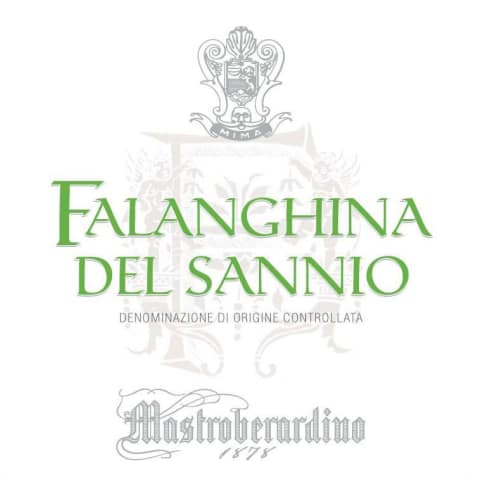 Mastroberardino Falanghina del Sannio 2016
Ships today if ordered in next 10 hours
Limit
0
bottles
per customer
Winemaker Notes
Pale lemon-green in color, aromas of ripe pineapples and citrus fruits are complemented by undertones of white flowers. On the palate, zesty acidity and persistent notes of honeysuckle and toasted almond make for a definite crowd-pleaser.
Pair this wine with seafood stews, gremolata sauces, bucatini alla puttanesca, or crab ceviche.
Mastroberardino is one of the leading wineries and wine families in all of Italy in terms of production, market impact, and innovation. This is one single family with a winemaking history which dates back to the early 18th century, and which is largely responsible for the viticultural success of Campania's remote Irpinia area. The Mastroberardino family have earned themselves a place in Italy's viticultural history as a guardian and protector of indigenous grapes of Southern Italy's Campania region. The family has not just worked to maintain these varieties, but Mastroberardino has successfully turned would-be extinct grapes into world class varieties. This work of transformation began in earnest after WWII when Antonio Mastroberardino returned to his family's estate to find it in ruins-- the result of economic hardships, phylloxera, neglect and war. Antonio refused to let his family's legacy fall to circumstance, however, and he worked tirelessly to restore the land he loved. The Mastroberardino family achieved this restorative transformatoin by replanting existing vineyards and purchasing the best land they could find to focus on revitalizing Campania's three ancient varietals of Fiano, Greco, and Aglianico. The family first established itself in the town of Atripalda, some 30 km from Naples in the shadow of the infamous Mt. Vesuvius. Since then, ten generations have cultivated the neighboring land, maintaining their hard fought mission to protect the indigenous varieties and winemaking traditions native to Campania. For the Mastroberardino family, the revitalization of ancient Irpinian grapes was just the beginning. Today Mastroberardino's production has grown to 14 wine estates across Campania, all situated in the heart of the three DOCG production areas of Greco di Tufo, Fiano di Avellino, and Taurasi. Here, they continue the family's mission to preserve tradition while incorporating modern approaches to their winemaking and marketing practices. Antonio's son Piero is now the 10th generation Mastroberardino to lead the winery, overseeing not just the business operations, but also a multitude of research projects, including classification, planting, and viticultural zoning across the entire region. In 1996 the winery's work was further recognized when the Italian government selected Mastroberardino to manage the preservation of Pompeii's ancient viticultural techniques at the Villa dei Misteri archaeological site. Here the winery carefully planted vines inside the Pompeii ruins following the plans and methods used by the Ancient Romans prior to the eruption of Vesuvius in 79 B.C. Proceeds from the sale of these unique wines support the restoration of the ancient wine cellar at Foro Bario, one of Pompeii's most impressive archaeological sites. Today many Campania's top wines enjoy recognition among the finest wines in the world with much of this well-deserved reputation owing to the perseverance and cultural commitment of 10 generations of the Mastroberardino family.
Named "Oenotria" by the ancient Greeks for its abundance of grapevines, Italy has always had a culture virtually inextricable from wine. Wine grapes grow in every region throughout the country—a long and narrow boot-shaped peninsula extending into the Mediterranean. Naturally, most Italian regions enjoy a Mediterranean climate and a notable coastline, if not coastline on all borders, as is the case with the islands of Sicily and Sardinia.
The Alps in the northern regions of Valle d'Aosta, Lombardy and Alto Adige as examples, create favorable conditions for cool-climate varieties, while the Apennine Mountains, extending from Liguria in the north to Calabria in the south, affect climate, grape variety and harvest periods throughout. Considering its variable terrain and conditions, it's still safe to say that most high quality viticulture in Italy takes place on picturesque hillsides.
Italy boasts more indigenous varieties than any other country—between 500 and 800, depending on whom you ask—and most wine production relies upon these native grapes. In some regions, international varieties have worked their way in, but are declining in popularity, especially as younger growers take interest in reviving local varieties. Most important are Sangiovese, reaching its greatest potential in Tuscany and Nebbiolo, the prized grape of Piedmont, producing single varietal, age-worthy wines. Other important varieties include Corvina, Montepulciano, Barbera, Nero d'Avola and of course the whites, Pinot Grigio and Trebbiano. The list goes on.
Thought to be an ancient transplant from Greece, the grape takes its name from the Greek word, phalanga, meaning stake or pole, in reference to the Greek method of training vines to single stakes. Thriving throughout Campania, it plays a key role in many regional blends and grows widely from the north in Falerno del Massico DOC zone to Naples where, along the slopes on Mount Vesuvius, local grapes called Verdeca, Coda di Volpe and Greco take well to it's addition. On the Amalfi Coast, it is added to Biancolella as well as Greco. Around Avellino, it can be made into single varietal versions, like its compatriots: Fiano and Greco.
Falanghina produces attractive and unoaked wines with an alluring piney resin and citrus blossom fragrance, which are juicy and refreshing on the palate. Try it with a classic Caprésé salad of mozzarella, heirloom tomato and fresh basil.
HNYMSRFSO16C_2016
Item#
336235