Winemaker Notes
The distinctive 2014 Maquis Lien is made from a finely tuned blend of 44% Cabernet Franc, 40% Syrah, 10% Carménère, 6% Petit Verdot. It is a generous red wine that reflects the character of the Hurtado family's special plot of land.
Critical Acclaim
All Vintages
Furry berry, prune, black cherry and mineral aromas set up a pulsing palate with tough tannins. Dark plum, cassis and wild berry flavors finish with natural spice and integrated oak that leaves a note of mocha. If anything holds back this blend of Carmenère, Cabernet Franc, Syrah and Cabernet Sauvignon, it's hardness and roughness.
A blend of cabernet franc, carmenere, syrah and petit verdot with dark berries, blueberries and walnuts. Medium body. Smooth.
Offers a muscular mix of dried dark cherry, berry and plum pudding flavors, backed by firm acidity and tannins. Intense dark chocolate and Asian spice notes show on the structured finish, revealing mocha overtones. Carmenère, Cabernet Franc, Syrah and Cabernet Sauvignon. Drink now through 2025.
View More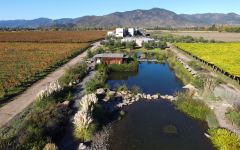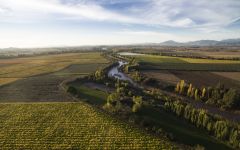 The Hurtado family has owned the Viña Maquis vineyard for more than a century, but it wasn't until almost 20 years ago that the family decided to make their own wine out of the terrific grapes in their own backyard. They built a state-of-the-art gravity flow winery and set out to make the Maquis winery one of the great properties in all of South America.
Located in Colchagua Valley, the winery's focus is on distinctive single-vineyard, estate wines, as well as producing "balanced" wines that are not over-ripe (resulting in excessively high alcohol) but also not exhibiting any of the "green" character that sometimes plagues wines picked from grapes that have not fully matured. The Maquis main vineyard is essentially an island: it is deeply influenced by the Tinguiririca River on one side and the Chimbarongo Creek on the other. These two large waterways once brought alluvial sediment from the Andes and today act as pathways for cool coastal breezes that help moderate the warm Colchagua summers, contributing to the intensity, character, fruitiness and mineral elements of the Maquis wines. Maquis is fortunate to have such a privileged location.
Well-regarded for intense and exceptionally high quality red wines, the Colchagua Valley is situated in the southern part of Chile's Rapel Valley, with many of the best vineyards lying in the foothills of the Coastal Range.
Heavy French investment and cutting-edge technology in both the vineyard and the winery has been a boon to the local viticultural industry, which already laid claim to ancient vines and a textbook Mediterranean climate.
The warm, dry growing season in the Colchagua Valley favors robust reds made from Cabernet Sauvignon, Carmenère, Malbec and Syrah—in fact, some of Chile's very best are made here. A small amount of good white wine is produced from Chardonnay and Sauvignon Blanc.
With hundreds of red grape varieties to choose from, winemakers have the freedom to create a virtually endless assortment of blended red wines. In many European regions, strict laws are in place determining the set of varieties that may be used, but in the New World, experimentation is permitted and encouraged resulting in a wide variety of red wine styles. Blending can be utilized to enhance balance or create complexity, lending different layers of flavors and aromas. For example, a red wine blend variety that creates a fruity and full-bodied wine would do well combined with one that is naturally high in acidity and tannins. Sometimes small amounts of a particular variety are added to boost color or aromatics. Blending can take place before or after fermentation, with the latter, more popular option giving more control to the winemaker over the final qualities of the wine.
How to Serve Red Wine
A common piece of advice is to serve red wine at "room temperature," but this suggestion is imprecise. After all, room temperature in January is likely to be quite different than in August, even considering the possible effect of central heating and air conditioning systems. The proper temperature to aim for is 55° F to 60° F for lighter-bodied reds and 60° F to 65° F for fuller-bodied wines.
How Long Does Red Wine Last?
Once opened and re-corked, a bottle stored in a cool, dark environment (like your fridge) will stay fresh and nicely drinkable for a day or two. There are products available that can extend that period by a couple of days. As for unopened bottles, optimal storage means keeping them on their sides in a moderately humid environment at about 57° F. Red wines stored in this manner will stay good – and possibly improve – for anywhere from one year to multiple decades. Assessing how long to hold on to a bottle is a complicated science. If you are planning long-term storage of your reds, seek the advice of a wine professional.
ANSMAQLN14_2014
Item#
596862