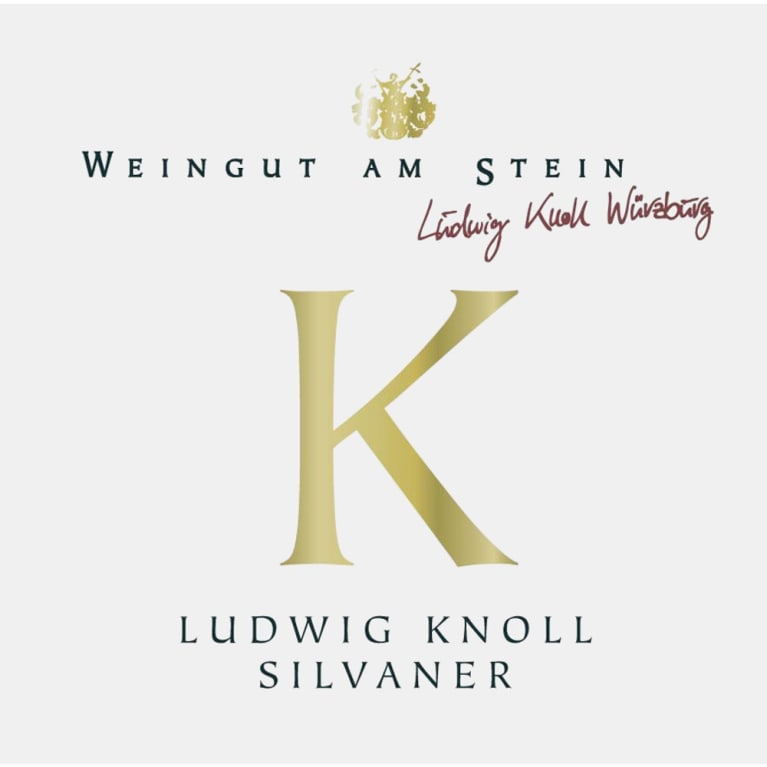 Ludwig Knoll Silvaner 2007
Winemaker Notes
From one of the warmest and driest regions in Germany, the estate Silvaner from Ludwig Knoll beautifully captures the unique flinty minerality of the Franken region. This is a wonderfully accessible, modern wine from one of Germany's oldest known grape varieties. It has robust structure, with a generous, fruit-driven juiciness on the palate. It is simply delicious for the casual wine drinker and a new discovery even for many experienced wine lovers. This wine is un-oaked and an excellent companion for all sorts of foods.
Critical Acclaim
All Vintages
This is classic for the region, showing pure, taut flavors of apple and lime that seem to be energized by the underlying stoniness. It feels balanced and lithe, finishing with unusually savory aromas not unlike a young gruner veltliner.
View More
The estate is located in the city boundaries of Würzburg (Maindreieck area) in the Franken wine-growing area in Germany, at the foot of the steep vineyard site that has given it its name. It has been run by Ludwig Knoll and his wife Sandra since 1990, they are the fifth generation of the family at the helm here.
As the world's northernmost fine wine producing region, Germany faces some of the most extreme climatic and topographic challenges in viticulture. But fortunately this country's star variety, Riesling, is cold-hardy enough to survive freezing winters, and has enough natural acidity to create balance, even in wines with the highest levels of residual sugar. Riesling responds splendidly to Germany's variable terroir, allowing the country to build its reputation upon fine wines at all points of the sweet to dry spectrum, many of which can age for decades.
Classified by ripeness at harvest, Riesling can be picked early for dry wines or as late as January following the harvest for lusciously sweet wines. There are six levels in Germany's ripeness classification, ordered from driest to sweetest: Kabinett, Spätlese, Auslese, Beerenauslese, Trockenbeerenauslese and Eiswein (ice wine). While these classifications don't exactly match the sweetness levels of the finished wines, the Kabinett category will include the drier versions and anything above Auslese will have noticeable—if not noteworthy—sweetness. Eiswein is always remarkably sweet.
Other important white varieties include Müller-Thurgau as well as Grauburguner (Pinot Gris) and Weissburguner (Pinot Blanc). The red, Spätburgunder (Pinot Noir), grown in warmer pockets of the country can be both elegant and structured.
As the fourth largest wine producer in Europe (after France, Italy and Spain), in contrast to its more Mediterranean neighbors, Germany produces about as much as it consumes—and is also the largest importer of wine in the E.U.
What are the types of white wine?
From lean and crisp to oaky and buttery, white wine comes in an array of styles and is produced in almost every wine region of the world. Although only about 25 pale-skinned grapes make the majority of the white wine produced, hundreds of native varieties are important not only to local culture, but to the diversity of the global wine world. White wine styles range from a simple and refreshing aperitif to a robust accompaniment to a hearty meal and some of the best can age for decades.
How is white wine made?
To preserve freshness, aromatics and primary fruit flavors, white wines are often fermented at cooler temperatures than reds. Unlike red winemaking, the colorless juice is not typically left in contact with the grape skins during the fermentation process. The winemaker has the choice to encourage or prevent malolactic fermentation, which turns the tart acidity of grape juice into the softer, creamier flavors of wine. Another important decision when making white wine is whether and how to use oak—the barrels' age, provenance and time holding the wine all help to determine the final style, in terms of both flavor and texture.
What gives white wine its color?
White wines can vary in color from nearly clear lemon-green to medium gold to pale orange or almost light brown, depending on grape variety, winemaking methods and age.
How do you serve white wine?
Ideally for storing white wine in any long-term sense, it should be at cellar temperature, about 55F. For serving, cool white wine down to about 45F to 55F. (Most refrigerators are colder than this.) As for drinking white wines, the best white wine glasses have a stem and a narrow bowl large enough to allow swirling without spilling.
How long does white wine last?
Opened, a bottle of white wine will stay fresh in the refrigerator for a couple of days to a week, maybe longer. Unopened, white wines stay good for one year to, in some cases, several decades. Assessing how long to hold on to a bottle is a complicated science. If you are planning to strategically store white wine, seek the advice of a wine professional.
PIN233416_2007
Item#
100482