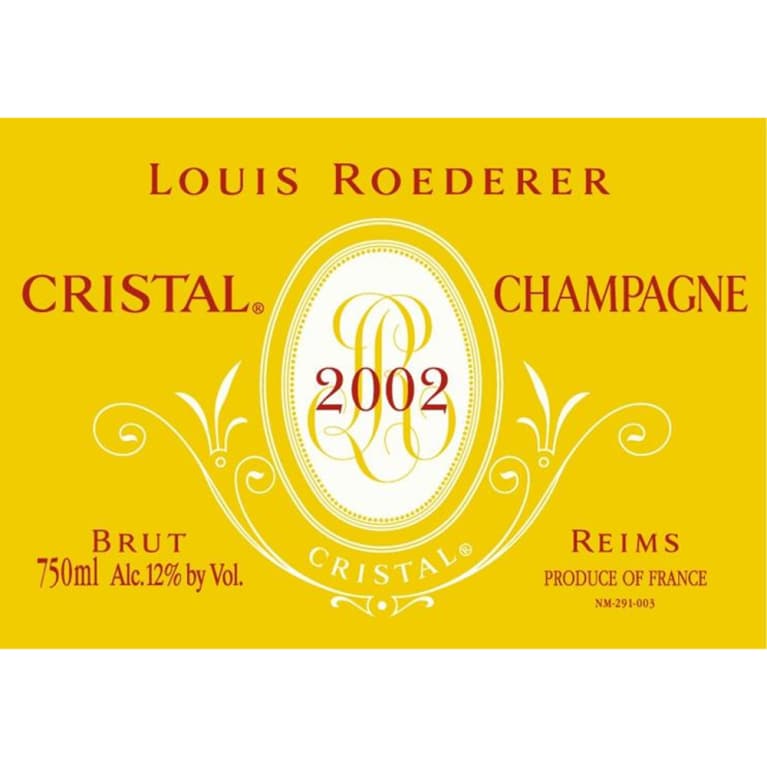 Louis Roederer Cristal Brut 2002
Out of Stock

(was $299.00)
Ships today if ordered in next 2 hours
Winemaker Notes
Cristal, the jewel and tête de cuvée of Champagne Louis Roederer, was created in 1876 for the Tsar Alexander II of Russia. It remains faithful to its origin, inspired by elegance and purity. Cristal is produced with regimented standards of winemaking that require a rigorous selection of crus, vintages, grapes, and wine.
Cristal is produced using only the finest vintages from crus guaranteed to originate from the Louis Roederer vineyard. All the exceptional characteristics of the 2002 vintage have literally been captured in this Cristal 2002, which is generous and lush, revealing perfect balance between concentration and finesse, freshness and vinosity, intensity and refinement. In three words: proud, rich and luxurious.
Cristal 2002 is brilliant yellow with light amber highlights and has a beautiful mousse with fine cordon of persistent and regular bubbles. The nose is intense and delicate, revealing a clean and well-blended mixture of flavors of honey, cocoa, lightly toasted hazelnuts, candied citrus fruit. A savory explosion of ripe fruit on the attack, the wine reveals red fruit, white chocolate, caramel and Danish pastry, typical of Cristal. Its silky, concentrated texture relies on its intense, powerful and vinous structure, but maintains refinement. The palate builds up to attain a delicious sensation of well-blended harmony of flavors. A fresh finish with a hint of bitterness makes it almost crunchy.
Critical Acclaim
All Vintages
If a wine could ever make you want to pull the top down on your '68 Ferrari convertible, rip off the rearview mirror and take off, this is it. It has a different kind of energy than the '02 Cristal Rose, which is more ethereal, like strawberries at the right hand of some ancient Gallic god. This is more insolent, brash, earth bound. All the scents and flavors seem to emanate frm limestone, as does the acidity, which hits at the front of the mouth and powers through the wine with the kind of solar energy that lifts mist off the white chalk on a cool morning in Cramant. The wine goes on for miles. It's already irresistible, and will only improve with ten, 20, 30 and 40 years of age.
This is an exceptional wine, as is the vintage. The fruits—grapefruit, crisp red apple—balance with a fine yeasty character. There is a great depth of flavor, the fruits going in a pure line of freshness. The one problem is that it is much too young, the result of the demand from the market for the next vintage. Age this wine for at least four years.
A re-release of the original 2010 disgorgement. Super fine, super fresh and super savory aromas of chalky stones with hints of flowers, white almonds, lemon peel and grapefruit. The palate has intense, mouth-filling, lemon-curd flavor. Very powerful, very concentrated and very expressive. Smooth finish that's full of life, leaving a bright, white cherry note. Drink in 2022.
Tasted from the original 2009 disgorgement, the 2002 Cristal is a broad, vinous wine, bursting with aromas of honeyed yellow orchard fruit, warm butter, brioche and fresh peaches. On the palate, it's full-bodied, textural and mouth filling, rendering the fine-boned chalky structure and textural finesse that distinguish this quintessentially elegant style of this cuvée in a broader-shouldered, more enveloping register. The 2002 is beginning to enter its plateau of maturity and is drinking beautifully today, though it still has many years ahead of it.
55% Pinot Noir; 45% Chardonnay. Its Pinot Noir portion notwithstanding, this wine has a crisp, chalky, lightly citrusy, lightly toasty aroma that is more than a little bit suggestive of an elegant Blanc de Blancs. And perhaps that is its secret. It is an incredibly refined yet deep wine whose suggestions of roasted soy and caramel are kept as complex nuances within a well-filled, refreshing, crisp set of flavors and a graceful, lengthy aftertaste. It occupies a comfortable middle ground between the quiet refinement of Dom Perignon and the bold approaches of the top Bollinger and Krug wines.
A suave customer, with hints of citrus, berry and coffee. Harmonious and refined, with freshness and a bright structure. The finish shows a lot of potential, with a mouthwatering aftertaste. Better than previously reviewed. Drink now through 2030.
View More
Uncompromising Quality
Champagne Louis Roederer was founded in 1776 in Reims, France and is one of the rare family owned companies, which is still managed by the Roederer family. In 1833, Louis Roederer inherited the company from his uncle and renamed the company under his namesake. Under his leadership, the company rapidly grew while remaining true to their philosophy of uncompromising quality. Today, the company is under the helm of Jean-Claude Rouzaud and his son Frédéric who continue to place quality before quantity.
First-Rate Vineyards
Champagne Louis Roederer is one of the only French champagne producers to own nearly 75 percent of the grapes in the most desirable vineyards in the Champagne. The property is located on 450 acres in the finest villages of Montagne de Reims, Côtes des Blancs, and Valleé de la Marne. Each region is selected to produce Chardonnay and Pinot Noir with the elegance needed for perfectly balanced champagne. The Louis Roederer vineyards rate an average 98 percent based on France's statutory 100-point classification scale.
The reserve wine is then tasted and graded by a team of Roederer specialists. They choose as many as 40 different wines from several lots for the blend. For the final touch, the wine is then added in order to enhance the cuvee and guarantee consistency while retaining the champagne's characteristics.
Associated with luxury, celebration, and romance, the region, Champagne, is home to the world's most prized sparkling wine. In order to bear the label, 'Champagne', a sparkling wine must originate from this northeastern region of France—called Champagne—and adhere to strict quality standards. Made up of the three towns Reims, Épernay, and Aÿ, it was here that the traditional method of sparkling wine production was both invented and perfected, birthing a winemaking technique as well as a flavor profile that is now emulated worldwide.
Well-drained, limestone and chalky soil defines much of the region, which lend a mineral component to its wines. Champagne's cold, continental climate promotes ample acidity in its grapes but weather differences from year to year can create significant variation between vintages. While vintage Champagnes are produced in exceptional years, non-vintage cuvées are produced annually from a blend of several years in order to produce Champagnes that maintain a consistent house style.
With nearly negligible exceptions, . These can be blended together or bottled as individual varietal Champagnes, depending on the final style of wine desired. Chardonnay, the only white variety, contributes freshness, elegance, lively acidity and notes of citrus, orchard fruit and white flowers. Pinot Noir and its relative Pinot Meunier, provide the backbone to many blends, adding structure, body and supple red fruit flavors. Wines with a large proportion of Pinot Meunier will be ready to drink earlier, while Pinot Noir contributes to longevity. Whether it is white or rosé, most Champagne is made from a blend of red and white grapes—and uniquely, rosé is often produce by blending together red and white wine. A Champagne made exclusively from Chardonnay will be labeled as 'blanc de blancs,' while ones comprised of only red grapes are called 'blanc de noirs.'
Representing the topmost expression of a Champagne house, a vintage Champagne is one made from the produce of a single, superior harvest year. Vintage Champagnes account for a mere 5% of total Champagne production and are produced about three times in a decade. Champagne is typically made as a blend of multiple years in order to preserve the house style; these will have non-vintage, or simply, NV on the label. The term, "vintage," as it applies to all wine, simply means a single harvest year.
LSB95156_2002
Item#
95156