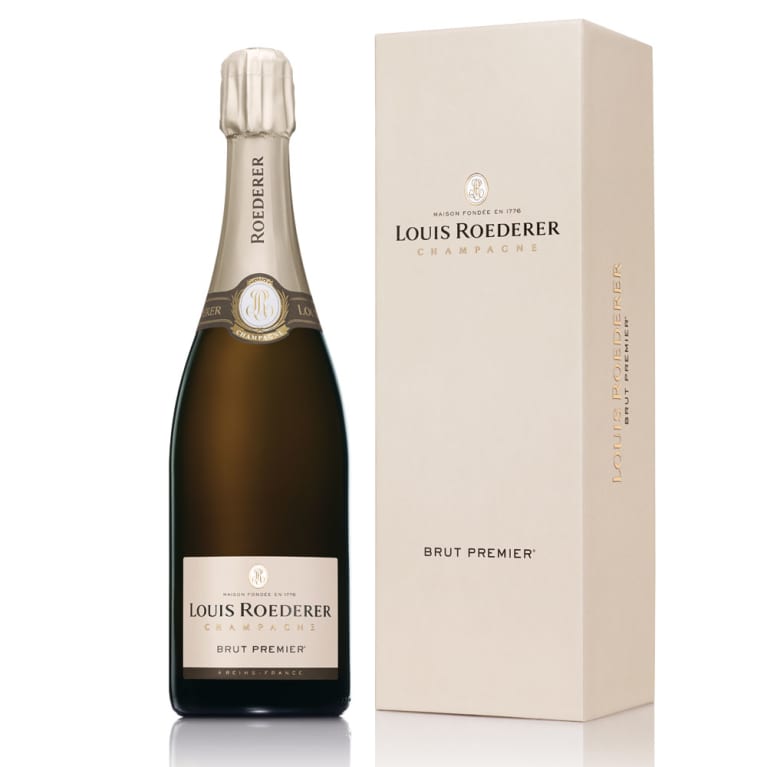 Louis Roederer Brut Premier with Gift Box
Ships Tomorrow
Limit
0
bottles
per customer
Winemaker Notes
Louis Roederer has been synonymous with the world's great Champagnes since 1776. Brut Premier is the House's flagship multi-vintage Champagne and its most popular and best-selling wine. It's the Champagne that sets the house style for this esteemed producer.
Brut Premier characterizes the timeless Louis Roederer style with the combination of fresh, youthful fruitiness and the vinous qualities of a fully matured wine. It is a structured wine with a lively attack and a smooth palate. Brut Premier comes in antique-colored bottles that filter out nearly 100 percent of light and are light weight.
Critical Acclaim
All Vintages
This has a core of fresh, extremely fleshy and attractive peaches and lemons from a ripe year. The delicacy and purity of this Champagne is stunning, as is its gently powerful nature. Such great purity here. In great form! Drink now.
This vibrant version is finely knit and elegant, with floral, toast and smoke aromas on the nose and flavors of crème de cassis and lemon curd riding the lacy mousse.
To judge by the cork, this bottling has some age, giving it a toasty as well as fruity character that adds complexity to this baked-apple and citrus-flavored wine.
The Louis Roederer Brut Premier Champagne typifies the best in the non-vintage brut category—fresh core fruit aromas, elegant textures, apple/citrus flavors, and a lively crispness in the finish. Serve now with a dozen raw oysters. (Tasted: October 10, 2016, San Francisco, CA)
Balanced in a rich style, this yields flavors of lemon meringue over zesty orange-pith acidity. It's round and smooth, a wine with direction that gently carries you along with it.
This complete and very well-crafted offering combines the buoyancy and lively step of youth with lots of well-defined yeast from first sniff to finish. It is polished, quietly complex and quite long on the palate with fine, unending bubbles, and, if it stops short of showing the depth and dimension of the marquee bottlings of the famous French houses, it is by all measures an exceptional non-vintage Brut.
Roederer's NV Brut Premier is a classic and blends about 40% Pinot Noir (from Bouzy and Ambonnay), with 20-25% Meunier (whose share is declining in this blend) and Chardonnay. Two-thirds of the grapes come from estate vineyards, one-third is purchased. (Mind you that all the other Roederer cuvées are sourced exclusively form their own vineyards!) The newest release of the Premier is based on 75% 2009 and 25% reserve wines, which are, since 1996, single vintage wines aged in large oak casks between 6,000 and 10,000 liters. The wine opens very bright, precise and refined, with toasty and white chocolate flavors. Absolutely delicate and elegant on the palate, this is a light, silky textured and remarkably finesse-full Champagne that is fresh on the palate, thanks to its structure and slightly oaky flavors. Excellent.
View More
Uncompromising Quality
Champagne Louis Roederer was founded in 1776 in Reims, France and is one of the rare family owned companies, which is still managed by the Roederer family. In 1833, Louis Roederer inherited the company from his uncle and renamed the company under his namesake. Under his leadership, the company rapidly grew while remaining true to their philosophy of uncompromising quality. Today, the company is under the helm of Jean-Claude Rouzaud and his son Frédéric who continue to place quality before quantity.
First-Rate Vineyards
Champagne Louis Roederer is one of the only French champagne producers to own nearly 75 percent of the grapes in the most desirable vineyards in the Champagne. The property is located on 450 acres in the finest villages of Montagne de Reims, Côtes des Blancs, and Valleé de la Marne. Each region is selected to produce Chardonnay and Pinot Noir with the elegance needed for perfectly balanced champagne. The Louis Roederer vineyards rate an average 98 percent based on France's statutory 100-point classification scale.
The reserve wine is then tasted and graded by a team of Roederer specialists. They choose as many as 40 different wines from several lots for the blend. For the final touch, the wine is then added in order to enhance the cuvee and guarantee consistency while retaining the champagne's characteristics.
Associated with luxury, celebration, and romance, the region, Champagne, is home to the world's most prized sparkling wine. In order to bear the label, 'Champagne', a sparkling wine must originate from this northeastern region of France—called Champagne—and adhere to strict quality standards. Made up of the three towns Reims, Épernay, and Aÿ, it was here that the traditional method of sparkling wine production was both invented and perfected, birthing a winemaking technique as well as a flavor profile that is now emulated worldwide.
Well-drained, limestone and chalky soil defines much of the region, which lend a mineral component to its wines. Champagne's cold, continental climate promotes ample acidity in its grapes but weather differences from year to year can create significant variation between vintages. While vintage Champagnes are produced in exceptional years, non-vintage cuvées are produced annually from a blend of several years in order to produce Champagnes that maintain a consistent house style.
With nearly negligible exceptions, . These can be blended together or bottled as individual varietal Champagnes, depending on the final style of wine desired. Chardonnay, the only white variety, contributes freshness, elegance, lively acidity and notes of citrus, orchard fruit and white flowers. Pinot Noir and its relative Pinot Meunier, provide the backbone to many blends, adding structure, body and supple red fruit flavors. Wines with a large proportion of Pinot Meunier will be ready to drink earlier, while Pinot Noir contributes to longevity. Whether it is white or rosé, most Champagne is made from a blend of red and white grapes—and uniquely, rosé is often produce by blending together red and white wine. A Champagne made exclusively from Chardonnay will be labeled as 'blanc de blancs,' while ones comprised of only red grapes are called 'blanc de noirs.'
A term typically reserved for Champagne and Sparkling Wines, non-vintage or simply "NV" on a label indicates a blend of finished wines from different vintages (years of harvest). To make non-vintage Champagne, typically the current year's harvest (in other words, the current vintage) forms the base of the blend. Finished wines from previous years, called "vins de reserve" are blended in at approximately 10-50% of the total volume in order to achieve the flavor, complexity, body and acidity for the desired house style. A tiny proportion of Champagnes are made from a single vintage.
There are also some very large production still wines that may not claim one particular vintage. This would be at the discretion of the winemaker's goals for character of the final wine.