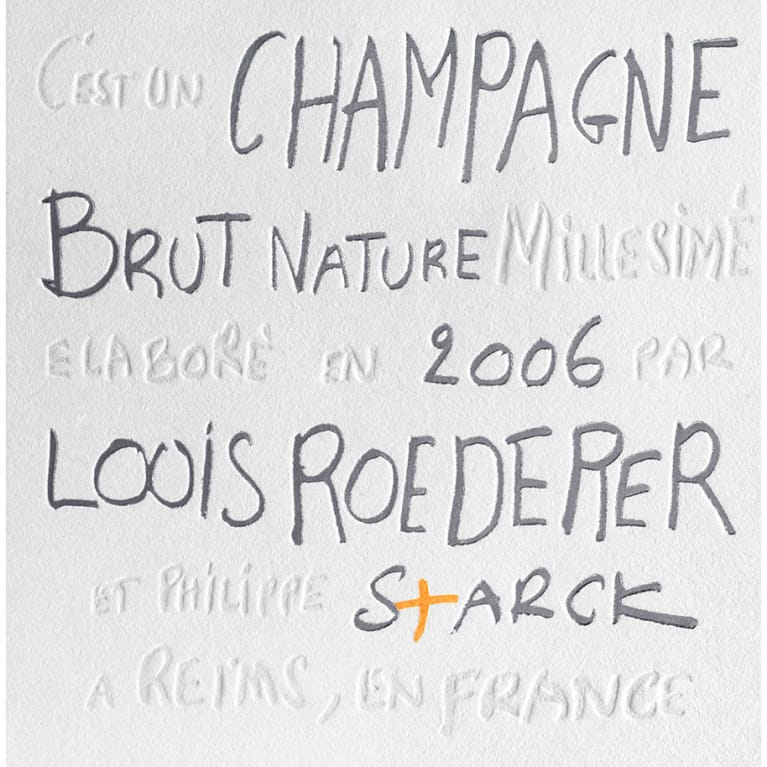 Louis Roederer Brut Nature Philippe Starck Label 2006
Out of Stock

(was $89.99)
Winemaker Notes
The Brut Nature 2006 cuvee is the fruit of several convergences: between a historic terroir with a remarkable year, a Champagne House that respects nature, and Philippe Starck, a creative genius with a free spirit.
It all began in 2003, an exceptionally sunny year, which was problematic for the northern vineyards, revealed for the first time that certain vineyards had remarkable potential in the heart of the historic Champagne hillsides on the Louis Roederer estate. Located in the heart of the calcareous clay soil hillsides of Cumieres, Hautvillers, and Vertus, which are rich in hard, coarse sandstone, this ensemble of parcels had no difficulty in resisting the heat and drought in the summer of 2003. Better still, the vineyards produced aromatic, intense, and balanced grapes.The resulting wines, which were vinified separately, parcel by parcel, are characterized by an optimal aromatic maturity, a creamy texture, and a vibrant freshness. The collaboration between Frederic Rouzaud and Philippe Starck encouraged the Louis Roederer team to be innovative - the wine was developed through discussions, words that conjure up images, ideas and concepts in a quest for the ideal champagne. Translating these discussions and words into the reality of grape cultivation and the development of the wine was a fundamental step in creating this cuvee, which continues to evolve quite naturally in complete freedom as part of a process of contemporary creation... in a perpetual quest for perfection! The quest for perfection, which places research and respect for the terroir on an equal footing, perfectly reflects Louis Roederer's philosophy: an independent Champagne House with a deep attachment to the land, as attested by its wines, which have a straightforward character, and are pure and extremely chiselled, expressing the aromas of each parcel.
Brut Nature 2006 embodies three vital concepts:
Authenticity and Truth - Emphasized by the distinctiveness of a producer's wine, resulting in an unusual and summery vintage, from a unique soil-clay and stony-characterized by optimal maturity.
Abstraction - A difficultnotion to translate into technical reality, but Roederer aims to refine and simplify their processes in various ways including harvesting the estate's vineyards on the same day; blending all the grapes directly on the press; removing minimal sludge and encouraging spontaneous fermentation; avoiding chaptalization; ensuring that 100%of the fermentation process occurs in wooden tanks; allowing the wines to age over a long period, without racking(soutirage), and ensuring they are produced in accordance with biodynamic rhythms.
Elegance - Reflected in the quest for optimal purity through a balanced proportion of about 2/3 Pinot Noir and 1/3 Chardonnay, an absence of malolactic fermentation, a soft and sensual effervescence, and no dosage.
Critical Acclaim
All Vintages
This is an amazing wine from one of Champagne's least known categories—non-dosage. The 2006 Louis Roederer Starck Label Brut Nature Champagne offers a fine balance between austerity and generosity on its well-structured and crisp palate. The wine's flavors of stone fruit and chalk make it a natural match with the most precious sashimi in the marketplace. Drinks exceptionally well now. (Tasted: June 22, 2016, San Francisco, CA)
Philippe Stark and Jean-Baptiste Lécaillon collaborated on the concept and philosophy behind this wine, a blend of three parcels on what Lécaillon calls a "single coteau" in the deep, cold clay soils of Cumières. He harvested all the grapes together, at the optimal moment for pinot noir, when the meunier was a bit overripe and the chardonnay less than perfectly ripe, crushing and co-fermenting them (half the lot in large oak vats, half in stainless steel), eventually bottling the wine with low pressure (4.5 kilos of pressure rather than the typical six). It's a wine that needs decanting, gaining depth and roundness as it opens from extremely dry cider apple and barely ripe nectarine to red fruit flavors, roses and vanilla bean. The texture is what Lécaillon believes ties this wine to Roederer's style; here, that texture seems to me to fall somewhere between the cottony abrasion of chalk and a mouthwatering, cloud-like mist.
A delicious collaboration with France's guru designer of cool, this goes against the grain of Louis Roederer and has no dosage, making it very dry. It's dense and powerful with layers of fruit. It's also full and almost spicy with a long and powerful finish. Soft texture too. If you closed your eyes, it tastes like a red. Starck actually was involved with the blend; he says it's so good you almost don't need the bottle. But the bottle makes it. A blend of two-thirds pinot noir and one-third chardonnay. No malo.
Sleek and minerally, this firm Champagne is softened by a swathe of silky texture, offering a tapestry of persimmon, pear, chalk and lemon zest flavors, with rich hints of pastry and chopped almond. Graceful and ethereal, this features a lasting saline impression that echoes on the finish. Drink now through 2026.
Certainly dry, this Champagne is also ripe and structured, balancing the extreme dryness and acidity. It is a complex wine that has the ability to age in the bottle. The minimalist label, designed by Philip Starck, is a perfect pairing with the no-frills wine inside the bottle.
View More
Uncompromising Quality
Champagne Louis Roederer was founded in 1776 in Reims, France and is one of the rare family owned companies, which is still managed by the Roederer family. In 1833, Louis Roederer inherited the company from his uncle and renamed the company under his namesake. Under his leadership, the company rapidly grew while remaining true to their philosophy of uncompromising quality. Today, the company is under the helm of Jean-Claude Rouzaud and his son Frédéric who continue to place quality before quantity.
First-Rate Vineyards
Champagne Louis Roederer is one of the only French champagne producers to own nearly 75 percent of the grapes in the most desirable vineyards in the Champagne. The property is located on 450 acres in the finest villages of Montagne de Reims, Côtes des Blancs, and Valleé de la Marne. Each region is selected to produce Chardonnay and Pinot Noir with the elegance needed for perfectly balanced champagne. The Louis Roederer vineyards rate an average 98 percent based on France's statutory 100-point classification scale.
The reserve wine is then tasted and graded by a team of Roederer specialists. They choose as many as 40 different wines from several lots for the blend. For the final touch, the wine is then added in order to enhance the cuvee and guarantee consistency while retaining the champagne's characteristics.
Associated with luxury, celebration, and romance, the region, Champagne, is home to the world's most prized sparkling wine. In order to bear the label, 'Champagne', a sparkling wine must originate from this northeastern region of France—called Champagne—and adhere to strict quality standards. Made up of the three towns Reims, Épernay, and Aÿ, it was here that the traditional method of sparkling wine production was both invented and perfected, birthing a winemaking technique as well as a flavor profile that is now emulated worldwide.
Well-drained, limestone and chalky soil defines much of the region, which lend a mineral component to its wines. Champagne's cold, continental climate promotes ample acidity in its grapes but weather differences from year to year can create significant variation between vintages. While vintage Champagnes are produced in exceptional years, non-vintage cuvées are produced annually from a blend of several years in order to produce Champagnes that maintain a consistent house style.
With nearly negligible exceptions, . These can be blended together or bottled as individual varietal Champagnes, depending on the final style of wine desired. Chardonnay, the only white variety, contributes freshness, elegance, lively acidity and notes of citrus, orchard fruit and white flowers. Pinot Noir and its relative Pinot Meunier, provide the backbone to many blends, adding structure, body and supple red fruit flavors. Wines with a large proportion of Pinot Meunier will be ready to drink earlier, while Pinot Noir contributes to longevity. Whether it is white or rosé, most Champagne is made from a blend of red and white grapes—and uniquely, rosé is often produce by blending together red and white wine. A Champagne made exclusively from Chardonnay will be labeled as 'blanc de blancs,' while ones comprised of only red grapes are called 'blanc de noirs.'
Representing the topmost expression of a Champagne house, a vintage Champagne is one made from the produce of a single, superior harvest year. Vintage Champagnes account for a mere 5% of total Champagne production and are produced about three times in a decade. Champagne is typically made as a blend of multiple years in order to preserve the house style; these will have non-vintage, or simply, NV on the label. The term, "vintage," as it applies to all wine, simply means a single harvest year.
SOU372243_2006
Item#
159734