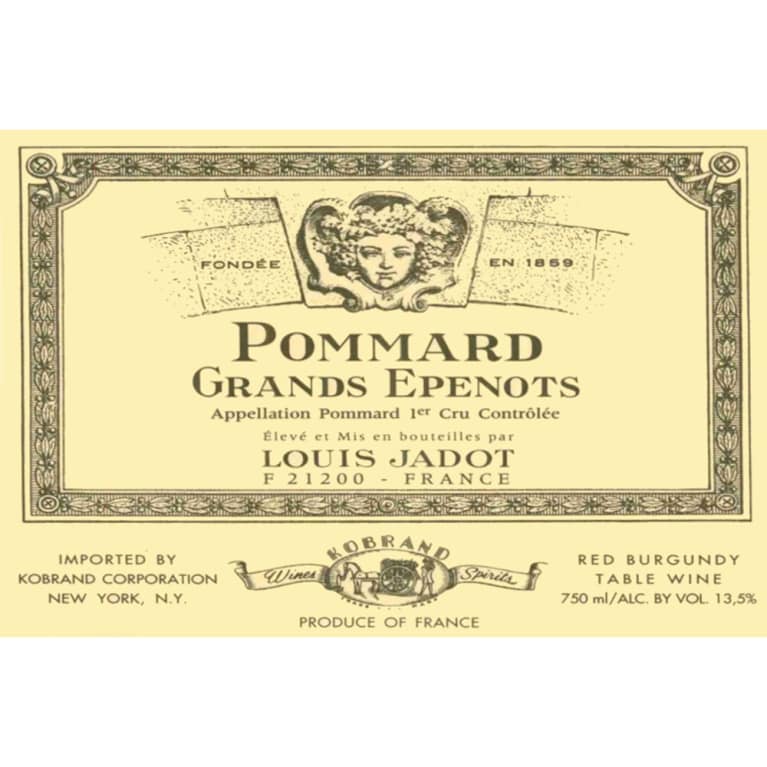 Louis Jadot Pommard Grands Epenot 2006
Ships Thu, Nov 21
Limit
0
bottles
per customer
Winemaker Notes
Pommard is a very old village, and stands on the site of an early Christian temple, built by the Gauls and dedicated to Pomona, the goddess entrusted with the protection of fruits. By the year 1005, the village name had become "Polmarium" or "Polmarca," and underwent several subsequent changes in name before becoming "Pommard." During the Middle Ages, Pommard grew to be an important way-station for travellers passing between Beaune and Chagny, providing the only crossing point for miles along the Serein River before construction of the first bridge in 1670. This slender ford was marked by a cross, called the "Croix de Pommard", which was little help to travellers frequently washed away by the often violent river. The fact that Pommard is perhaps the most widely-known place-name in Burgundy is, curiously, due to the Huguenots. Banished after the Edict of Nantes, they chose to take with them this sturdy, long-lived wine, which they continued to import to each of their adopted countries.
Grands-Epenots is one of two vineyards, the other of which is Les Petits-Epenots, which comprise the Epenots premier cru. Each of these in turn is comprised of two plots, totalling 49 acres in Petits-Epenots and 26.5 acres in Grands-Epenots, making Epenots by far the largest of Pommard's premiers crus, with 75.5 acres. When blended across the two vineyards, only the Epenots designation is used; when not, "Grands-" or "Petits-" is prefixed. Less rustic than most of Pommard's premiers crus, the Epenots are also earlier to mature. Maison Louis Jadot vinifies the production of growers situated in Grands-Epenots to yield a rich, full-fruited and supple wine with the round, plummy fruit and well-knit structure which typify this premier cru.
"Palish red. Reticent but pure aromas of redcurrant and iron. Silky and fine-grained, with a subtle sweetness and a pliant texture. A light, suave wine that finishes with sweet tannins and very good aromatic persistence."
-International Wine Cellar 88-90
The House of Louis Jadot has been producing exceptional Burgundy wines since its founding in 1859 by Louis Henry Denis Jadot. For the past 150 years Louis Jadot has continued as one of the great names of Burgundy and has gained international reputation for its superb red and white Burgundy wines. Louis Jadot is not only one of the largest producers of estate Burgundies of the Cote d'Or, it is one of the most celebrated exporters of premium Burgundies, owning close to 140 acres of vineyards from 24 of the most prestigious sites in Burgundy.
Some of the darkest, deepest and sturdiest Pinot noir of Burgundy, Pommard is one of the two villages in Côte de Beaune—along with Volnay—that is recognized for its impressive Pinot noir. While it can't boast any Grands Crus vineyards, its extraordinary Premiers Crus vineyards are aplenty.
Les Pézerolles, Les Épenots, Clos des Épeneaux, Les Chanlins, Les Jarolières, Les Fremiers and particularly Les Rugiens are among the most outstanding Premiers Crus.
The best Pommards will be concentrated in flavors such as black cherry, blackberry and dark chocolate, have dazzling aromas of violets, menthol or wild herbs and a firm and powerful finish. They typically demand some time in the bottle to reach their peak.
YNG643029_2006
Item#
96476