Lini 910 Labrusca Lambrusco Rose
Winemaker Notes
Lini's wines are renowned for their signature freshness and classic dry character. Thanks to Fabio Lini's artisanal approach to sparkling wine production, their bright red fruit and berry flavors are balanced by juicy minerality. Their clean but lingering finish makes them an ideal pairing for a wide variety of cuisines.
Blend: 50% Salamino, 50% Sorbara
Critical Acclaim
All Vintages
Aromas of strawberries and cream with freshly cut wild mint and dried rose petal waft from this chic wine. It's bone-dry on the palate with notes of tart cranberry and sour cherry with an equal proportion of fresh herbs and wild game.
Lively, with citrusy acidity and a zesty bead, this light ruby rosé offers an appealing mix of crushed raspberry, white peach, herb and spice notes. Drink now.
View More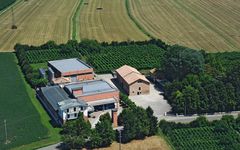 Founded in 1910 by Oreste Lini, Lini 910 is a fourth-generation, family-owned and operated winery. Lini has produced some of Emilia's leading wines including the first-ever Lambrusco included in Wine Spectator's Top 100 Wines of Italy. Thanks to his longstanding relationships with growers and deft hand, winemaker Fabio Lini, along with his sister Anita Lini, and his brother Massimo Lini, has set the benchmark for artisanal Lambrusco, and has remained true to his family's trademark dry style of Lambrusco. The Lini Winery has always distinguished itself with its range of Lambrusco wines and has put in years of hard work, research and oenological trials to develop the use of the Metodo Classico (as used in the production in Champagne) for Lambrusco. Lini produces Lambrusco using both the charmat, and metodo classico methods. The Lini family is dedicated to making lambrusco with integrity, holding their wines for longer than industry standard in order to fully allow the bubbles to incorporate into the wine. Long second fermentations and painstaking care in the vineyards and cellar, set Lini apart from most producers who used the new container as a quick way to produce cheaper wines. producing a more complex and enjoyable product. Lini's wines are renowned for their signature freshness and classic dry character. Fabio Lini's artisanal approach to sparkling wine production brings bright red fruit and berry flavors that are balanced by juicy minerality
Extending from the Adriatic coast in the east, to the border of the Mediterranean Ligurian region in the west, Emilia Romagna is a large, central Italian region focused on a wide array of gastronomic specialties. The plains of Emilia host four well-defined subzones for its famous, lightly sparkling red, Lambrusco. The more coastal Romagna has the capacity to produce impressive wines from Sangiovese and Albana.
What are the different types of sparkling rosé wine?
Rosé sparkling wines like Champagne, Prosecco, Cava, and others make a fun and festive alternative to regular bubbles—but don't snub these as not as important as their clear counterparts. Rosé Champagnes (i.e., those coming from the Champagne region of France) are made in the same basic way as regular Champagne, from the same grapes and the same region. Most other regions where sparkling wine is produced, and where red grape varieties also grow, also make a rosé version.
How is sparkling rosé wine made?
There are two main methods to make rosé sparkling wine. Typically, either white wine is blended with red wine to make a rosé base wine, or only red grapes are used but spend a short period of time on their skins (maceration) to make rosé colored juice before pressing and fermentation. In either case the base wine goes through a second fermentation (the one that makes the bubbles) through any of the various sparkling wine making methods.
What gives rosé Champagne and sparkling wine their color and bubbles?
The bubbles in sparkling wine are formed when the base wine undergoes a secondary fermentation, which traps carbon dioxide inside the bottle or fermentation vessel. During this stage, the yeast cells can absorb some of the wine's color but for the most part, the pink hue remains.
How do you serve rosé sparkling wine?
Treat rosé sparkling wine as you would treat any Champagne, Prosecco, Cava, and other sparkling wine of comparable quality. For storing in any long-term sense, these should be kept at cellar temperature, about 55F. For serving, cool to about 40F to 50F. As for drinking, the best glasses have a stem and a flute or tulip shape to allow the bead (bubbles) and beautiful rosé hue to show.
How long do rosé Champagne and sparkling wine last?
Most rosé versions of Prosecco, Champagne, Cava or others around the "$20 and under" price point are intended for early consumption. Those made using the traditional method with extended cellar time before release (e.g., Champagne or Crémant) can typically improve with age. If you are unsure, definitely consult a wine professional for guidance.
HNYLINLRTNVC_0
Item#
534721