Leviathan 2011
Out of Stock

(was $47.99)
Ships today if ordered in next 8 hours
Winemaker Notes
As always, the goal with Leviathan is to capture the best of California in every vintage. In 2011, cool temperatures and a long growing season delivered fruit with vibrancy, great color and nuanced aromatic expressions. Upon opening the bottle, notes of Luxardo cherries, olallaberries, rose petals, Teuscher truffles and wet stone exude from the glass. The tannins are firm on entry but, the texture broadens and spreads across the palate. 23 months of barrel aging have rounded the wine and given it a juicy, fruit-forward appeal, with nuances of French oak and a lingering finish that will leave you reaching for glass after glass.
Blend: 62% Cabernet Sauvignon, 15% Syrah, 13% Cabernet Franc, 10% Merlot
Critical Acclaim
All Vintages
A muscular style, notably rich and powerful, offering tiers of ripe blackberry, plum, licorice, graphite and cedar, maintaining a sturdy presence through the finish. Cabernet Sauvignon, Syrah, Cabernet Franc and Merlot. Drink now through 2021.
Packing plenty of ripe fruit and substance from start to finish, the almost elegant 2011 Levitahan Red Wine drinks famously well. Tannins are present, but they add another dimension to the wine; lasts long and deliciously in the aftertaste. (2014-2018)
View More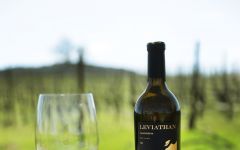 Capturing decades of winemaking experience and vineyard knowledge, renowned winemaker Andy Erickson began Leviathan in 2004 with a single goal; to create a red wine each vintage free from the restraints of appellations and crafted from notable vineyards throughout California. Every year he coaxes the very best from each of the chosen varietals, regions, and vineyards to create one distinct and exceptional red blend.
Andy Erickson and Nicole Hayden, Grower Relations, utilize the whole state of California as their appellation, looking across the state to find great vineyards to make one blend each year. "We don't see the individual appellations because we're not thinking that way anymore. We're looking at the entire slice of the west coast and turning the whole appellation idea on its head."- Andy Erickson, Winemaker.
The wine reflects the nuances and terroir of each notable site and the collaboration between the grower and the winemaker. Leviathan is a powerful Red Blend, and that power is derived from hard working vines mostly found in rocky hillsides with volcanic based soils, along with the right combination of micro-climate and variety.
Reaching up California's coastline and into its valleys north of San Francisco, the North Coast AVA includes six counties: Marin, Solano, Napa, Sonoma, Mendocino and Lake. While Napa and Sonoma enjoy most of the glory, the rest produce no shortage of quality wines in an intriguing and diverse range of styles.
Climbing up the state's rugged coastline, the chilly Marin County, just above the City and most of Sonoma County, as well as Mendocino County on the far north end of the North Coast successfully grow cool-climate varieties like Pinot Noir, Chardonnay and in some spots, Riesling. Inland Lake County, on the other hand, is considerably warmer, and Cabernet Sauvignon, Zinfandel and Sauvignon Blanc produce some impressive wines with affordable price tags.
With hundreds of red grape varieties to choose from, winemakers have the freedom to create a virtually endless assortment of blended red wines. In many European regions, strict laws are in place determining the set of varieties that may be used, but in the New World, experimentation is permitted and encouraged resulting in a wide variety of red wine styles. Blending can be utilized to enhance balance or create complexity, lending different layers of flavors and aromas. For example, a red wine blend variety that creates a fruity and full-bodied wine would do well combined with one that is naturally high in acidity and tannins. Sometimes small amounts of a particular variety are added to boost color or aromatics. Blending can take place before or after fermentation, with the latter, more popular option giving more control to the winemaker over the final qualities of the wine.
How to Serve Red Wine
A common piece of advice is to serve red wine at "room temperature," but this suggestion is imprecise. After all, room temperature in January is likely to be quite different than in August, even considering the possible effect of central heating and air conditioning systems. The proper temperature to aim for is 55° F to 60° F for lighter-bodied reds and 60° F to 65° F for fuller-bodied wines.
How Long Does Red Wine Last?
Once opened and re-corked, a bottle stored in a cool, dark environment (like your fridge) will stay fresh and nicely drinkable for a day or two. There are products available that can extend that period by a couple of days. As for unopened bottles, optimal storage means keeping them on their sides in a moderately humid environment at about 57° F. Red wines stored in this manner will stay good – and possibly improve – for anywhere from one year to multiple decades. Assessing how long to hold on to a bottle is a complicated science. If you are planning long-term storage of your reds, seek the advice of a wine professional.
SOU362118_2011
Item#
133840