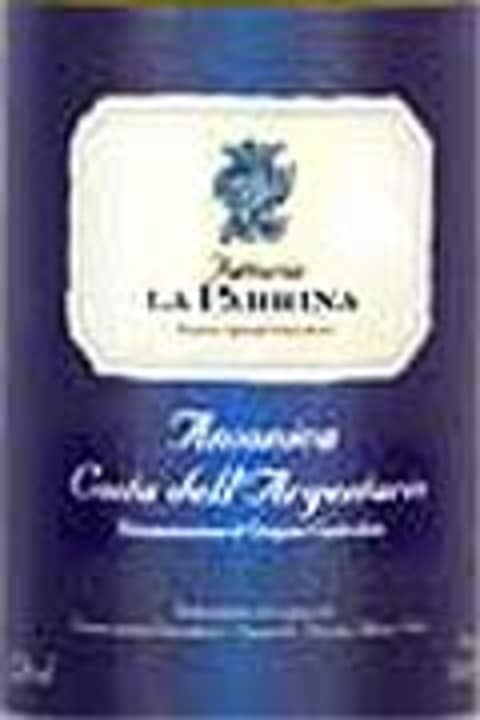 La Parrina Ansonica Costa Argento D.O.C 2001
Winemaker Notes
Ansonica is a quite rare grape-variety grown in Italy since immemorial time. It was probably imported originally from Greece. The contact between the Hellenic and the Mediterranean culture first with the Etruscari and than with the Roman one, enabled the ancient Italian population to appreciate the vene obtained from the grape . This variety has found its ideal environment in Sicily where it is called "Inzonia", and along the Tirrenic coast where it is called "Inzonia", and along the Tirrenic coast where it is known by the name of "Ansonica" . Thanks to its quality and type the wine obtained from this grape in the Grosseto Province has been awarded the D . 0. C . (official quality aknowledgement) under the name of "Ansonica Costa dell'Argentario" in 1995. The Parrina Estate has exploited the Ansonica quality to its highest level by means of a very careful vinification, using a soft pressure on the grapes which allows the use only of the pulp of the fruit. The must is then fermented in stainless steel tanks under temperature-control for 12 days . This wine, using only the Ansonica grapes (100%), has a rather distinctive and fruit fragrance, a straw-yellow colour, and a dry, mellow, harmonious taste.
The Parrina estate in the Tuscan Maremma, took shape at the beginning of the nineteenth century following the marriage of a daughter of the Strozzi family to a Giuntini. It has remained in the hands of the Giuntini family ever since, with the Marquess Franca Spinola as the current owner. La Parrina comprises 450 hectares (ha) stretching over foothills along the Tyrhennian coast, south of Grosseto. Is is immersed in Mediterranean scrub: lands characterised by an abundance of intensely perfumed herbs and berries. The estate in close to the Argentario promontory, the location giving a climate marked by prevailing sea breezes and warm summers, while heavy rainfali is restricted to spring and autumn. As a result the grapes remain healthy and ripen fully.
Legendary in Italy for its Renaissance art and striking landscape, Tuscany is also home to many of the country's best red wines. Sangiovese reigns supreme here, as either the single varietal, or a dominant player, in almost all of Tuscany's best.
A remarkable Chianti, named for its region of origin, will have a bright acidity, supple tannins and plenty of cherry fruit character. From the hills and valleys surrounding the medieval village of Montalcino, come the distinguished and age-worthy wines based on Brunello (Sangiovese). Earning global acclaim since the 1970s, the Tuscan Blends are composed solely of international grape varieties or a mix of international and Sangiovese. The wine called Vine Nobile di Montepulciano, composed of Prognolo Gentile (Sangiovese) and is recognized both for finesse and power.
WBO2107803_2001
Item#
53107