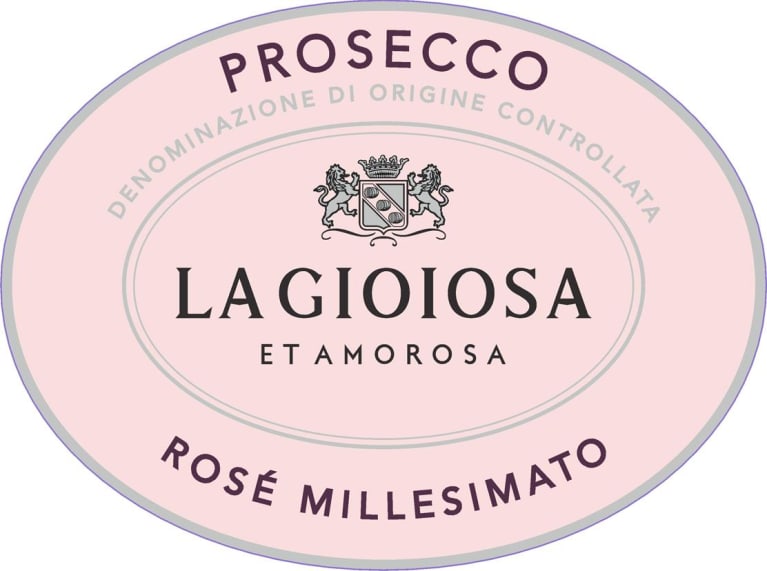 La Gioiosa Prosecco Rose Millesimato 2020
Winemaker Notes
The Prosecco Rose presents itself revealing a pomegranate nuance edged with soft pink reflections. The nose is subtle and fresh, offering hints of small red fruits. Notes of rose and pomegranate complete this elegant and intense aromatic profile. On the palate, it is silky and full, presenting a very pleasant balance between the fruity and floral notes.
Excellent as an aperitif. Ideal with finger foods and Mediterranean first courses.
Critical Acclaim
All Vintages
Attractive aromas of watermelon, light peach and cherry follow through to a full body with a round, easy feel. Very fruity and delicious. Creamy texture. Delicious. Drink now.
View More
Founded in 1974 by the Moretti Polegato family, La Gioiosa ("The Joyous") is named after the ancient name of the province where the wines are farmed and produced: Treviso, known in antiquity as a "joyous" region because of its lush farmland and widespread prosperity. 
Today, the winery produces a wide range of Proseccos, including classic Prosecco, low-calorie Prosecco, and organically farmed Prosecco. The winery is also a leader in the production of environmentally friendly wines and it strives to limit its carbon footprint by using alternative energy sources, including hydroelectric power generated by the nearby Piave river. 
The winery is currently converting its vineyards for Biodiversity Friend certification from the World Biodiversity Association. All of its wines are produced by immediately chilling the grape must to nearly freezing as soon as the bunches are picked. The must is then preserved low temperatures until the moment the winemaker decides to give it its sparkle. This costly but highly effective process helps to ensure the wine's signature freshness and high quality. 
The historic Moretti Polegato family was recently recognized as one of post-war Italy's "business leaders" by the Italian chamber of commerce for its role in popularizing Prosecco throughout the world.
One of the world's most popular and playful sparkling wines, Prosecco is a specialty of northeastern Italy, spanning nine provinces of the Veneto and Fruili-Venezia Giulia regions. A higher-quality version of Prosecco wine that must meet more stringent production requirements is known as Prosecco Superiore and must come from the more rugged terrain between the towns of Valdobiaddene and Conegliano. Prosecco can be produced as a still wine, a semi-sparkling wine ("frizzante"), or a fully sparkling wine ("spumante")—the latter being the most common. While Prosecco wine is typically produced in a "brut" (dry) style, its fresh and fruity character makes it seem a bit sweeter than it actually is. "Extra dry" styles, incorporating higher levels of residual sugar, are quite popular, however.
Prosecco wine is made from the Glera grape, which was formerly and confusingly called Prosecco, these wines are notable for pleasant flavors of peach, pear, melon, green apple, and honeysuckle. Lower pressure during the carbonation process (also called the tank method) means that the bubbles are lighter and frothier than in Champagne or other traditional method sparkling wine, and less persistent. Prosecco is also a great choice to blend with orange juice for mimosas for a classic brunch beverage.
What are the different types of sparkling rosé wine?
Rosé sparkling wines like Champagne, Prosecco, Cava, and others make a fun and festive alternative to regular bubbles—but don't snub these as not as important as their clear counterparts. Rosé Champagnes (i.e., those coming from the Champagne region of France) are made in the same basic way as regular Champagne, from the same grapes and the same region. Most other regions where sparkling wine is produced, and where red grape varieties also grow, also make a rosé version.
How is sparkling rosé wine made?
There are two main methods to make rosé sparkling wine. Typically, either white wine is blended with red wine to make a rosé base wine, or only red grapes are used but spend a short period of time on their skins (maceration) to make rosé colored juice before pressing and fermentation. In either case the base wine goes through a second fermentation (the one that makes the bubbles) through any of the various sparkling wine making methods.
What gives rosé Champagne and sparkling wine their color and bubbles?
The bubbles in sparkling wine are formed when the base wine undergoes a secondary fermentation, which traps carbon dioxide inside the bottle or fermentation vessel. During this stage, the yeast cells can absorb some of the wine's color but for the most part, the pink hue remains.
How do you serve rosé sparkling wine?
Treat rosé sparkling wine as you would treat any Champagne, Prosecco, Cava, and other sparkling wine of comparable quality. For storing in any long-term sense, these should be kept at cellar temperature, about 55F. For serving, cool to about 40F to 50F. As for drinking, the best glasses have a stem and a flute or tulip shape to allow the bead (bubbles) and beautiful rosé hue to show.
How long do rosé Champagne and sparkling wine last?
Most rosé versions of Prosecco, Champagne, Cava or others around the "$20 and under" price point are intended for early consumption. Those made using the traditional method with extended cellar time before release (e.g., Champagne or Crémant) can typically improve with age. If you are unsure, definitely consult a wine professional for guidance.
SWS983415_2020
Item#
763630