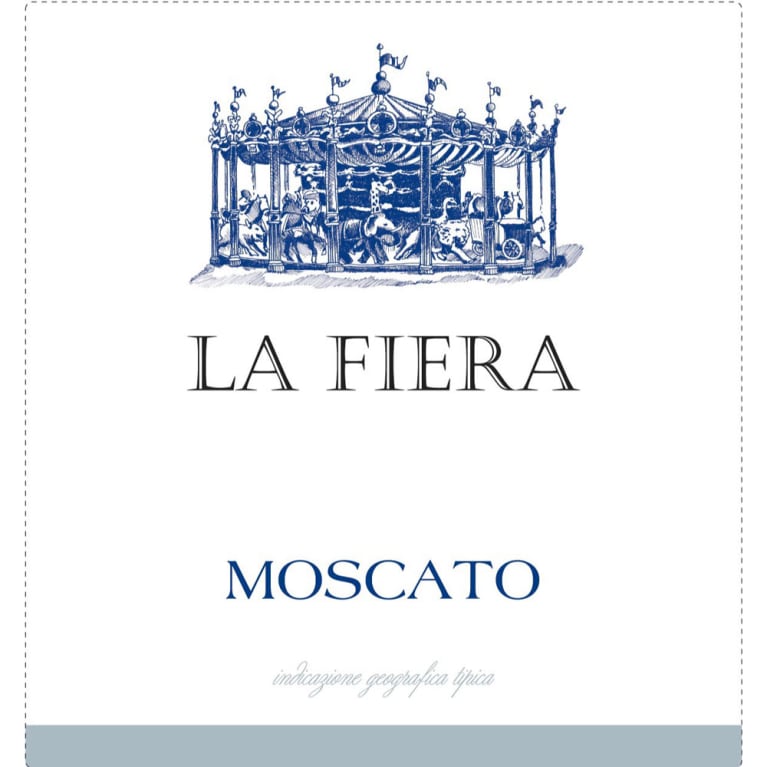 La Fiera Moscato 2016
Muscat
from
Veneto, Italy
Currently Unavailable

$7.99
Ships Wed, Mar 27
Limit
0
bottles
per customer
Winemaker Notes
La Fiera Moscato is a soft white wine with flavors of apricot andpeach in its fruity bouquet. The palate is sweet and crisp with a hintof spritz.
Best enjoyed simply as a sipper or paired with a light cuisine; even dessert.
Since 1928, the Botter family has been producing wines under environmentally friendly policies and with innovative production techniques and technologies. Today, the company is managed by the family's third generation and specializes in wines of the Veneto. The origins of the carousel come from medieval riding fairs in the north of Italy. These elaborate "equestrian ballets" took place in royal courts and featured lavishly decorated horses and highly skilled riders performing synchronized formations. Popularity lead builders to replicate them by designing rotating platforms with mounted wooden horses for children to ride. The carousel has been the centerpiece of La Fiera, The Fair, for centuries.
Producing every style of wine and with great success, the Veneto is one of the most multi-faceted wine regions of Italy.
Veneto's appellation called Valpolicella (meaning "valley of cellars" in Italian) is a series of north to south valleys and is the source of the region's best red wine with the same name. Valpolicella—the wine—is juicy, spicy, tart and packed full of red cherry flavors. Corvina makes up the backbone of the blend with Rondinella, Molinara, Croatina and others playing supporting roles. Amarone, a dry red, and Recioto, a sweet wine, follow the same blending patterns but are made from grapes left to dry for a few months before pressing. The drying process results in intense, full-bodied, heady and often, quite cerebral wines.
Soave, based on the indigenous Garganega grape, is the famous white here—made ultra popular in the 1970s at a time when quantity was more important than quality. Today one can find great values on whites from Soave, making it a perfect choice as an everyday sipper! But the more recent local, increased focus on low yields and high quality winemaking in the original Soave zone, now called Soave Classico, gives the real gems of the area. A fine Soave Classico will exhibit a round palate full of flavors such as ripe pear, yellow peach, melon or orange zest and have smoky and floral aromas and a sapid, fresh, mineral-driven finish.
Much of Italy's Pinot grigio hails from the Veneto, where the crisp and refreshing style is easy to maintain; the ultra-popular sparkling wine, Prosecco, comes from here as well.
Alluringly aromatic and delightful, Muscat never takes itself too seriously. Muscat is actually an umbrella name for a diverse set of grapes, some of which are genetically related and some of which, are not. The two most important versions are the noble, Muscat blanc à Petits Grains, making wines of considerable quality and Muscat of Alexandria, thought to be a progeny of the former. Both are grown throughout the world and can be made in a wide range of styles from dry to sweet, still to sparkling and even fortified. It is well known in Italy's Piedmont region for Moscato d'Asti, a slightly sparkling, semi-sweet, refreshing wine that is low in alcohol. On the Iberian peninsula, it goes by Moscatel, not to be confused with Bordeaux's Muscadelle, which is acutally unrelated.
In the Glass
Muscat wines possess marked aromatics and flavors of peach, pear, Meyer lemon, orange, orange blossom, rose petal, jasmine, honeysuckle or lychee, often with a hint of sweet spice.
Perfect Pairings
Thanks to its naturally low alcohol levels, Muscat is a perfect match for spicy Asian cuisine, especially when the wine has a little bit of residual sugar. Off-dry Muscat can work well with lighter desserts like key lime pie and lemon meringue, while fully sweet Muscat-based dessert wines are enjoyable after dinner with an assortment of cheeses.
Sommelier Secret
Muscat is one of the oldest known grape varieties, dating as far back as the days of the ancient Greeks and Romans. Pliny the Elder wrote in the 13th century of a sweet, perfumed grape variety so attractive to bees that he referred to it as uva apiana, or "grape of the bees." Most likely, he was describing one of the Muscat varieties.
HNYLFPMCO16C_2016
Item#
256521