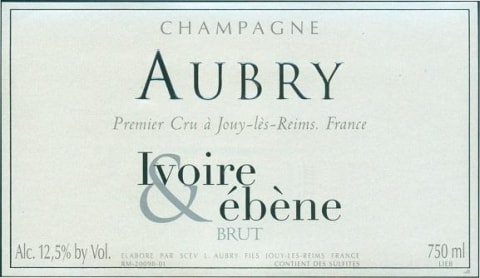 L. Aubry Fils Ivoire et Ebene Brut 2014
Ships today if ordered in next 37 minutes
Winemaker Notes
Critical Acclaim
All Vintages
The 2014 Brut Ivoire et Ebène is a blend of 60% Chardonnay, 30% Pinot Meunier and 10% Pinot Noir that captures the best of the Aubry style. Rich and effusive in feel, with notable depth, Ivoire et Ebène is so expressive. The weight and richness of the Pinot very much comes through in both the wine's flavor profile and overall feel. Red plum, cinnamon, licorice and chamomile linger on the creamy finish.
Hints of honey and juicy apricot and melon fruit are woven with notes of whole grain toast, smoky mineral and preserved lemon in this well-knit, satiny Champagne. Fresh and focused on the lightly spiced finish. Drink now
View More
Very unique Champagnes and among the best pink-fizz in the entire region. Be ready to have your mind expanded! Given the breadth of the range, it's hard to make shift with a few telling descriptors. They are flowery and high-flying Champagnes, rather like a cross of Chartogne and Chiquet, but not exactly similar to either. Class, depth and detail are abundant. They are graceful, even when they're intense. As Aubrys use concentrated must instead of sugar for their dosage, the palate "reads" the sweetness differently. There's more of a fructose texture, a clotted-cream kind of grip. I find these Champagnes alternately lovable and impressive, and occasionally both.
The Aubry estate is in the village of Jouy-les-Reims in the western part of the Montagne de Reims. Twin borthers Pierre and Philippe farm parcels in the limestone and clay soils of Jouy, as well as sites in three other premiere cru villages: Pargny-les-Reims, Villedommange, and Coulommes-la-Montagne.
Aubry also farms one and a half hectares of ancient grape varieties still permitted by A.O.C. law. Their plantings of Petit Mesilier, Fromenteau (Pinot Gris) and Arbanne were completed in 1989 to mark the 200 year aniversary of grape growing by the Aubry family. Aubry makes two different cuvees to showcase these rare grapes. The Le Novembre d'Or Veteres Vites blends all seven permissible grapes in the Champagne Appelation: Pinot Gris, Pinot Blanc Petit Mesleir, Arbanne, Pinot Noir, Pinot Meunier, and Chardonnay. The Blanc de Blanc Le November d'Or Sable Brut blends Petit Meslier, Arbanne and Chardonnay all from parcels in Jouy-les-Reims. Sable is named for the French word for fettle or fine, referring to this cuvee's lower atmospheric pressure; four atmospheres, rather than the normal six.
Associated with luxury, celebration, and romance, the region, Champagne, is home to the world's most prized sparkling wine. In order to bear the label, 'Champagne', a sparkling wine must originate from this northeastern region of France—called Champagne—and adhere to strict quality standards. Made up of the three towns Reims, Épernay, and Aÿ, it was here that the traditional method of sparkling wine production was both invented and perfected, birthing a winemaking technique as well as a flavor profile that is now emulated worldwide.
Well-drained, limestone and chalky soil defines much of the region, which lend a mineral component to its wines. Champagne's cold, continental climate promotes ample acidity in its grapes but weather differences from year to year can create significant variation between vintages. While vintage Champagnes are produced in exceptional years, non-vintage cuvées are produced annually from a blend of several years in order to produce Champagnes that maintain a consistent house style.
With nearly negligible exceptions, . These can be blended together or bottled as individual varietal Champagnes, depending on the final style of wine desired. Chardonnay, the only white variety, contributes freshness, elegance, lively acidity and notes of citrus, orchard fruit and white flowers. Pinot Noir and its relative Pinot Meunier, provide the backbone to many blends, adding structure, body and supple red fruit flavors. Wines with a large proportion of Pinot Meunier will be ready to drink earlier, while Pinot Noir contributes to longevity. Whether it is white or rosé, most Champagne is made from a blend of red and white grapes—and uniquely, rosé is often produce by blending together red and white wine. A Champagne made exclusively from Chardonnay will be labeled as 'blanc de blancs,' while ones comprised of only red grapes are called 'blanc de noirs.'
Representing the topmost expression of a Champagne house, a vintage Champagne is one made from the produce of a single, superior harvest year. Vintage Champagnes account for a mere 5% of total Champagne production and are produced about three times in a decade. Champagne is typically made as a blend of multiple years in order to preserve the house style; these will have non-vintage, or simply, NV on the label. The term, "vintage," as it applies to all wine, simply means a single harvest year.
SRKFRKAB3014_2014
Item#
847832