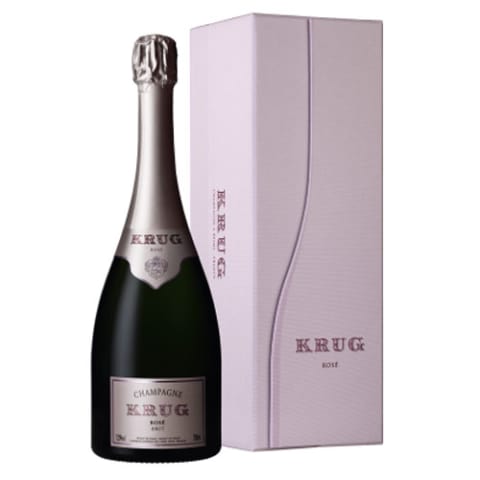 Krug Brut Rose with Gift Box
Rosé Sparkling Wine
from
Champagne, France
Ships Sun, Nov 25
Limit
0
bottles
per customer
Add to Cart
Limit Reached
Winemaker Notes
Krug Rosé is a relatively recent addition to the Krug range of Champagnes, having been introduced first in 1983. While produced in a manner similar to other Krug Champagnes and stylistically consistent, it nevertheless presents a uniquely exotic and intriguing set of aromas and flavors. It's color is a pale salmon, suggesting the barest hint of pink. It is quite dry and appealing with a wide array of cuisines. Krug Rosé is a unique blend that spans four to six different vintages, three grape varieties, and encompasses all the complexities of the Krug style. It is aged for a minimum of six years before release. Krug Rosé is produced only occasionally and in strictly limited quantities.
*Box not pictured
Critical Acclaim
All Vintages
For the last three years, Krug Rose has been consistently brilliant, back to the ethereal grace the wine once delivered under the masterful blending of Henri Krug. It captures pinot noir with the vinous reality of a grand cru Burgundy, elevating those flavors into a more delicate ecstasy of taste. The brisk freshness of the wine might bring you to a cool limestone cave and just-picked fraises des bois. The complexity of the reserve wine lifts the palate to a more celestial realm. Mood-altering pinot.
Deep salmon pink; smooth, elegant nose; lush and mouthfilling but refined and elegant; seamless, complex, layered and masterful.
The whole package. A texture of raw silk and finely cut acidity are seamlessly integrated with layers of dried cherry, ground espresso, cardamom and ginger, ripe raspberry, mineral and a hint of almond financier. The lasting finish is dry and smoky, echoing the spice notes.
The beauty of Krug's rosé is the sense of bottle age, of that extra richness. That means the wine is not just the sum of its delicious red berry fruits. It's also the way the wine is rounded out, filled with secondary flavors, toast and almonds and a taut minerality. The aftertaste is taut, dry, seamless, complex.
The NV Brut Rose is awesome in the way it combines elegance, finesse and power. There is superb material in the density of fruit, along with perfumed aromatics and silky, chalky tannins that frame the long finish. It's all here in this sublime, sensual wine, but readers should note that the same caveats apply as with the Grand Cuvee above.
High in autolyzed yeast and showing the layered complexity of lengthy aging, this non-vintaged bottling is a classic expression of the Krug style. It is, in all truth, not as concerned with fruit as many, but its very firm balance, fine foamy mousse and its long, brisk flavors will not disappoint aficionados.
View More
Since 1843, six generations of the Krug Family have been creating the finest and rarest Champagnes. Behind every precious drop of Krug stands the dream of a visionary. One man who, long before others, understood that the essence of Champagne is pleasure. So, over 170 years ago, Joseph Krug broke with convention to follow his vision: to create the most generous expression of Champagne every year, regardless of climatic unpredictability. Thanks to an uncompromising craftsmanship, a unique individual plot by plot approach from harvesting to blending, an unparalleled library of 150 reserve wines, and an exceptional cellar aging, Krug is the benchmark when it comes to the best champagnes in the world.
Krug Grande Cuvée is the flagship of the House and the archetype of Krug's philosophy of craftsmanship and savoir-faire: a blend of more than 120 wines from ten or more different years. Its exceptional finesse is the result of a stay of at least another six years in the cellars. Over twenty years are needed to craft each bottle of Krug Grande Cuvee.
Every year since the foundation of the House in 1843, one creation, one blend, one bottling and thus one new Edition of Krug Grande Cuvée has come to life. The number of the Edition is now featured on the front label, and this year we celebrate the 164th Edition.
Associated with luxury, celebration, and romance, the region, Champagne, is home to the world's most prized sparkling wine. In order to bear the label, 'Champagne', a sparkling wine must originate from this northeastern region of France—called Champagne—and adhere to strict quality standards. Made up of the three towns Reims, Épernay, and Aÿ, it was here that the traditional method of sparkling wine production was both invented and perfected, birthing a winemaking technique as well as a flavor profile that is now emulated worldwide.
Well-drained, limestone and chalky soil defines much of the region, which lend a mineral component to its wines. Champagne's cold, continental climate promotes ample acidity in its grapes but weather differences from year to year can create significant variation between vintages. While vintage Champagnes are produced in exceptional years, non-vintage cuvées are produced annually from a blend of several years in order to produce Champagnes that maintain a consistent house style.
With nearly negligible exceptions, three varieties are permitted for use in Champagne: Chardonnay, Pinot Noir, and Pinot Meunier. These can be blended together or bottled as individual varietal Champagnes, depending on the final style of wine desired. Chardonnay, the only white variety, contributes freshness, elegance, lively acidity and notes of citrus, orchard fruit and white flowers. Pinot Noir and its relative Pinot Meunier, provide the backbone to many blends, adding structure, body and supple red fruit flavors. Wines with a large proportion of Pinot Meunier will be ready to drink earlier, while Pinot Noir contributes to longevity. Whether it is white or rosé, most Champagne is made from a blend of red and white grapes—and uniquely, rosé is often produce by blending together red and white wine. A Champagne made exclusively from Chardonnay will be labeled as 'blanc de blancs,' while ones comprised of only red grapes are called 'blanc de noirs.'
Equal parts festive and food-friendly, sparkling wine is beloved for its lively bubbles and appealing aesthetics. Though it is often thought of as something to be reserved for celebrations, sparkling wine can be enjoyed on any occasion—and might just make the regular ones feel a bit more special. Sparkling wine is made throughout the world, but can only be called "Champagne" if it comes from the Champagne region of France. Other regions have their own specialties, like Prosecco in Italy and Cava in Spain. Sweet or dry, white or rosé (or even red!), lightly fizzy or fully sparkling, there is a style of bubbly wine to suit every palate.
The bubbles in sparkling wine are formed when the base wine undergoes a secondary fermentation, trapping carbon dioxide inside the bottle or fermentation vessel. Champagne, Cava and many other sparkling wines (particularly in the New World) are made using the "traditional method," in which the second fermentation takes place inside the bottle. With this method, dead yeast cells remain in contact with the wine during bottle aging, giving it a creamy mouthful and toasty flavors. For Prosecco, the carbonation process occurs in a stainless steel tank to preserve the fresh fruity and floral aromas preferred for this style of wine.