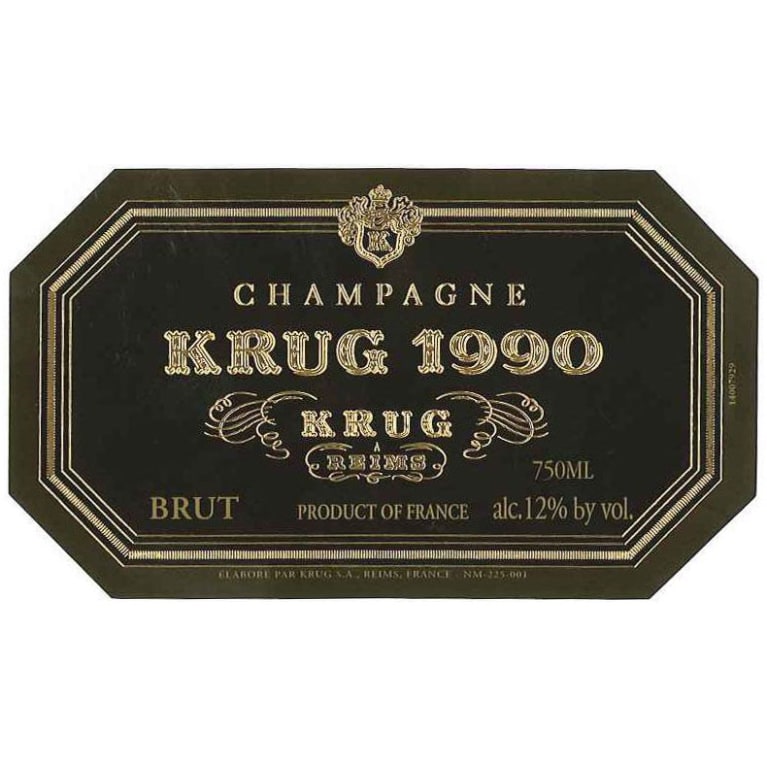 Krug Brut 1990
Out of Stock

(was $228.99)
Winemaker Notes
Established in 1843, Krug has specialized solely in prestige and exceptional champagne. Dedication to quality takes precedence over quantity of production. Krug is the only Champagne House still fermenting all of its champagnes the age-old way, in small oak casks.

Krug releases vintage wines in only truly great years. The release of Krug 1988 marks the first time in Krug's 158-year history that its vintage chronology has been reversed. The Krug family decided to present the tender, warm and mature 1989 vintage first, and hold its 1988 vintage in Krug's cellars to realize its full potential.

Today, after more than a decade of bottle aging, Krug 1988 explodes on the palate with tremendous depth and complexity. The first impression is intense, yet it develops in the glass with delicacy, revealing lightly spiced notes of dried figs and ripe quince. Underlined by a superb structure, this wine maintains a remarkable freshness for its long aging.
Krug has always lived up to its reputation as the first and only Champagne House to create exclusively prestige Champagnes every year since its foundation.
The House was established in Reims in 1843, by Joseph Krug, a visionary non-conformist with an uncompromising philosophy. Having understood that the true essence of Champagne is pleasure itself, his dream was to craft the very best Champagne he could offer, every single year, regardless of annual variations in climate. Paying close attention to the vineyard's character, respecting the individuality of each plot and its wine, as well as building an extensive library of reserve wines from many different years allowed Joseph Krug to fulfil his dream.
With a very original approach to Champagne making, he decided to go beyond the notion of vintage to create the most generous expression of Champagne, every year. Thus, he founded a House in which all Champagnes are of the same level of distinction.
Six generations of the Krug family have perpetuated this dream, enriching the founder's vision and savoir faire.
Further elaborating on the notion of individuality, for Krug's Cellar Master Julie Cavil, each plot of grapes, through its wine, is like a single ingredient to a chef: carefully selected, and critical to the final composition. Each year, Krug honors this philosophy by inviting chefs from around the world to interpret a single ingredient, crafting unexpected recipes to pair with a glass of Krug Grande Cuvée or Krug Rosé. This year's ingredient is the Onion.
The unspoken onion is a key component of almost every fundamental recipe from stocks, sauces and stews to baked goods and roasts. Its multifaceted expressions beautifully marry both the fullness of flavors and aromas of Krug Grande Cuvée the elegance and boldness of Krug Rosé. 
Krug X Music
The House of Krug has long sensed a link between sound and taste perception. Music and sound have the power to reveal a myriad of new dimensions through the sensorial experience that comes with every sip of Krug Champagne.
It is in this spirit and with this understanding that the House of Krug has developed a unique endeavor: Krug Music Pairings. Each year the House invites selected musicians, in whose standards of excellence it feels a kinship, to an extended tasting of its Champagnes. Inspired by what they taste, these artists select or create a special playlist custom-tailored to reflect what they felt and how they connected to the experience of Krug Champagnes. By associating Music with its Champagnes, the House continues its quest to enhance the tasting of Krug Champagnes while discovering new experiences.
Krug Encounters
The House of Krug presents Krug Encounters 2021, a fresh and exciting online immersive Music experience to connect Krug Lovers around the world. Krug Encounters will echo the non-conformist philosophy of the founder of the House, Joseph Krug.
Together with British Vocal Ensemble VOCES8 and Belgian Music pioneer, Ozark Henry, the House of Krug is taking its Music Pairings to the next level with multisensory digital experiences through which it will present the latest Édition of Krug Grande Cuvée.
Using standard headphones, binaural audio technology envelops guests in a groundbreaking audio space echoing Krug's unique craftsmanship. Unique voices mirror the individualities – characterful wines selected from specific plots and years – that compose this Champagne and convey the effects of climate conditions on these wines. The voices interact with each other and the musical scores to ultimately express the complete vocal symphony. In this way, guests will relive the story of Krug Grande Cuvée 169ème Édition in a completely new and memorable way that showcases the unique craftsmanship of Cellar Master Julie Cavil.
CVI501158_1990
Item#
77837