Winemaker Notes
Fresh, fruity, full-bodied, and decidedly dry.
Pair with salami, ham, roast fish and fish dishes with sauces, pasta and rice dishes with aromatic vegetable sauces, and goat cheese.
Critical Acclaim
All Vintages
The Köfererhof 2018 Alto Adige Valle Isarco Sylvaner shows some extra plushness and softness in this vintage, with summer peach, lemon blossom, honey and cantaloupe melon. Whereas most of the white varieties in the Köfererhof portfolio present lifted and vertical aromas with many flinty mineral nuances, this Sylvaner offers a tad more opulence and fruity richness. That extra texture opens this wine to spicy exotic foods like Singapore chili crab.
View More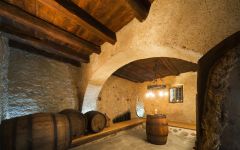 Weingut Köfererhof is one of Italy's smallest and best white wine producers. Just about any grape variety owner Günther Kerschbaumer touches turns to gold. Over the years, he has fashioned remarkably delicious and age worthy wines from the likes of Sylvaner, Riesling, Kerner, Müller-Thurgau and other varieties.
Köfererhof is located in Alto Adige's beautiful Valle Isarco subregion, next to the town of Novacella and not far from Bressanone (or Brixen, in German, as Alto Adige is the German part of Italy). The Valle Isarco is one of Italy's true hotbeds of high-quality white wine production, and the only place in Italy where you will find world-class wines made from Kerner and Sylvaner (varieties that aren't grown much in the rest of Alto Adige, never mind Italy). Founded in 1940, the estate is run today by Günther Kerschbaumer, who took over the reins from his father Peter in 2010, after having learned the craft by working alongside him for roughly ten years. The family has only been bottling wine since the 1995 vintage; before that, like many others in the Valle Isarco, they sold grapes to the Abbazia di Novacella, the area's largest producer, and they previously raised livestock as well. Today, Köfererhof is fully devoted to wine production, though it also boasts a wonderful stube, or alpine restaurant, full of rustic charm that whips up accurately cooked, flavorful and highly typical Alto Adige specialties
A mountainous northern Italian region heavily influenced by German culture, Trentino-Alto Adige is actually made up of two separate but similar regions: Alto Adige and Trentino.
Trentino, the southern half, is primarily Italian-speaking and largely responsible for the production of non-native, international grapes. There is a significant quantity of Chardonnay, Pinot Grigio and Merlot produced. But Trentino's native and most unique red variety, Teroldego, while still rare, is gaining popularity. It produces a deeply colored red wine rich in wild blackberry, herb, coffee and cocoa.
The rugged terrain of German-speaking Alto Adige (also referred to as Südtirol) focuses on small-scale viticulture, with great value placed on local varieties—though international varieties have been widely planted since the 1800s. Sheltered by the Alps from harsh northerly winds, many of the best vineyards are at extreme altitude but on steep slopes to increase sunlight exposure.
Dominant red varieties include the bold, herbaceous Lagrein and delicate, strawberry-kissed, Schiava, in addition to some Pinot Nero.
The primary white grapes are Pinot grigio, Gewürztraminer, Chardonnay and Pinot blanc, as well as smaller plantings of Sauvignon blanc, Müller Thurgau. These tend to be bright and refreshing with crisp acidity and just the right amount of texture. Some of the highest quality Pinot grigio in Italy is made here.
What are the types of white wine?
From lean and crisp to oaky and buttery, white wine comes in an array of styles and is produced in almost every wine region of the world. Although only about 25 pale-skinned grapes make the majority of the white wine produced, hundreds of native varieties are important not only to local culture, but to the diversity of the global wine world. White wine styles range from a simple and refreshing aperitif to a robust accompaniment to a hearty meal and some of the best can age for decades.
How is white wine made?
To preserve freshness, aromatics and primary fruit flavors, white wines are often fermented at cooler temperatures than reds. Unlike red winemaking, the colorless juice is not typically left in contact with the grape skins during the fermentation process. The winemaker has the choice to encourage or prevent malolactic fermentation, which turns the tart acidity of grape juice into the softer, creamier flavors of wine. Another important decision when making white wine is whether and how to use oak—the barrels' age, provenance and time holding the wine all help to determine the final style, in terms of both flavor and texture.
What gives white wine its color?
White wines can vary in color from nearly clear lemon-green to medium gold to pale orange or almost light brown, depending on grape variety, winemaking methods and age.
How do you serve white wine?
Ideally for storing white wine in any long-term sense, it should be at cellar temperature, about 55F. For serving, cool white wine down to about 45F to 55F. (Most refrigerators are colder than this.) As for drinking white wines, the best white wine glasses have a stem and a narrow bowl large enough to allow swirling without spilling.
How long does white wine last?
Opened, a bottle of white wine will stay fresh in the refrigerator for a couple of days to a week, maybe longer. Unopened, white wines stay good for one year to, in some cases, several decades. Assessing how long to hold on to a bottle is a complicated science. If you are planning to strategically store white wine, seek the advice of a wine professional.
SKRITKOF0418_2018
Item#
539584