Kenwood Artist Series Cabernet Sauvignon 1999
Winemaker Notes
An elegant, intensely concentrated wine with vibrant blackberry and black cherry fruit flavors. This wine exhibits rich, deep color, and hints of mint, spice and cassis.
The Art: Rolph Scarlett, a Canadian by birth, and a jeweler and set designer by trade, produced this gouache and graphite painting in 1940, at mid-point in his life and career. Deeply moved by the early improvisations of Kandinsky, Scarlett worked in the abstract and expressionistic styles. This untitled piece demonstrates the artist's interest in creating a "cosmic order" through the juxtaposition and ordering of color and shape against a picture plane.
After more than two decades in the limelight, Kenwood Vineyards' highly-acclaimed Artist Series Cabernet Sauvignon reigns as a premier marriage of fine art and fine wine. Kenwood's goal for combining its finest Cabernet Sauvignon with the work of contemporary artists was to create an elegant, easily identifiable package, while promoting beautiful artwork at the same time.
The grapes used to craft each Artist Series release are as carefully selected as the artwork that will grace the bottle. Each year, Winemaker Mike Lee selects the finest small lots of Sonoma Valley Cabernet Sauvignon grapes and skillfully blends them to produce this Kenwood classic. While the winemaking philosophy of using only the most superior Cabernet fruit never changes, the style of Kenwood's Artist Series Cabernet has evolved over the years. The initial style of 100% Cabernet Sauvignon fruit with lots of oak aroma and flavor has evolved to a lighter Bordeaux-style blend (Cabernet Sauvignon, Merlot and Cabernet Franc) with subtle oak complexity.
The Kenwood Artist Series is truly a successful marriage of wine and art, which has often been referred to as the "Chateau Mouton-Rothschild of America." Accordingly, the Artist Series collection has become highly sought after by wine collectors worldwide.
Critical Acclaim
All Vintages
The grapes come from high mountain vineyards that yield small berries. This wine is young, tough and tannic. It's not one of your softly opulent '99s that immediately seduces. There is a deep core of blackberry, cherry and cassis fruit and a lush overlay of oak. This 25th vintage of Artist Series is a serious cellar candidate. Best after 2008.
View More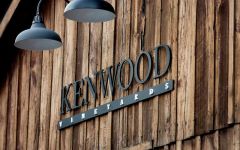 Located in the heart of the Sonoma Valley, Kenwood Vineyards is dedicated to producing premium wines truly representative of Sonoma County's world-class vineyards.
Kenwood Vineyards was established in 1970 in the former Pagani Brothers Winery, a historic cellar dating back to 1906. Thoroughly refurbished and modernized, the facility now boasts more than 125 stainless steel fermenting tanks and large oak uprights, and 20,000 small French and American oak barrels, all devoted to Kenwood Vineyards' "small lot" style of winemaking.
In addition to the 22-acre vineyard surrounding the winery, Kenwood Vineyards sources grapes from dozens of vineyards – many farmed sustainably, using natural soil amendments and pest controls whenever possible rather than chemicals - in Sonoma County's best appellations, including Russian River Valley, Alexander Valley, Dry Creek Valley, Sonoma Valley and Sonoma Mountain. Each lot from each vineyard is kept separate throughout the winemaking process, enabling the winemaker to bring it to its fullest potential. This "small lot" or "cuvee" style of winemaking also enables the winemaker to draw on an exceptionally broad "palette" to assemble wines that showcase classic character, subtle complexity and superb balance. As a result, every Kenwood Vineyards wine – whether Table Wine Series, Sonoma Series, Reserve, Jack London Vineyard or Artist Series – is consistent in quality and consistently delicious.
While Sonoma County is acclaimed—and rightfully so—for its Chardonnays, Pinot Noirs, and Zinfandels, it also produces exceptional Cabernet Sauvignon. Of the region's 18 American Viticultural Areas, only a handful produce top-notch Cabernet Sauvignon. These appellations include Alexander Valley, Knights Valley, Sonoma Valley and Dry Creek Valley. Sonoma Cabernet Sauvignons made in these appellations can offer a complex array of aromas and flavors. Fruit notes such as blackberry, blackcurrant, cassis, black cherry and raspberry often are accompanied by hints of graphite, dusty earth, cigar box, toast and vanilla. The varietal has a rich history in Sonoma, and some of these Cabernet Sauvignons and Cabernet-based blends rival the best from Napa Valley.
NDF654023_1999
Item#
74849