Josh Cellars Paso Robles Reserve Cabernet Sauvignon 2016
Winemaker Notes
The bouquet is rich with dark fruits, cinnamon, clove and subtle oak aromas. The wine is juicy on the palate with bright red cherries and blackberry flavors prominent, accented by delicate vanilla flavors and toasty oak, finishing long with round, soft tannins.
The complex flavor of this wine complements just about any well-seasoned meat such as beef, pork, or lamb, followed by an indulgent dessert or espresso.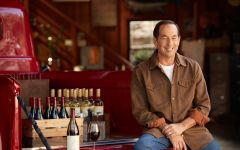 Josh Cellars was created in 2007 by vintner Joseph Carr as a tribute to his dad, Josh. The brand started with one varietal, Cabernet Sauvignon, and today features a diverse portfolio of well-balanced and delicious wines made to exacting standards. Sourced from across California's great winegrowing regions, every vintage represents a labor of love, a commitment to quality, and a very personal promise to make great wine, in honor of Josh.
Joseph discovered a passion for wine at an early age, starting off as a wine steward at a local restaurant in upstate New York, where he was raised. He spent a decade serving as a world-class sommelier followed by another decade as a wine industry executive. After years of hard work, he left it all behind to pursue his dream: starting his own wine company, making wines from California. Today, he lives with his dog Molly and frequently gets visits from his daughter Cailen at their home in Cape Cod, Massachusetts.
"American Winery of the Year" – Wine Enthusiast, 2021
As Paso Robles, California has soared in number of wineries and gained in popularity, Cabernet Sauvignon has firmly taken root as the region's number one varietal. Alone, it accounts for just over 40% of plantings and is grown throughout both the western and eastern sides of the appellation. Though viticulture here dates back to the 18th century, Cabernet Sauvignon didn't emerge as a significant grape here until the 1970's. But since then it has definitely made up for lost time.
Legendary winemaker and consultant Andre Tchelistcheff first recognized Paso's potential with Cabernet Sauvignon in the early 1960's. The calcareous soil and dramatic diurnal temperature changes of Paso's westside particularly intrigued him. Today modern winemaking techniques and focused experimentation with various clones, rootstocks and vineyard strategies optimize the region's ideal combination of soil and climate to deliver the best fruit possible.
The results are evident in the glass. Paso Robles Cabernet Sauvignon can be mesmerizing, with rich aromas and flavors of blackberry, cassis, black cherry, graphite, toasty oak, vanilla and spice. The structure, balance and unbridled opulence of these wines impress from first sip to last. Not surprisingly, Paso Robles Cabernet Sauvignons have steadily grown in reputation, not just in the U.S., but around the world.
SOU480817_2016
Item#
491003