Joseph Cattin Cremant d'Alsace Rose
Ships today if ordered in next hour
Limit
0
bottles
per customer
Winemaker Notes
Elegant salmon pink color with abundant and dynamic bubbles. The nose is fruity, especially favoring red fruits such as cherry and black currants. Refreshing and creamy palate with fruity aromas such as strawberries and lemon. A clean and long lasting finish.
Critical Acclaim
All Vintages
Rounded, balanced and harmonious flavors get top marks on this softly pink sparkler. Strawberries and cream, with shortbread and lemon, all unite in perfect unison. The dryness of the palate gives the flavors center stage and provides a fitting, structured autolytic background. This sparkler is classy and delicious, with an ultra clean and lasting finish.
View More
In the late 17th century, François Cattin, born in Porrentruy, Switzerland, came to settle in this small Alsatian village of Voegtlinshoffen located 10 kilometers south of Colmar. In 1720, François Cattin decided to become a winemaker in addition to his job as a builder. The next 11 generations continued his legacy and this how the family business started!
Around 1850, Antoine Cattin decided to focus exclusively on the profession of winemaker. He marked the beginning of specialization that was carried on by by all his descendants. One of his son, Joseph took over the family-owned Estate. At the end of the 19th century, the phylloxera plague started to seriously damage the Alsatian vineyard. Joseph Cattin, having studied successfully, dedicated his time fighting against this plague. He became one of the pioneers of the Alsatian viticulture by beeing rewarded with the diploma of Vignoble modèle. His brother, Théodore, aimed for gastronomy by establishing the restaurant La Cigogne in Paris. This place, renowned for its famous Alsatian gastronomy, is well frequented with the Parisian upper class as well as many foreign guests. This place became then an excellent shop front to expose Alsatian wines from his brother Joseph. Joseph Cattin as a brand was born!
After the death of Joseph, his son, Antoine, took over the company surrounded by 7 hectares of vines. Renowned winemaker for the quality his fine wines, Antoine truly cared for preserving the body and the uniqueness that create the originality of Alsatian wines.
In 1978, Jacques and Jean-Marie, grandsons of Joseph Cattin, took over the family-owned Estate; Jacques, as the manager and Jean- Marie running the vineyard operations. Jacques began at first to modernize the Cattin Winery; a new dynamic was created. In 25 years, means of production have completely been transformed and the vineyard has been spread over 60 hectares.
In 2007, Jacques Junior, joined the company after having studied engineering in agronomy and winemaking. In collaboration with his father, Jacques Cattin Senior, Jacques junior took charge of the wine-making and the financial department. His wife, Anaïs, graduated from a prestigious business school and with strong experiences toward international commerce, joined the company in 2012. She is currently responsible for international sales department.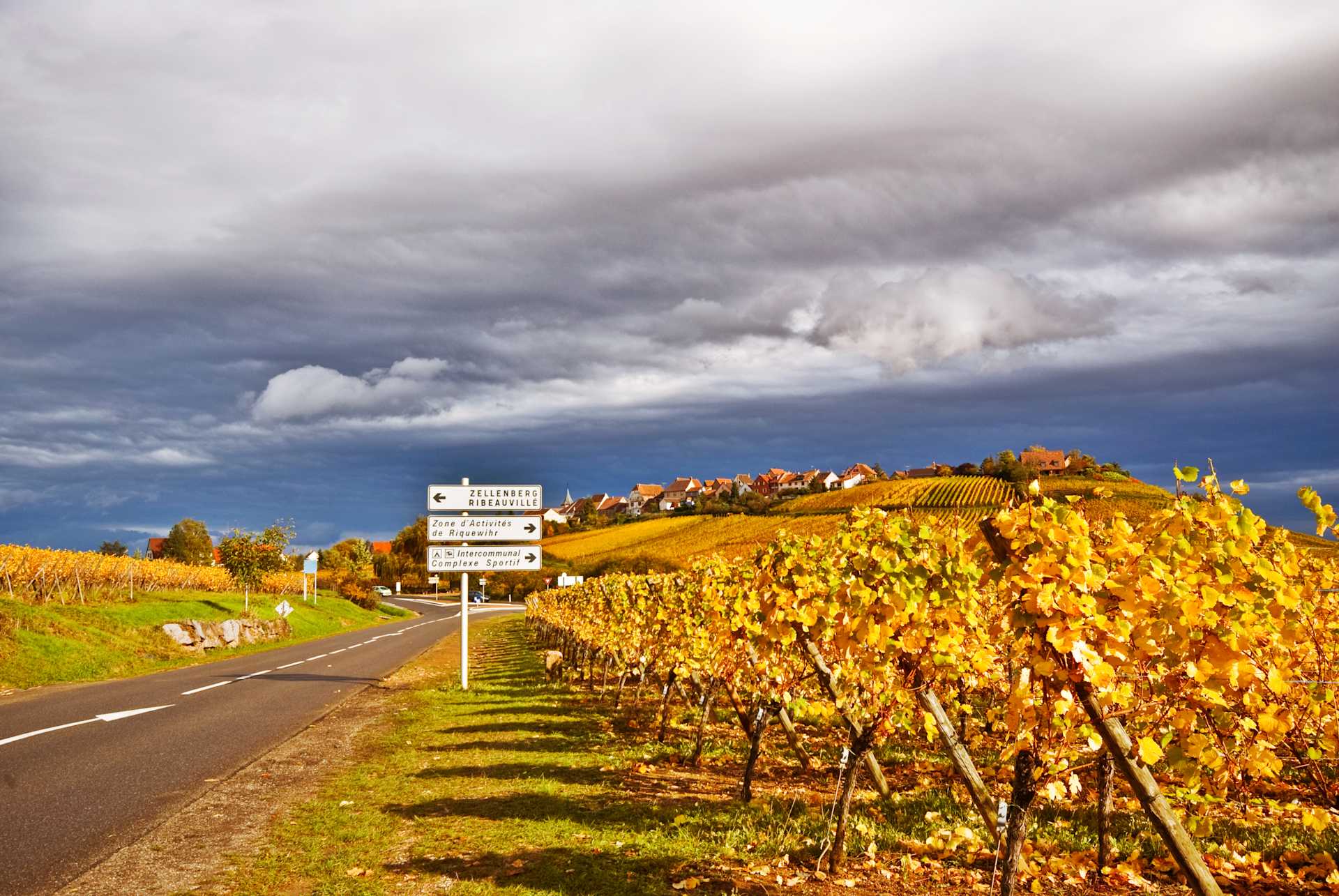 With its fairytale aesthetic, Germanic influence and strong emphasis on white wines, Alsace is one of France's most unique viticultural regions. This hotly contested stretch of land running north to south on France's northeastern border has spent much of its existence as German territory. Nestled in the rain shadow of the Vosges mountains, it is one of the driest regions of France but enjoys a long and cool growing season. Autumn humidity facilitates the development of "noble rot" for the production of late-picked sweet wines, Vendange Tardive and Sélection de Grains Nobles.
The best wines of Alsace can be described as aromatic and honeyed, even when completely dry. The region's "noble" varieties, the only ones permitted within Alsace's 51 Grands Crus vineyards, are Riesling, Gewurztraminer, Muscat, and Pinot Gris.
Riesling is Alsace's main specialty. In its youth, Alsatian Riesling is dry, fresh and floral, but develops complex mineral and flint character with age. Gewurztraminer is known for its signature spice and lychee aromatics, and is often utilized for late harvest wines. Pinot Gris is prized for its combination of crisp acidity and savory spice as well as ripe stone fruit flavors. Muscat, vinified dry, tastes of ripe green grapes and fresh rose petal.
Other varieties grown here include Pinot Blanc, Auxerrois, Chasselas, Sylvaner and Pinot Noir—the only red grape permitted in Alsace and mainly used for sparkling rosé known as Crémant d'Alsace. Most Alsatian wines are single-varietal bottlings and unlike other French regions, are also labeled with the variety name.
What are the different types of Champagne and sparkling wine?
Beloved for its lively bubbles, sparkling wine is the ultimate beverage for any festivity, whether it's a major celebration or a mere merrymaking of nothing much! Sparkling wine is made throughout the winemaking world, but only can be called "Champagne" if it comes from the Champagne region of France and is made using what is referred to as the "traditional method." Other regions have their own specialties—Crémant in other parts of France, Cava in Spain and Prosecco in Italy, to name a few. New World regions like California, Australia and New Zealand enjoy the freedom to make many styles, with production methods and traditions defined locally. In a dry style, Champagne and sparkling wine goes with just about any type of food. Sweet styles are not uncommon and among both dry and sweet, you'll find white, rosé—or even red!—examples.
How is Champagne and sparkling wine made?
Champagne, Crémant, Cava and many other sparkling wines of the world are made using the traditional method, in which the second fermentation (the one that makes the bubbles) takes place inside the bottle. With this method, spent yeast cells remain in contact with the wine during bottle aging, giving it a creamy mouthful, toasted bread or brioche qualities and in many cases, the capacity to age. For Prosecco, the carbonation process usually occurs in a stainless steel tank (before bottling) to preserve the fresh fruity and floral aromas imminent in this style.
What gives Champagne and sparkling wine its bubbles?
The bubbles in sparkling wine are formed when the base wine undergoes a secondary fermentation, which traps carbon dioxide inside the bottle or fermentation vessel.
How do you serve Champagne and sparkling wine?
Ideally for storing Champagne and sparkling wine in any long-term sense, they should be at cellar temperature, about 55F. For serving, cool Champagne and sparkling wine down to about 40F to 50F. (Most refrigerators are colder than this.) As for drinking Champagne and sparkling wine, the best glasses have a stem and flute or tulip shape to allow the bead (bubbles) to show.
How long does Champagne and sparkling wine last?
Most sparkling wines like Prosecco, Cava or others around the "$20 and under" price point are intended for early consumption. Wines made using the traditional method with extended cellar time before release can typically improve with age. If you are unsure, definitely consult a wine professional for guidance.
TEWFR728_NV_0
Item#
421561