Jaume Serra Cristalino Bouquet Brut
Out of Stock

(was $12.99)
Winemaker Notes
This cava has been elaborated following the traditional method of second fermentation in the bottle. It is a bright and pale straw-yellow color, with greenish hints. Small persistent bubbles, with a nice and steady formation. A clean nose with intense aromas of white fruits, flowers and citrus over a background of nuts and bakery aromas.
This cava can be enjoyed with all foods.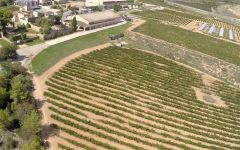 Jaume Serra is situated at the top of a slope that gently descends towards the Mediterranean Sea in Vilanova I La Geltru (Barcelona). Its origins went back to 1647, a year in which it was constructed a place called "El Padruell", a walled farm that since XVII century it was used for protection to an old *masia-fortaleza that, as the legend says it use to have a passage that connected with the village.
In 1943 Don Jaume Serra Güel established his company in Alella and he put his name to it. In 1956 rato family bought "El padruell" farm, and in 1975 he purchased the winery to Don Jaume Serra Güell. In 1984 for lack of enough vineyards in Alella, it decided to move the winery to Vilanova I La Geltru and it began the construction of the new winery and the planting of the vineyards, which is opened in 1986.
In 1997 Garcia Carrion family bought the winery Jaume Serra.
The Current winery is surrounded by a plot of lands of 125 hectares of vineyards with the varieties Cabernet Sauvignon, Merlot, Tempranillo y Chardonnay.
The Fermentation installations have an elaboration capacity of 5 million of kilos of grapes, with most modern systems of elaboration and aged, and a capacity of 20 million of bottles per year. Nowadays it has 3,500 American and French oak barrels to obtain wines with ageing, like the Crianzas, Reservas and Gran Reserva of high quality.
These installations obey all the international standards of quality assurance of the ISO and BRC.
Jaume Serra wines with Guarantee of Origen Penedes and Catalunya brands are: Jaume Serra y Vina del Mar, They have been awarded in national and international wine competitions.
A superior source of white grapes for the production of Spain's prized sparkling wine, Cava, the Penedes region is part of Catalunya and sits just south of Barcelona. Medio Penedès is the most productive source of the Cava grapes, Macabeo, Xarel-lo, and Parellada. Penedes also grows Garnacha and Tempranillo (here called Ull de Llebre in Catalan), for high quality reds and rosès.
A term typically reserved for Champagne and Sparkling Wines, non-vintage or simply "NV" on a label indicates a blend of finished wines from different vintages (years of harvest). To make non-vintage Champagne, typically the current year's harvest (in other words, the current vintage) forms the base of the blend. Finished wines from previous years, called "vins de reserve" are blended in at approximately 10-50% of the total volume in order to achieve the flavor, complexity, body and acidity for the desired house style. A tiny proportion of Champagnes are made from a single vintage.
There are also some very large production still wines that may not claim one particular vintage. This would be at the discretion of the winemaker's goals for character of the final wine.