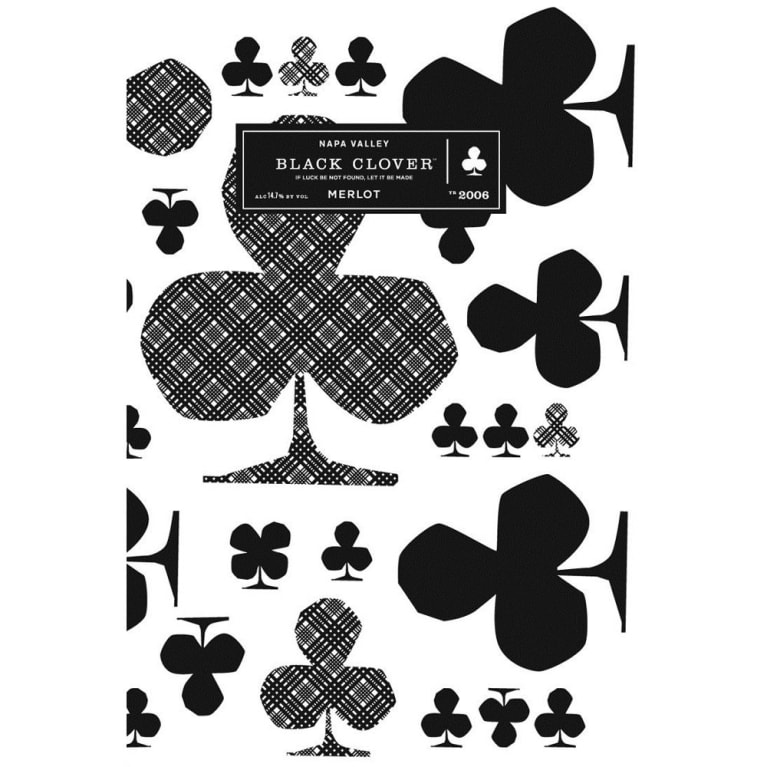 JAQK Cellars Black Clover Napa Merlot 2006
Winemaker Notes
Irish lore tells of incredible luck being bestowed upon anyone fortunate enough to find a four-leaf clover. Ten thousand times more rare than the three-leafed norm, spotting one is an indication of both luck and a keen eye. It just so happens that these two attributes can bring great fortunes at the card table, turning a peasant (the class the suit originally symbolized)into royalty. Unfortunately for those already possessing great riches, the reverse is also true. So, caution, friend. We celebrate the ability of a man to improve his lot in life with our Black Clover merlot.
This wine exhibits aromas of exotic blueberry, black cherry, black olive, integrated oak, lavender, earthy, orange peel, rose water, and vanilla.
On the palate there is spherical texture, creamy concentration, fine-grain tannins, and finesse.
JAQK Cellars is the creation of three people—Craig MacLean, Katie Jain, and Joel Templin—and an idea: do what you love.
When you follow your passion, you pour yourself into it wholeheartedly. Work ceases being work. It becomes something you enjoy, something that feels more like, well, play.
For Craig, there's nothing he'd rather be doing than walking through vineyards, crumbling clumps of soil in his hands, smelling the air, understanding a particular harvest, and coaxing from it a nectar that's wonderfully delicious. Katie and Joel share with Craig a passion for wine, but their first love is the world of graphic design. They were drawn to it at an early age and have immersed themselves in it ever since. At their firm, Hatch Design, they craft brand identities, packaging, and communications that not only further their clients' goals, but make the world a little more beautiful a place for all of us.
And so JAQK Cellars was born. Not so much a business as a blank canvas. Not so much an enterprise for three colleagues as a way for three creative souls to indulge their passions. A way for them to slave away doing what they love till their hearts' content.
As Napa Valley's third most planted grape, Napa Valley Merlot shows time and time again its potential to produce exceptional results. Napa's vaunted combination of climate, soil and the human factor of winemaking expertise lead to big, ripe, cellar-worthy and world-class versions.
Whether made by itself in single varietal bottlings or as an important role in Bordeaux Blends, Merlot continues a prominent role in this famous region. While Cabernet typically takes the lead role, Merlot's contribution—even at 10% to 20% or so—is significant indeed. Often described as "the flesh on Cabernet's bones," Merlot lends a soft, round and plush character that beautifully complements Cabernet's linear, full-throttle structure. Its flavors of plums plus subtle herbs and mint also dovetail nicely with Cabernet's blackberry and cassis.
YNG779121_2006
Item#
98200