J. Hofstatter Kolbenhof Gewurztraminer 2016
Out of Stock

(was $43.99)
Winemaker Notes
The Kolbenhof Gewurztraminer is characterized by sumptuous fruit. Deep golden yellow in color, the wine offers a nose reminiscent of ripe apricot and peach intermingled with exotic fruits such as lychee, mango and passion fruit. The fruit characteristics follow through on the palate, which is full-bodied, luscious but dry, and cut by vibrant, firm acidity. The finish is elegant, dry and aromatic.
This wine is on its own, though it is perfect to accompany shellfish, oysters or foie gras, sophisticated fish dishes and asian inspired food.
A Francophile who loved French Burgundies, Ludwig Barth von Barthenau was definitely the first to exclusively grow Pinot Noir on his estate beginning in 1860. Barthenau's pioneering focus on the Pinot Noir grape continues to animate the estate's owners to this day. In 1942, Ludwig's grandson sold the estate to the Foradori family; Paolo Foradori released his first Pinot Noir in 1959. Also in 1959, Paolo married Sieglinde Oberhofer, the only daughter of Konrad Oberhofer, nephew of Josef Hofstätter, who in 1907 founded in the village Tramin the Weingut (estate, or Tenuta in Italian) Hofstätter. With the marriage of Sieglinde and Paolo the vineyard properties of the two families merged together. Since 1987, Paolo Foradori and Weingut Hofstätter have produced the single-vineyard wines of Barthenau Vigna S. Urbano, Pinot Noir and Barthenau Vigna S. Michele, Pinot Blanc. (The Vigna name connotes the wine's single-vineyard status and is the Alto Adige equivalent to a prestigious Cru designation in Burgundy.) The Mazon plateau located above the village of Neumarkt is particularly renowned for its Pinot sites and their prestigious wines have since attracted a worldwide following. Tenuta Hofstätter is the only family wine estate that owns vineyards on both the west and the east banks of the Adige River. Hofstätter's Gewürztraminer is made from a selection of grapes grown in the family's Vigna Kolbenhof estate in the hamlet of Söll overlooking the village of Tramin. Tenuta Hofstätter's fortuitous combination of its microclimate, the southeastern orientation of the vineyard, and the age of the vines make its Kolbenhof estate one of Alto Adige's great Crus for Gewürztraminer. The vine itself is named after its origin, the wine village of Tramin.
A mountainous northern Italian region heavily influenced by German culture, Trentino-Alto Adige is actually made up of two separate but similar regions: Alto Adige and Trentino.
Trentino, the southern half, is primarily Italian-speaking and largely responsible for the production of non-native, international grapes. There is a significant quantity of Chardonnay, Pinot Grigio and Merlot produced. But Trentino's native and most unique red variety, Teroldego, while still rare, is gaining popularity. It produces a deeply colored red wine rich in wild blackberry, herb, coffee and cocoa.
The rugged terrain of German-speaking Alto Adige (also referred to as Südtirol) focuses on small-scale viticulture, with great value placed on local varieties—though international varieties have been widely planted since the 1800s. Sheltered by the Alps from harsh northerly winds, many of the best vineyards are at extreme altitude but on steep slopes to increase sunlight exposure.
Dominant red varieties include the bold, herbaceous Lagrein and delicate, strawberry-kissed, Schiava, in addition to some Pinot Nero.
The primary white grapes are Pinot grigio, Gewürztraminer, Chardonnay and Pinot blanc, as well as smaller plantings of Sauvignon blanc, Müller Thurgau. These tend to be bright and refreshing with crisp acidity and just the right amount of texture. Some of the highest quality Pinot grigio in Italy is made here.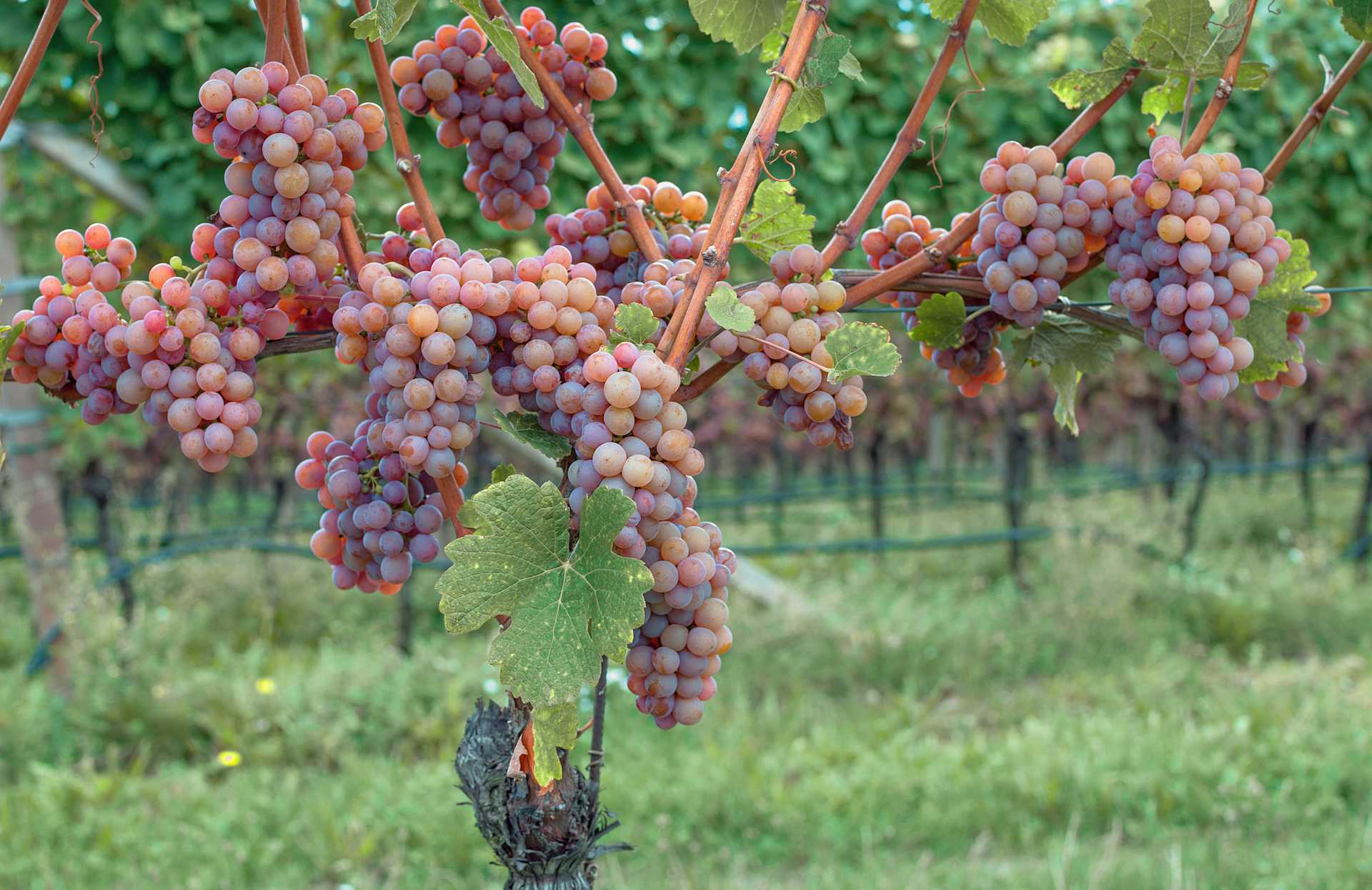 Gewürztraminer, an expressive and aromatically distinctive white grape variety, is considered a noble variety in the Alsace region of France, and produces wonderful wines in the mountainous Alto Adige region of NE Italy. Generally this grape grows well in cooler regions and its natural intensity makes it a great ally for flavorful cuisine such as Indian, Middle Eastern or Moroccan. Somm Secret—Because of a charming perfume and tendency towards slight sweetness, Gewürztraminer makes for an excellent gateway wine for those who love sweet wines but want to venture into the realm of drier whites.
WLD3060665_2016
Item#
371034