Ironstone Petite Sirah 2005
Winemaker Notes
Bold and bright the 2005 Petite Sirah is loaded with complex varietal characteristics. One can get lost looking into the deep, dark purple ink color of this Petite Sirah. Robust aromas of ripe plums, berries and a hint of black pepper fill the nose, while lush fruit flavors of blackberry, plum and vanilla tantalize the taste buds. This outstanding full-bodied wine has medium tannins with a fresh berry and oak finish.
This wine has a lot of body and tends to go well with beef stews, grilled New York pepper-crusted steak, or chicken cacciatore.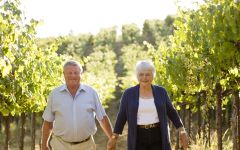 The story of Ironstone Vineyards started in the hands of John Kautz, a young row crop farmer from Lodi who saw the future in growing wine grapes in Lodi. With 12 acres in 1948, John quickly built an excellent reputation as a premium wine grape supplier, amassing over 5,000 acres of grapes in Lodi and the Sierra Foothills and eventually becoming one of the top ten wine grape growers in California.
In 1988, John, his wife Gail and their children dedicated themselves to the creation of a wine of their own. While still maintaining grape sales to top wineries around the world, they brought award-winning winemaker Steve Millier aboard to launch Kautz wines, which would evolve into Ironstone Vineyards, a wine brand dedicated to the production of exceptional wines of unparalleled quality, outstanding value and everyday approachability.
In 1989, using dynamite, pick axes and shovels, a crew of miners carved through limestone and Calaveras Schist Rock on Gail's family ranch in Murphys, California and fashioned the site of Ironstone's wine aging caverns, which in the beginning, also served as the facility's first tasting room., Ironstone Wines and the Ironstone Winery have each grown and become famous in their own way. John, Gail and each of their four children - Stephen, Kurt, Jack, and Joan - remain actively involved in the growth of both the winery facility and the wine brand.
California is a winemaking colossus; by itself it is the fourth largest producer in the world. Red wine accounts for 56% of the total by volume, and red grapes 63% of total acres planted. In addition, a number of California red wines are heralded as being among the most prestigious and sought-after wines in the world.
While the state's incredibly diverse geography, soils and microclimates allow for a wide array of styles, the key factor unifying California red wine is the abundance of sunshine and a long, consistent growing season. This leads to well-developed fruit marked both by impressive ripeness and balancing acidity.
The state's most famous red wine region, of course, is Napa Valley, where Cabernet Sauvignon reigns as king. But California boasts a wealth of other impressive appellations. The much larger and climatically varied Sonoma County also produces world class California Cabernet, along with wonderful examples of California Pinot Noir and Zinfandel.
Fine versions of Cabernet and Zinfandel hail from Paso Robles as well, which is also gaining fame with Rhone varietals like Syrah and Grenache. As for Pinot Noir, terrific examples can be found from AVA's such as Anderson Valley, Carneros, Santa Lucia Highlands and Sta. Rita Hills. Wineries in Santa Barbara and San Luis Obispo Counties are making wonderful Syrahs, and the Sierra Foothill appellations are proving to be an experimental hotbed, with Italian and Spanish varietals employed to great effect.
This of course is a mere sketch. The subject of California red wine is as deep and broad as an ocean, and absolutely a joy to explore!