Winemaker Notes
The 2000 Ironstone Vineyards Merlot has intriguing hints of soft plum, vanilla and cedar spice, which all give way to flavors of juicy black cherries. This Merlot is best enjoyed with light pasta dishes, wild game, dark turkey meat and dark chocolate.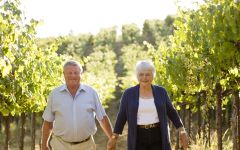 The story of Ironstone Vineyards started in the hands of John Kautz, a young row crop farmer from Lodi who saw the future in growing wine grapes in Lodi. With 12 acres in 1948, John quickly built an excellent reputation as a premium wine grape supplier, amassing over 5,000 acres of grapes in Lodi and the Sierra Foothills and eventually becoming one of the top ten wine grape growers in California.
In 1988, John, his wife Gail and their children dedicated themselves to the creation of a wine of their own. While still maintaining grape sales to top wineries around the world, they brought award-winning winemaker Steve Millier aboard to launch Kautz wines, which would evolve into Ironstone Vineyards, a wine brand dedicated to the production of exceptional wines of unparalleled quality, outstanding value and everyday approachability.
In 1989, using dynamite, pick axes and shovels, a crew of miners carved through limestone and Calaveras Schist Rock on Gail's family ranch in Murphys, California and fashioned the site of Ironstone's wine aging caverns, which in the beginning, also served as the facility's first tasting room., Ironstone Wines and the Ironstone Winery have each grown and become famous in their own way. John, Gail and each of their four children - Stephen, Kurt, Jack, and Joan - remain actively involved in the growth of both the winery facility and the wine brand.
Today the fourth most widely planted red variety in the state, Merlot has much to offer. While it bears similarities to Cabernet Sauvignon (its half-sibling), it tends to be lower in both acidity and tannins, giving Merlot wines a mouthfeel that is often perceived as soft, round and plush. These qualities make it an ideal blending partner for Cabernet, the two complementing each other throughout.
Merlot arrived relatively late to the California wine scene. It wasn't until the 1970's when producers like Louis Martini, Sterling and Matanzas Creek—influenced by European Merlot blends—began crafting single varietal versions. These trend-setting bottles opened the eyes of others in the California wine scene and spurred increased plantings. From there, the variety's lush drinkability led to a surge in popularity, then overplanting (some of it on unsuitable sites) and finally a backlash that was turbo-charged by the infamous 2004 film, Sideways. What most viewers didn't realize was that, as much as Miles derided the variety, the prized wine of his collection—a 1961 Château Cheval Blanc—is made from a blend of Merlot with Cabernet Franc.
Fine examples of California Merlot—either as a single varietal wine or as part of a blend—can be found from Napa Valley, Sonoma County, the Central Coast and most regions around the state. Merlot wines offer a ripe, sensual mouthful of plummy fruit, suggestions of mint, herbs and vanilla, all carried along by an approachable structure and often, a great potential for improving with age.
SOU68793_2000
Item#
53775