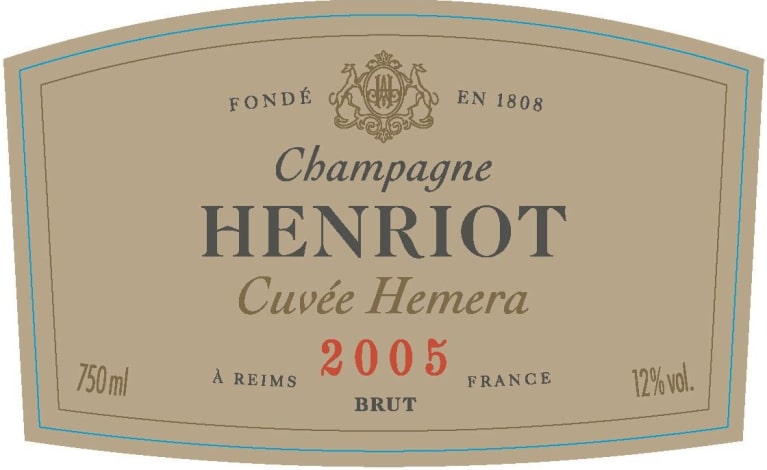 Henriot Cuvee Hemera 2005
Winemaker Notes
A definite jewel in the Henriot portfolio, its name is a tribute to the Greek Goddess of day and light, Hemera. The fruit of a unique vintage, together with a blend of six iconic Grands Crus Champagnes, this Champagne - more than any other - epitomises Henriot's luminous style.
This Champagne bears the finesse and liveliness of spring. The mineral freshness of the finest Chardonnay heightens the delicious accents of the very best Pinot Noir. Finally, the elegant patina of time transforms this cuvée into a rich Champagne blessed with magnificent expression.
Blend: 100% Grand Cru vineyards of 50% Chardonnay and 50% Pinot noir
Critical Acclaim
All Vintages
This long awaited new prestige cuvée, Hemera - named after the ancient Greek goddess of daytime - is a perfectionist creation of Henriot's villages, all grands crus. It's a brilliant medley of top Chardonnay from cooler Chouilly and the poised weight of Avize and Mesnil, combined with equally rigorous grand cru Pinot from north Montagne, Mailly and Verzenay. 2005 saw a cold winter, mild spring and very hot July into August, with humidity causing rot in Pinot Noir in the minor sites. The Chardonnay was more successful in the warmth of September, giving a rich, Burgundian style. This has a gold tinged colour and an exquisite mousse, with full Chardonnay aromas of apricots, citrus fruits, toast and honey. It has a masterly grand cru Pinot mouthfeel of satin, subtle and honeyed, intense without heaviness. The lower dosage of 5g/l makes it an ideal match with fish. Aged on its lees for 12 years.
Only produced in the top years, this wine, named apparently after the Greek goddess of daylight, has just achieved maturity. It is rich in notes of almonds and toast that meld together with the ripe white fruits. It's a great wine that is impressive and ready to drink, although it will also easily age further.
Cellar Selection
Rich hints of baked plum and marzipan are enlivened by sleek, well-knit acidity in this harmonious Champagne. The fine, lively mousse carries flavors of poached quince, honeysuckle, smoked hazelnut and lemon pith. Drink now through 2028.
The inaugural release of the new tête de cuvée from Henriot, the 2005 Cuvée Hemera is a blend of equal parts Chardonnay (from Chouilly, Avize and Mesnil-sur-Oger) and Pinot Noir (from Mailly, Verzy and Vezernay) that was aged for 12 years sur lattes and disgorged with five grams per liter dosage. The wine is still quite tight-knit after its recent disgorgement, unwinding in the glass with a refined bouquet of ripe citrus fruit, crisp yellow apple, lemon confit and freshly baked bread. On the palate, it's medium to full-bodied, bright and concentrated, with a layered, tight-knit core, racy acids and a precise, chalky finish. It's a very creditable effort in the challenging 2005 vintage—and a Champagne that I admired for its depth and precision—so it will be interesting to taste future releases from more propitious years.
This is Henriot's prestige cuvée, a blend of equal parts chardonnay and pinot noir from six grand cru villages, aged for a minimum of 12 years on the lees. In 2005, it's soft and rich, with the scent of brioche and the pale fruit character of cherimoya. Ready to drink on release, it's a sumptuous wine for seared diver scallops.
View More
Founded in Reims in 1808, Champagne Henriot is one of the few remaining family-owned houses with over two hundred years of independence. Over the years, the house has cultivated an audacious approach and a distinctive, luminous style of its own, guided by the pursuit of the purest expression of Chardonnay.
The Henriot family's strong relationship with Cellar Master Laurent Fresnet and partner growers is essential in creating each Henriot cuvée and maintaining its uncompromising quality standards. With the use of an exceptionally high proportion of reserve wines, as well as predominantly Premier and Grand Cru vineyards, Champagne Henriot produces a distinguishable freshness and quality in each cuvée.
Today, the Henriot family's expertise is backed not only by their storied history in Champagne but also in their celebrated triumphs in both Burgundy and Chablis with Bouchard Père & Fils, William Fèvre and Chateau de Poncié.
Associated with luxury, celebration, and romance, the region, Champagne, is home to the world's most prized sparkling wine. In order to bear the label, 'Champagne', a sparkling wine must originate from this northeastern region of France—called Champagne—and adhere to strict quality standards. Made up of the three towns Reims, Épernay, and Aÿ, it was here that the traditional method of sparkling wine production was both invented and perfected, birthing a winemaking technique as well as a flavor profile that is now emulated worldwide.
Well-drained, limestone and chalky soil defines much of the region, which lend a mineral component to its wines. Champagne's cold, continental climate promotes ample acidity in its grapes but weather differences from year to year can create significant variation between vintages. While vintage Champagnes are produced in exceptional years, non-vintage cuvées are produced annually from a blend of several years in order to produce Champagnes that maintain a consistent house style.
With nearly negligible exceptions, . These can be blended together or bottled as individual varietal Champagnes, depending on the final style of wine desired. Chardonnay, the only white variety, contributes freshness, elegance, lively acidity and notes of citrus, orchard fruit and white flowers. Pinot Noir and its relative Pinot Meunier, provide the backbone to many blends, adding structure, body and supple red fruit flavors. Wines with a large proportion of Pinot Meunier will be ready to drink earlier, while Pinot Noir contributes to longevity. Whether it is white or rosé, most Champagne is made from a blend of red and white grapes—and uniquely, rosé is often produce by blending together red and white wine. A Champagne made exclusively from Chardonnay will be labeled as 'blanc de blancs,' while ones comprised of only red grapes are called 'blanc de noirs.'
Representing the topmost expression of a Champagne house, a vintage Champagne is one made from the produce of a single, superior harvest year. Vintage Champagnes account for a mere 5% of total Champagne production and are produced about three times in a decade. Champagne is typically made as a blend of multiple years in order to preserve the house style; these will have non-vintage, or simply, NV on the label. The term, "vintage," as it applies to all wine, simply means a single harvest year.
SOU916156_2005
Item#
515248